Here's What Happened To Jim Morrison's 1967 Mustang Shelby GT500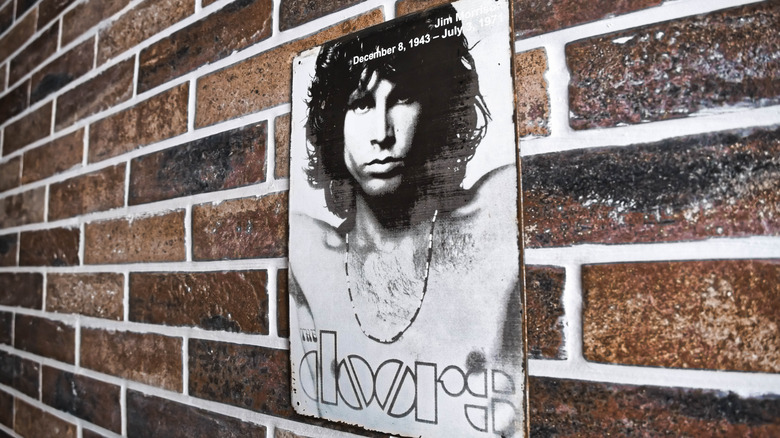 Mr TACT HILL/Shutterstock
A mystery surrounds the Mustang Shelby GT500 that The Doors lead singer Jim Morrison once loved and adored; it remains unsolved almost 52 years after his death. To understand it, we first have to jump back to January 4, 1967, when Elektra Records debuted the band's first self-titled album to the world (via RHINO).
On April 24, the song "Light My Fire" played across the airwaves for the first time, and three months later (on July 29 via History), it hit #1 on Billboard's Hot 100. "Light My Fire" was actually the first song the band's guitarist, Robby Krieger, had ever written (via Rolling Stone). It wasn't just beginner's luck, and Krieger went on to write many of the band's songs (via Ultimate Classic Rock). On September 11 (via Lucius Books), the album was certified gold, and before the end of 1967, The Doors had unofficially been christened as icons of the 60's counterculture.
Jac Holzman, founder and President of Elektra Records, wanted to celebrate the band's success (and his label) by buying each member whatever they wanted. Both Ray Manzarek (keyboards) and Robbie Krieger (guitar) went with musical recording gear, and John Densmore (drummer) got some actual four-legged horsepower. After seeing the Shelby Mustang GT350 owned by his hair stylist, Morrison asked Holzman for one (via Street Muscle Magazine).
Don't pick up a hitchiker, especially if you're driving a Shelby GT500
Instead of the plain old GT350 version, Holzman got his lead singer the beefier GT500 cloaked in a Nightmist Blue exterior paint job with the much scarcer Parchment White interior scheme. A couple of other key features that made Morrison's car stand out were that it didn't have the familiar body length racing stripe seen on most Shelby GTs, sported 10-spoke rims, and had the two big circular fog lights on the grill that later models didn't (via Street Muscle Magazine).
Under the hood, The Blue Lady (named after a character from one of Morrison's screenplays) packed a 428 Police Interceptor V8 with a pair of quad Holley carburetors and a 4-speed manual transmission. Ford only built 2,050 of these (via Motor Biscuit). It kicked out 355hp, went from zero to sixty in six and a half seconds, and crossed the quarter mile in 15 seconds, doing 95 miles per hour. She wasn't screaming fast by today's standards but had it where it counted, and Morrison frequently pushed her well beyond her limits.
The vehicle makes an appearance in a hybrid short film and trailer for a longer piece Morrison was working on called "HWY: An American Pastoral," about a psychopathic hitchhiker (played by Morrison) who gets picked up in the desert, kills the good Samaritan driver, and continues to Los Angeles in the stolen Shelby.
'The Blue Lady' must have been an 'Unhappy Girl'
A heavy user of alcohol and drugs, Morrison is rumored to have been a wildly unsafe driver (as "HWY" demonstrates) and was believed to have been in several minor accidents. This leads to the first theory of The Blue Lady's fate.
During one crisp fall evening in 1969 (via Street Muscle Magazine), Morrison was allegedly driving down Sunset Boulevard and wrapped it around a telephone pole. He got out unharmed, shrugged, and stumbled on his merry way. When he returned, the car had mysteriously vanished (via Motor Trend). 
Another theory suggests he parked it at Los Angeles International Airport and jetted off on tour but was gone for so long that the car was "towed and sold at public auction" when he returned. We know that after the fall of 1969, Morrison only drove rentals, the registration expired in 1970, and the Shelby was never seen in his possession again.
Given Morrison's documented history with the car, he probably crashed it and left it behind — just like the first theory says. It could have been crushed into oblivion or scrapped out for parts, with no one being any wiser of its famous ownership. If the Shelby was still whole (with celebrity cars selling for astronomical prices), someone would have cashed in by now.