New Filings Show Tesla Has Big Plans For Gigafactory Texas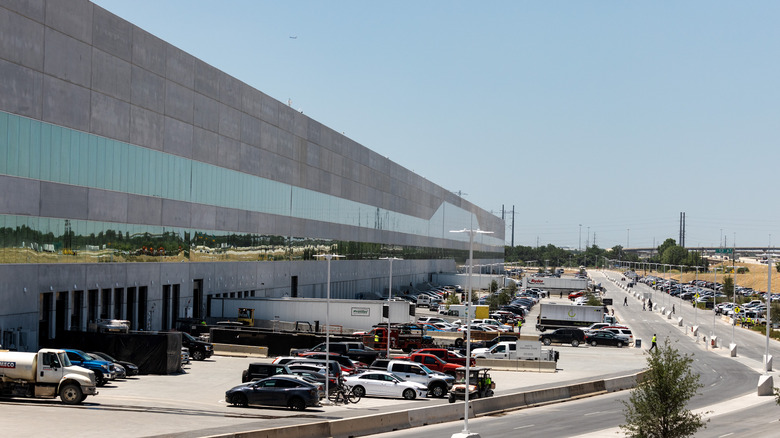 Bloomberg/Getty Images
Per new information from the Texas Department of Licensing, it appears Tesla will continue its investment in the state's manufacturing infrastructure. According to the Austin Business Journal, Tesla has applied for a $700 million expansion to its factory east of Austin. Assuming the money is forthcoming, the expansion will represent the first major move toward Elon Musk's commitment to invest $10 billion in Texas over the next several years (via Business Insider).
$700 million is a big number, and it's going toward a big investment. The facility, situated in the East Austin suburb of Del Valle, is one of Tesla's Gigafactories: massive spaces intended for the global-scale manufacture of big machines. In keeping with the all-important adage that everything is bigger in Texas, Giga Texas is not merely the largest of Tesla's U.S. factories — it's the second-largest building in America by volume, edged out only by Boeing's main aircraft manufacturing facility in Everett, Washington (via GeekWire).
Elon Musk's $700 million redemption arc?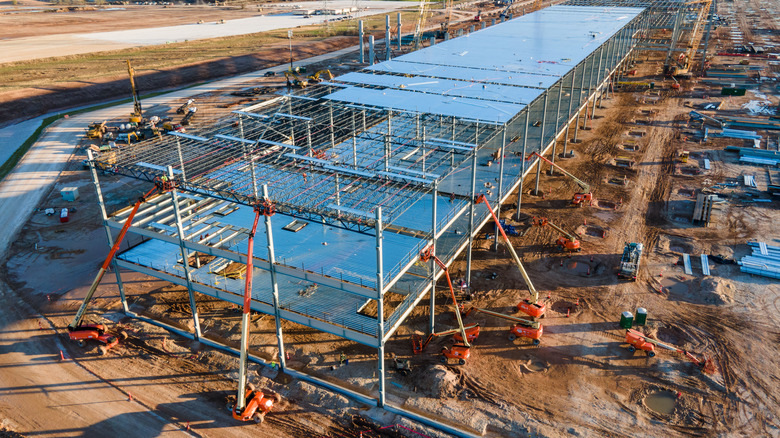 Roschetzky Photography/Shutterstock
At first glance, $700 million in expansion for the Tesla Gigafactory Texas is almost difficult to imagine. At more than 10 million square feet, Giga Texas occupies more floor space than the Texas State Capitol, Austin-Bergstrom Airport, and Austin's Q2 Stadium combined (via Inside EVs). As Business Insider has reported, Elon Musk has promised a $10 billion investment in Giga Texas over time and hopes eventually to employ 20,000 people. This $700 million licensing application seems like a promising start.
At the same time, Elon Musk's actions with Tesla over the past few months have been at odds with that sunny pronouncement. Tesla froze hiring in June, citing Musk's "real bad feeling" about the economy (via KVUE). The same email announcing the "real bad feeling" and hiring freeze also declared Musk's intention to cut staff by 10% organization-wide. As we've reported with Twitter, Musk's approach to staff reduction can over-deliver, causing even more employee exits than expected, with unpleasant, often malodorous consequences to follow.
In short, it's difficult to trust anything Elon Musk says or does in the wake of the Twitter debacle. At the same time, if this $700 million represents Musk refocusing on a business he knows well and cares about, it's good news for Twitter, Texas, Tesla, and the global automotive marketplace.