Microsoft's Surface Duo Foldable Phone Replacement May Finally Embrace Flexible OLED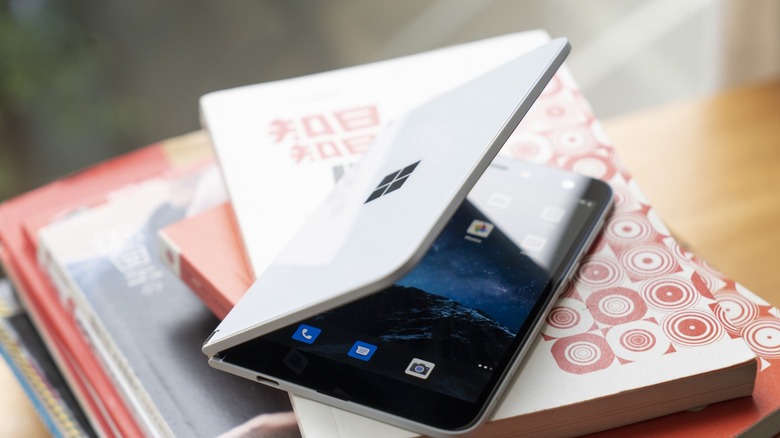 Jack Skeens/Shutterstock
The foldable smartphone market has been one of the most interesting among the recent consumer tech industry. In an attempt to increase smartphone productivity, manufacturers like Motorola, Oppo, and Samsung have historically just made bigger phones with bigger displays. Folding OLED technology changed this and allowed manufacturers to pack a big screen into a small frame, ostensibly giving us the best of both worlds. Unfortunately, folding phones are far from perfect, with early models having durability issues related to the display and the hinge. 
Perhaps as a result of these early-adopter niggles, or thanks to some clairvoyance, Microsoft decided to go in a different direction with its folding devices. Instead of a folding display, the Microsoft Surface Duo features two separate displays and a 360-degree hinge. The unique design allows users to make use of both displays for maximum productivity, or use only one display when they want something easier to handle. It also has the advantage of having glass over the display instead of plastic, making it less prone to scratching. Unfortunately, the Surface Duo was met with lukewarm reception thanks to some software hitches and a mediocre camera experience. 
Microsoft taking a more mainstream approach with the Surface Duo 3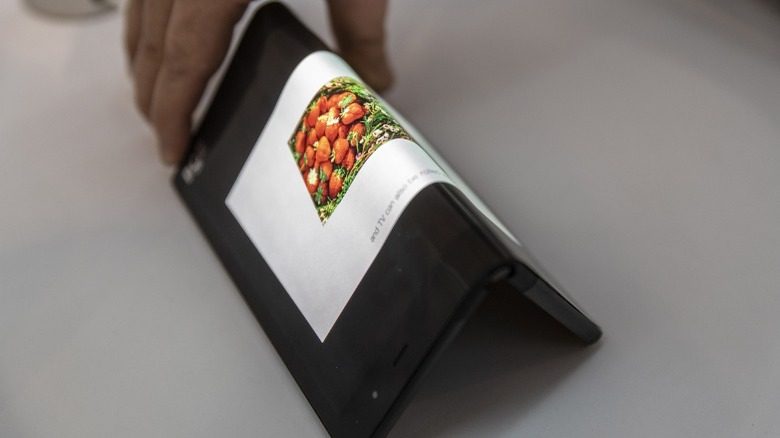 Bloomberg/Getty
According to reporting by Windows Central, Microsoft has made the decision to cancel plans for another dual-screen folding mobile Surface device. While there's no confirmation from Microsoft about what its exact plans are, the indication is that the company will move to a more conventional form factor, similar to devices like the Vivo X Fold. Although Microsoft has filed patents for a 360-degree hinge, like a combination of the Royole Flexpai and Samsung Galaxy Fold 4, Windows Central's inside source claims that Microsoft's next-generation folding phone will have a regular 180-degree hinge. Whether this is a clam-shell design with an external "single-width" display in addition to the folding display, or a device with a single outward-facing folding display remains to be seen.
Windows Central also reports that Microsoft has been paying more attention to creating a software ecosystem dubbed "Perfect Together," in an effort to better pair its Android devices and Windows operating system. This makes sense when the competition on both mobile and desktop fronts — Apple's iOS and macOS — have tight software integration. 
Windows Central's inside source also claims that the company has been internally testing prototypes of more typical slab smartphone designs. Hopefully we'll see the same sort of unique designs and software experience that came with Microsoft's Lumia devices.