The Top 5 Most Expensive Cars In Manny Pacquiao's Collection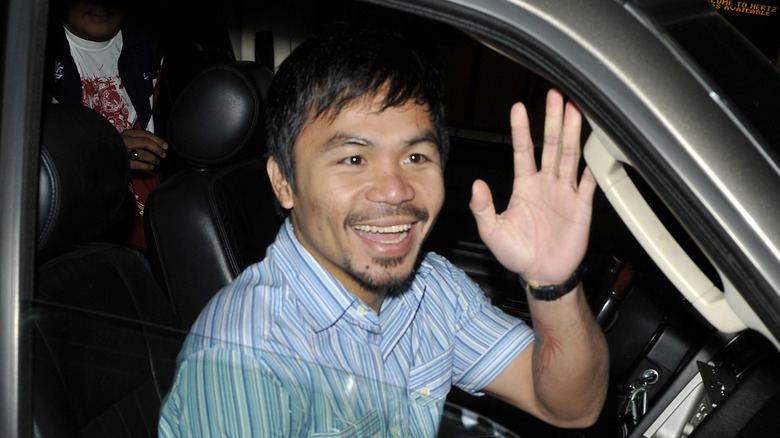 worldswildlifewonders/Shutterstock
Filipino icon and global boxing sensation Manny Pacquiao is regarded by many as one of the greatest professional boxers in the history of sports. Pac-Man won twelve major world titles and is the only boxer to earn championships across eight weight classes (via ESPN). In 2019, the Pinoy southpaw became the oldest welterweight champion at age 40 after beating Keith Thurman in Las Vegas, Nevada, according to CBS Sports. Filipinos admire Pacquiao for his soft heart and philanthropic nature, part of the reason he became a congressman of Sarangani province in 2010 and as a senator from 2016 to 2022 (via Al Jazeera).
With a boxing career spanning four decades and a reputation of being the only boxer to hold world championships in the 1990s, 2000s, 2010s, and 2020s, Pacquiao is a big name in the world of sports, politics, and show business. Pacquiao's net worth is reportedly around $220 million (via Celebrity Net Worth), giving him the means to play around with exotic machinery. But unlike fellow champion boxer Floyd Mayweather Jr.'s awe-inspiring celebrity auto collection, Pacquiao has modest pieces in his garage. Here are Manny Pacquiao's five most expensive cars.
Manny Pacquiao's most expensive car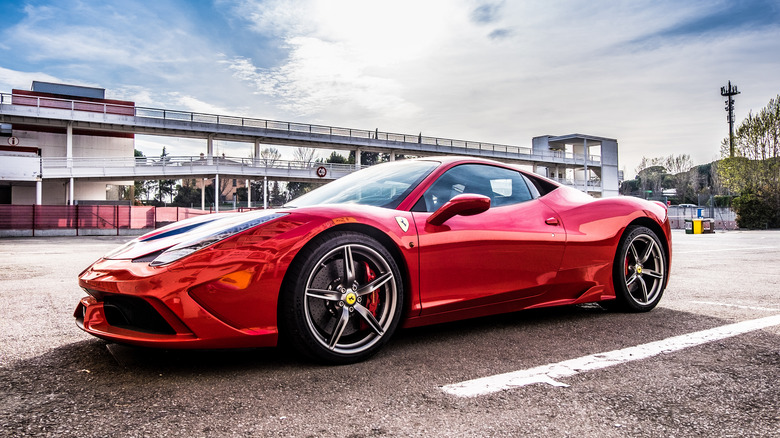 Alberto Zamorano/Shutterstock
Whereas Floyd Mayweather Jr. is the proud owner of Bugattis, Paganis, and Koenigseggs that would easily cost millions each, the most expensive car in Manny Pacquaio's collection is a Ferrari 458 Italia. Are you surprised? So were we. According to Bleacher Report, Pacquiao acquired his Ferrari 458 Italia in 2011 after clashing with Mexican boxing champ Juan Manuel Marquez. The Ferrari is still an expensive supercar (Starting at $239,340 when bought new, via CarBuzz), and it has a naturally-aspirated 4.5-liter V8 that pumps out 562 horsepower and 398 lb-ft of torque.
Revving to an unbelievable 9,000 rpm, the Ferrari 458 Italia is as quick as PacMan's left hook. According to MotorTrend, it goes from zero to 60 mph in 3.0 seconds and breaks the quarter-mile in 10.9 seconds at 134 mph. Production for the Type F142 Ferrari 458 Italia ran from 2009 to 2015. The Ferrari 488 GTB (Gran Turismo Berlinetta) succeeded the 458 and was the first mid-engine Ferrari to have a turbocharged V8 since the F40.
The next most expensive car in Manny Pacquiao's garage is a Mercedes-Benz SL 550. The latest generation Mercedes-AMG SL is a different car from its glorious predecessors. It has a standard all-wheel drivetrain for the first time in history and a folding soft-top roof. The most potent version is the SL 63 with a 577 horsepower 4.0-liter bi-turbo V8 engine, but the base SL 55 is no slouch with 469 horsepower. Pacquiao has yet to buy himself the all-new $190,000 Mercedes-AMG SL, but he has an older Mercedes SL 550 chilling in his garage.
PacMan loves SUVs, too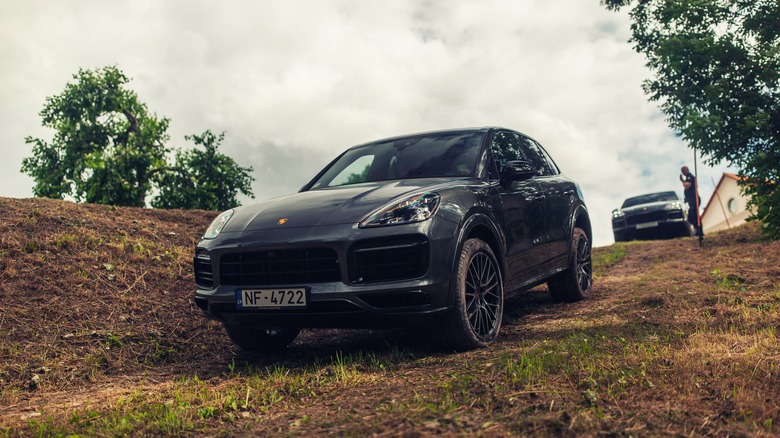 BoJack/Shutterstock
In a report by Philkotse.com, Manny Pacquiao bought a Porsche Cayenne Turbo S after conquering Eric Morales during their first rematch at the Thomas & Mack Center in 2006. Featuring a five-seat crossover body and a 520-horsepower twin-turbocharged 4.9-liter V8 engine, the Cayenne Turbo S costs around $127,000 when bought new. Then again, what you get for the money is a family SUV that goes from zero to 60 mph in 4.9 seconds and tows up to 7,700 pounds (per Car and Driver).
Moreover, Manny Pacquiao loves cruising around town in a Lincoln Navigator. It has enough room for his family and immediate entourage, while the Navigator's standard twin-turbocharged V6 has ample oomph to escape traffic, making good use of its 440 horsepower and 510 lb-ft of torque. The Navigator's base price ranges from under $80,000 to around $110,000, depending on the trim model (via Kelley Blue Book). The range-topping Navigator L Black Label has an extended wheelbase (to offer more seating and cargo room), 30-way power adjustable and massaging front seats, a 28-speaker premium audio system, 22-inch wheels, and a standard all-wheel drivetrain.
It's no surprise that Manny Pacquiao is also the proud owner of a Cadillac Escalade, the default vehicle of choice for uber-wealthy personalities and elite superstar athletes. The Escalade starts from about $82,000 to $110,000 and has a standard 6.2-liter V8 engine with 420 horsepower and 460 lb-ft of torque (per Edmunds). If we were Pacquiao, we'd go straight for the Escalade V with its 682-horsepower supercharged V8 engine, although the standard model is ideal for cruising around town.