Razer Edge 5G Finally Gets A Release Date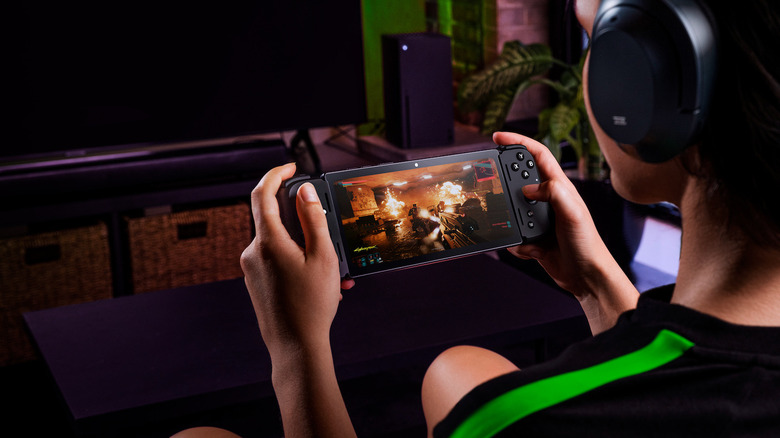 Razer
Razer's Android-based handheld gaming console finally has a release date for both its Wi-Fi-only and 5G variants. Right now, the Razer Edge is the only device out there to come equipped with Qualcomm's Snapdragon G3x Gen 1, an SoC made exclusively for the device. The Qualcomm silicon in question features the in-house Kryo CPU ticking at 3.0 GHz. The company claims to have paired it with active cooling hardware for more efficient thermal management, promising high FPS gameplay for long durations.
This is not the first incarnation of a device called Razer Edge. The company actually showcased a Razer Edge tablet back in 2017, mounted atop a huge set of physical controls. Fittingly, SlashGear's Chris Burns quipped "What the heck is it?" when he played with it half a decade ago. Fast-forward to CES 2023, and Razer has announced that the Edge handheld will go on sale starting January 26 in the United States.
A peek inside the Razer Edge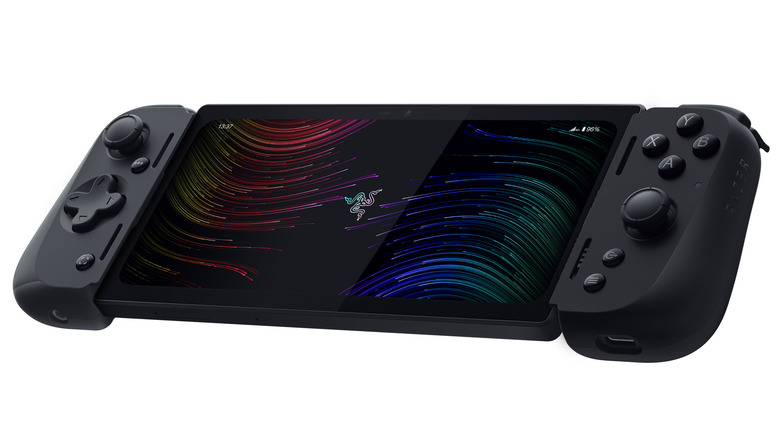 Razer
This year's Consumer Electronics Show marks the first time the company is giving an in-person demo of its Razer Edge gaming handheld console. The model has some impressive specs on paper, including a 6.8-inch 144Hz FHD+ OLED display paired with controller tech borrowed from its well-received Kishi V2 Pro kit, further complementing the gaming experience with the in-house Razer HyperSense haptic feedback system. 
In addition to Android games, the handheld will also support cloud-based gaming from services like Microsoft's Xbox, as expected. The rest of the specifications include 8 GB of RAM and 128 GB of onboard storage, but thankfully, the device supports a generous storage expansion of up to 2 TB via a microSD card. There's a 5,000 mAh battery inside, while the audio output is handled by two-way speakers with THX Spatial Audio support and a 3.5mm headphone jack routed via the controller.
Razer Edge pricing and availability details revealed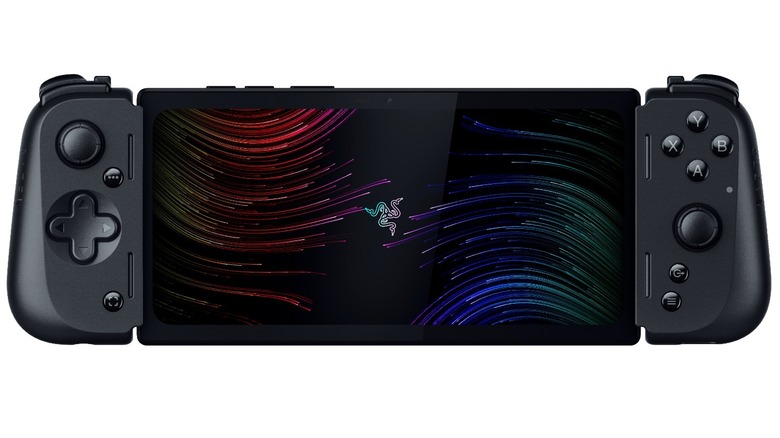 Razer
When it comes to U.S. availability, the non-cellular Razer Edge model will only be available from Razer's own online shop and its brick-and-mortar outlets across the country. The non-cellular model will only be available from Razer's own online shop and its brick-and-mortar outlets across the country.
The 5G model, which can latch on to Verizon's 5G Ultra Wideband airwaves, will be exclusive to the carrier's own online and offline sales channels. For the Wi-Fi model, buyers need to shell out $399, while the 5G model will be a tad more expensive. Razer will also be selling a Founders Edition of the gaming handheld, which offers the same specs as the regular version, but comes with a pair of Razer Hammerhead wireless earbuds in the retail package, priced at $499. Unfortunately, Razer hasn't revealed if, and when, the Edge will make it to other markets.
Razer's Edge is not the only gaming handheld of its kind out there, of course. It will go against the Logitech G Cloud, another Android-based handheld gaming device that costs $350, but misses out on 5G and a detachable design. Then you have the venerable Steam Deck for more serious PC-grade gaming and Nintendo's blockbuster Switch series of handheld consoles.