The Most Expensive Car In Judge Judy's Collection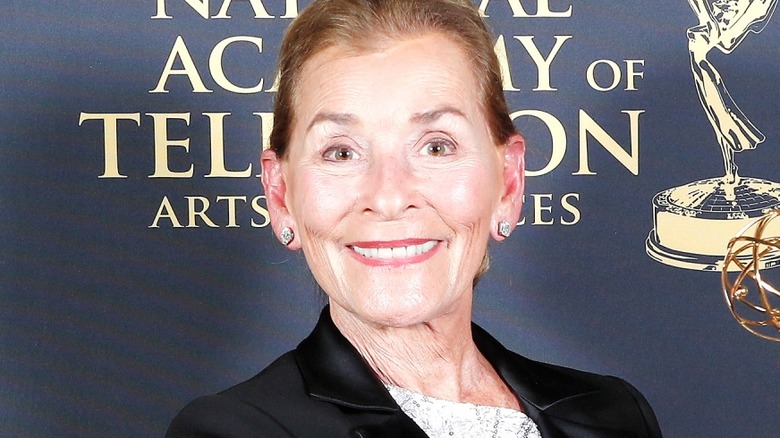 Joe Seer/Shutterstock
Now at the age of 80, Judy Sheindlin has been banging her gavel on television for 27 years, and she's still going strong. Her honor first appeared on the syndicated television show "Judge Judy" in 1996 when she was 53, a show that ran for 25 years until 2021. She's since continued dolling out justice as "Judy Justice" on Amazon's Freevee channel (via Forbes).
Sheindlin has a net worth of $480 million and, since 2012, has earned approximately $47 million a year. CBS purchased the rights to her "Judge Judy" episodes — all 6,280 of them (via Celebrity Net Worth) — back in 2017 for a hefty sum of $100 million (via Forbes).
As Captain Obvious would point out, she has a few bucks to spend on extravagances. Her primary focus is real estate, and she is reported to have a portfolio worth over $50 million (via Velvet Ropes), some of which includes not one, but two, homes in Naples, Florida — an $11 million penthouse and an $8.6 million mansion. She also owns a $13.2 million home in Greenwich, Connecticut, and a $10.7 million condo in Los Angeles, California (via Entertainment News).
Sheindlin also has a few Bentleys (via TheRichest), the British maker of some of the most luxurious cars and SUVs on the market. It's no real shock that the venerable judge would consider Bentley the perfect fit for her judicial image. According to sources, Sheindlin has a 2006 Bentley Arnage R, a convertible 2007 Bentley Azure, and a 2016 Bentley Mulsanne.
A neutral shade of Bentley
It appears that all three are the same color — a rather dull shade of beige. Guess justice really does need to remain neutral. All three are decked out with at least the standard accouterments one might expect from a Bentley.
The four-door Arnage R came in two versions (via Edmunds). One trim boasts a 6.8-liter, 16-valve V8 Turbo producing 400 horsepower at 4,000 rpm, with 616 lb-ft of torque ($212,990 MSRP). The higher trim sports a nearly identical engine that kicks out 450 horsepower at 4,100 rpm, with 645 lb-ft of torque ($218,990 MSRP). It's unknown which engine Judge Judy's Arnage R has, but regardless, this is the cheapest of the three Bentleys.
According to TheRichest, the '07 Bentley Azure convertible is her daily driver, and packs an identical engine to the 450 horsepower Arnage R. However, the Azure is mated to a six-speed automatic with manual sport mode, whereas both versions of the Arnage had a 4-speed automatic (via Edmunds). But with an MSRP of $329,990, it costs substantially more.
Last on the list is the 2016 Mulsanne. Assuming that Sheindlin went with the most popular model (Speed) and sticking with MSRP, it narrowly beats out the Azure at $335,600. Under the hood is a very similar 6.8-liter V8, but this one hits 530 horsepower at 4,200 rpm, with 811 lb-ft of torque, and is mated to an 8-speed automatic with manual mode (via Edmunds). When this "I am the Law" judge needs to get to court quickly, this will get the job done the fastest.