The Top 5 Most Expensive Cars Owned By Harrison Ford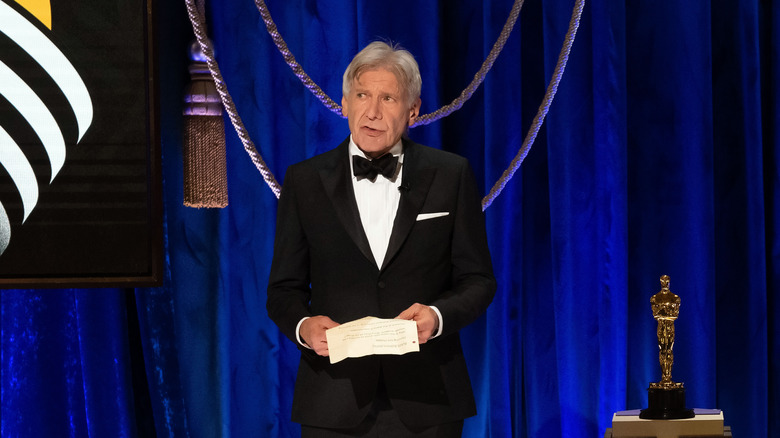 Handout/Getty Images
Harrison Ford is arguably one of the most recognized and iconic actors of all time. With a net worth of around $300 million (via Celebrity Net Worth), one might think he'd have a garage full of expensive cars. However, unlike so many of his Hollywood A-list colleagues, he does not. In fact, one could even call his "collection" altogether pedestrian by comparison.
Truth be told, Ford is more of a flight aficionado and has far more airplanes in his hangar than he does automobiles in his garage (via GQ). He even has a helicopter, which he's used to help rescue people in distress in the wilds of Wyoming (via GQ). And despite having the last name of Ford and growing up in the mid-west (Illinois, to be exact), the actor doesn't appear to own a single automobile from the namesake company.
The least valuable car in his collection is a 1993 Mercedes-Benz SL500 R129 (via Carhp). When new, the MSRP for this roadster was approximately $84,000.
The SL500 package, which Ford's car appears to be, came with a 304-ci, 32-valve, DOHC V8 motor cranking out 326hp, had a top speed of 155 mph, and zipped from zero-to-sixty in 5.9 seconds. The aluminum-alloy block and Bosch KE 5 CIS multi-point fuel injection system were mated to a four-speed automatic transmission (via conceptcarz.com). Today, the resale value of this Benz in good condition is around $12,000 (via Hagerty).
The Midwest actor likes his British cars
Next on the list is a 1966 Austin Healey 3000 MK III, which he keeps at his 800-acre ranch in Jackson Hole, Wyoming (via GQ). The British 2-door convertible in racer green carries on Ford's love of rag tops and the color green.
The AH 3000 has a 2.9L Inline-6 engine (2912cc) and can produce 150 hp. With a top speed of 115 mph, it goes from zero-to-60 in 9.9 seconds (via CARHP). According to Hagerty, one in good condition is worth almost $46,000, while one in excellent shape could fetch as much as $73,000.
When in Los Angeles, Ford has been seen numerous times tooling around in his 1955 Jaguar XK140, which, if you've been keeping score, continues the trend of dark green convertible British autos. Side by side, the Jag and the Austin Healey have very similar low-slung roadster lines.
The XK140 is the successor to the wildly popular XK120 and came with several upgrades, including the superior handling of rack and pinion steering (via Hagerty). It also had increased interior space, better brakes, improved suspension (via Classic.com), and a bigger 3.4-liter twin cam six engine kicking out 190hp (via Hagerty) and 210 lb-ft of torque (via GQ). A top speed of 125 mph could scoot it from a standstill to 60 mph in 8.9 seconds, a hair quicker than the Austin Healey (via CARHP). This Jag is worth around $60,000 in good condition, while one in excellent condition could reach $81,000 (via Hagerty).
Ford keeps up with the Jones's by driving Tesla's
The top two most expensive cars owned by Ford are both Teslas, which are relatively comparable in value. The less expensive of the two is the 4-door Model S (at $105,000 according to CARHP), which we know he's had since at least 2015 (via Autoevolution). If it's the same model year, the standard version goes from zero-to-60 in 4.4 seconds, while the P85D model does it in only 3.1 seconds. CARHP has specs listed for the P85D, which has dual electric motors producing a combined 670hp with a top speed of 149 mph and a range of about 405 miles.
His other Tesla is the newer and pricier Model X. With a base price of $121,000 (via CARHP) that climbs as high as $139,000, the gull-winged SUV is the most expensive car in his collection. According to CARHP, the Model X has similar specs: dual electric motors producing a combined 670 hp, a top speed of 149 mph, but a much shorter range of 348 miles.
It's definitely not a collection worthy of a space smuggler or a tomb-raiding adventurer, but when all is said and done ... Harrison Ford has earned the right to drive whatever he wants.