GM's Answer To Tesla Destination Charging Is Finally Rolling Out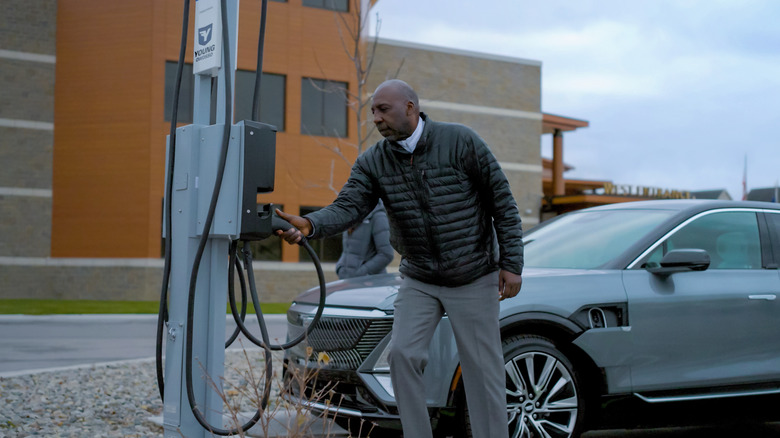 GM
The first public charging stations in General Motors' Dealer Community Charging Program have gone live, part of the automaker's plan to install up to 40,000 chargers around the U.S. and Canada, with a particular focus on areas currently lacking EV infrastructure. Announced in October 2021, the program aimed to fill in gaps in the charging map — such as in rural or remote locations — and potentially give communities their first taste of public chargers.
Rather than figure out the best place itself, however, GM turned to its dealers and their local knowledge. Dealerships could suggest up to ten places for "destination chargers" that the automaker would supply, with installation taking into account where they believed they'd be of the most use for drivers in their communities. The locations would be branded with the dealer name, and either offer free sessions or support payment through GM's app.
Though not as potent as the DC fast chargers being rolled out by Electrify America, ChargePoint, and other companies, the 19.2kW/80 amp chargers are about as good as it gets for a so-called Level 2 version. Drivers of a Cadillac Lyriq RWD, for example, could see up to 52 miles of range added per hour plugged in.
The first locations put the emphasis on local life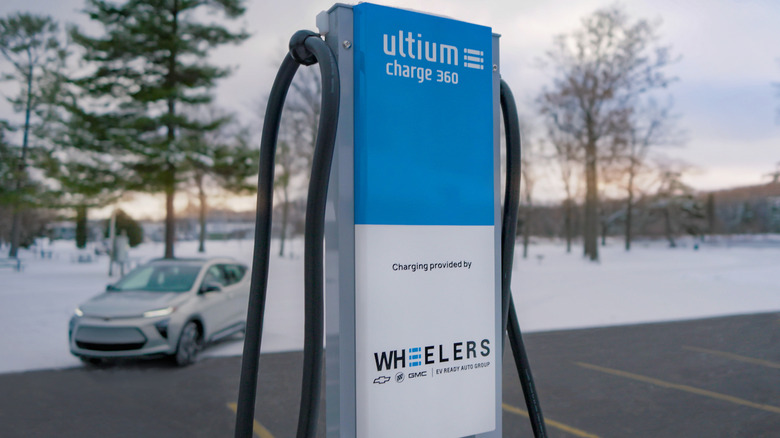 GM
Just over a year after the program was launched, GM announced today, it has nearly 1,000 dealers enrolled and has installed its first charging stations at locations in Wisconsin and Michigan. Chevrolet dealers were the first to be eligible to apply for inclusion, earlier in 2022, with GM planning to expand to Buick, Cadillac, and GMC dealers in January 2023. Currently, almost a quarter of all GM dealers in North America are taking part.
In Wisconsin, the first locations include two parks in Marshfield, a library, and a sports complex. In Owosso, Michigan, meanwhile, the first stations are located at Memorial Healthcare Wellness Center. GM says the rollout will see dealers in Delaware, Georgia, Illinois, Indiana, Kansas, Ohio, and Washington state have their chargers installed next.
What sets GM's Dealer Community Charging Program apart from Tesla's Destination Chargers, however, is access. To use one of Tesla's Level 2 charging points, you'll currently need a Tesla car. GM, in contrast, is using standard J1772 plugs, and electric vehicle drivers won't need to have a GM-brand EV in order to plug in.
Charging for errands, not road trips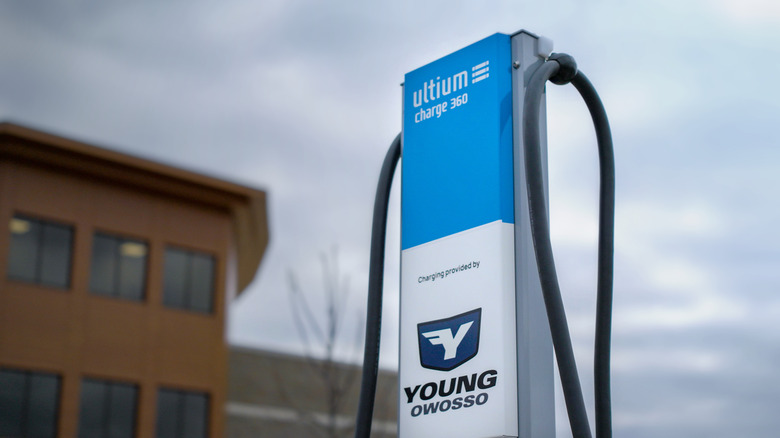 GM
Despite its ambitions to almost double the number of publicly-accessible Level 2 charging stations in North America, clearly GM's program isn't going to solve the lingering challenges around long-distance electric vehicle travel (and non-Tesla long-distance electric vehicle travel in particular). However it's a reflection of the fact that, while range anxiety for longer trips may be an ongoing concern, for most American drivers their daily vehicle use is far shorter. The average driver in the U.S. uses their car for under 40 miles each day, according to the United States Department of Transportation's Federal Highway Administration.
That could mean a Level 2 charger outside a library, sports center, or other location could make a significant difference — even if it's not quite as speedy to charge as the Lyriq is with a Level 2 plug. A Chevrolet Bolt EV, for example, could see up to around 26 miles of range added per hour.
Meanwhile, GM is also working with a number of third-party charging networks — including EVgo and Pilot Company — on DC fast charging expansion. That'll be particularly useful for some of the automaker's largest electric vehicles: with its vast battery, hefty weight, and beefy power demands, for example, a GMC Hummer EV could only muster enough charge for up to 16 miles of range after an hour plugged into one of these new GM-provided destination chargers.