Bob Iger Comments On The Apple Buying Disney Rumors In His Town Hall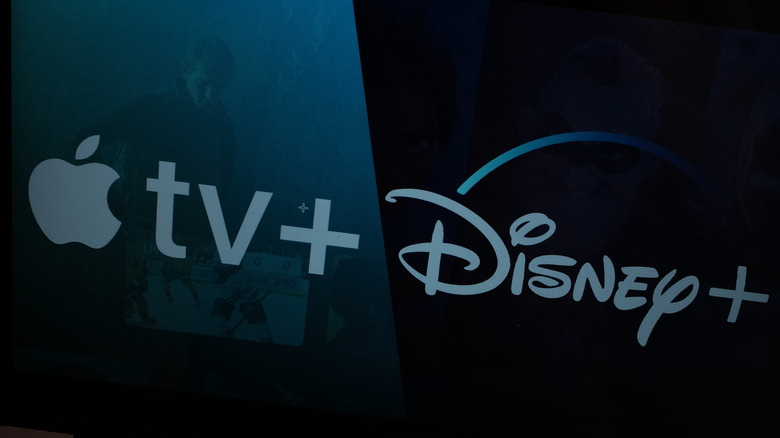 DANIEL CONSTANTE/Shutterstock
Disney's CEO has commented on the rumors that Apple is looking to acquire the near century-old entertainment giant. The Wrap claimed that a Disney insider close to Disney CEO Bob Iger had leaked information on a possible merger between the major companies. The insider allegedly described Iger as the "ultimate dealmaker" and said he was going to "sell the company" with the sale being his "pinnacle deal."
Apple is one of the few companies worldwide with the capital needed to acquire a company the size of Disney. Despite Disney's share price plummeting since January, the company is still worth close to $175 billion (via Google). Added to that, there is no indication that Disney is struggling, in deep trouble, or about to fail. That means any potential takeover would likely see share prices spike and require a sum far greater than Disney's current market cap. Tesla CEO Elon Musk faced a similar situation during his recent takeover of Twitter. The world's richest man had to pay around $54.20 per share for the company, despite the stock being valued at just over $45 when he announced his takeover bid (via Fortune). Despite the fact Apple could buy Disney, a deal may not be likely any time soon ... if the entertainment company's CEO is to be believed.
Disney's CEO says takeover rumors are pure speculation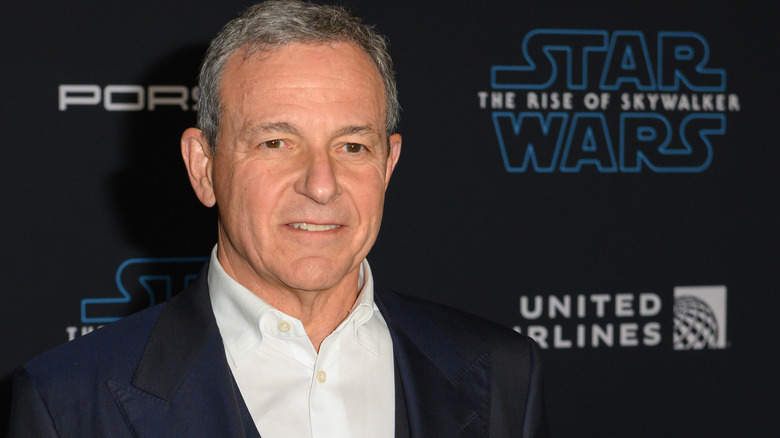 Silvia Elizabeth Pangaro/Shutterstock
Disney's CEO Bob Iger has publicly dispelled any rumors Apple is going to merge with the mouse-centered media giant. During a town hall with Disney employees, Iger described talk of an Apple takeover as "pure speculation" (via The Hollywood Reporter). While these rumors have been dismissed, talk of Apple acquiring Disney is nothing new. Iger himself had previously talked about a possible merger with the tech giant. In a 2021 interview with CNBC, the then retired Disney CEO speculated that Apple and Disney would have merged had Steve Jobs not died in 2011. Iger spoke about Jobs' love of combining technology and creativity before talking about the hypothetical takeover. He said: "I'm pretty convinced we would have had that discussion. I think we would have gotten there," (via 9to5Mac).
Iger did confirm some major Disney news during the call, though it isn't as exciting as a merger between two of the world's largest companies. He said that a hiring freeze put in place by his predecessor, Bob Chapek, will remain. Iger also confirmed that, as well as not being acquired, Disney had no plans to acquire any other companies during his second tenure. Disney has made a number of high-profile acquisitions over the years, with several of its most notable occurring during Iger's first stint as CEO.
Who is Bob Iger?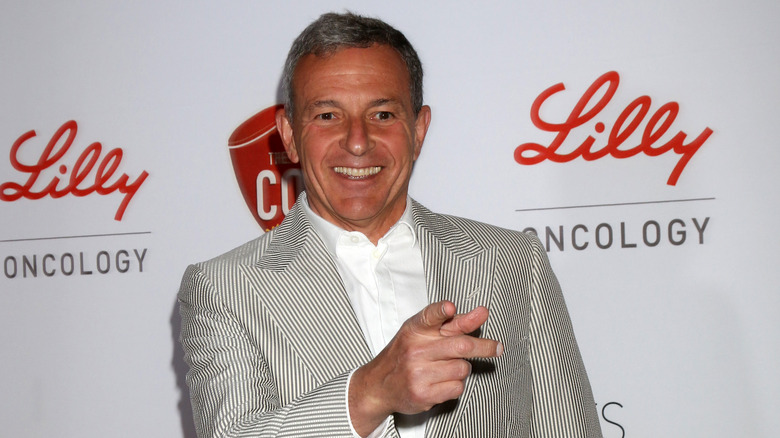 Kathy Hutchins/Shutterstock
Iger returned to his role as Disney's CEO earlier this month after initially stepping down from the role in 2020 (via BBC). Iger stayed on as chairman for around another year while his replacement and long-time colleague Bob Chapek settled into the role. Iger's first stint as head of the company lasted 15 years, and he oversaw some major acquisitions during that time. Pixar, Marvel, 21st Century Fox, and Lucasfilm were amongst the companies Iger helped bring under the Disney umbrella. The executive also oversaw Disney's forays into the streaming market. The company acquired a majority stake in Hulu when it bought 21st Century Fox, and launched its own service in Disney+.
Iger's return comes after a sharp downturn in Disney's prospects. The company's direct-to-consumer division lost $1.5 billion in a quarter. This, coupled with criticism of his response to Florida's sex education bill which has been christened the "Don't Say Gay Bill," is the likely cause of Bob Chapek's exit. Iger is seen as a steady pair of hands by many at the company. Despite previously ruling out a return to Disney's top table, the long-serving executive has agreed to come back for two years in an attempt to right the ship. Iger's re-appointment was well received by investors, with Disney's share price spiking by 6% shortly after the announcement was made. Some have drawn parallels with Steve Jobs' late 90s return to Apple, which saved the company from ruin and laid the groundwork it needed to become the most valuable publicly traded company in history.