2023 Subaru Outback Review: Rugged All-Rounder Keeps On Keepin' On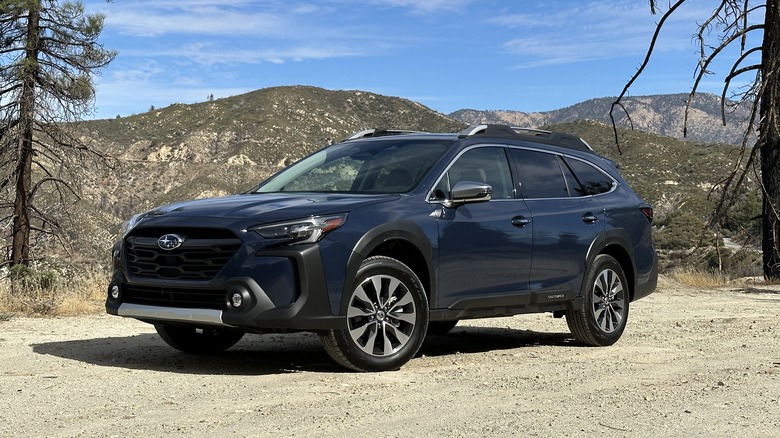 Steven Ewing/SlashGear
Here's the secret to selling wagons in America: Make 'em look like SUVs. It's a tactic that's worked for the Subaru Outback since the mid-1990s, combining longroof functionality with appreciable ground clearance, rugged good looks (well, good-ish) and standard all-wheel drive.
Heading into 2023, the Outback gets a longer list of standard technologies and some subtle design tweaks. And while these upgrades don't really move the needle, they more importantly don't stray from a formula that's long made the Outback one of Subaru's top sellers. Straightforward and simple, the 2023 Subaru Outback is super easy to like.
Spot the changes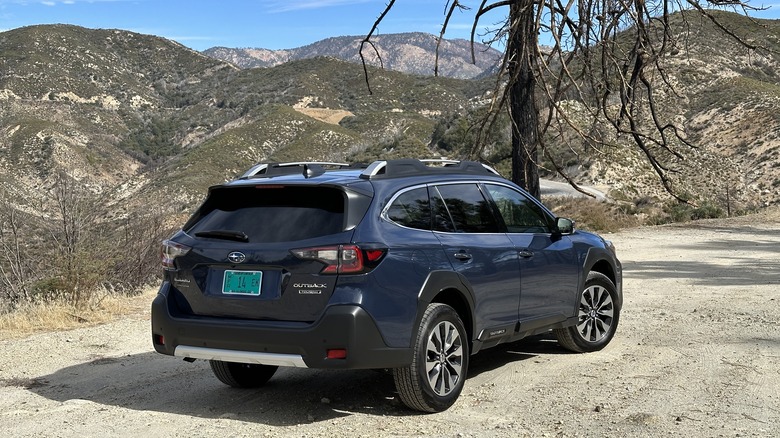 Steven Ewing/SlashGear
While I hesitate to call any Subaru attractive, there's something to be said for the Outback's butch aesthetic. Its 8.7 inches of ground clearance give it a commanding stance without being as tall as a traditional midsize SUV. For 2023, the Outback has a larger grille flanked by redesigned headlights and some reshaped plastic cladding. It's a look that's purposeful, not pretty. And hey, if you prefer the look of its predecessor, there's good news: The extra-aggro Outback Wilderness retains the old model's design for 2023.
The Outback continues to be offered in a range of trim levels, riding on either 17- or 18-inch wheels depending on the model. Subaru still offers the Outback Onyx Edition with all its blacked-out exterior trim, and the aforementioned Wilderness heads into 2023 with its awesome gold accents, 9.5 inches of ground clearance and all-terrain tires.
Pricing for the 2023 Subaru Outback starts at $29,620 including $1,225 for delivery, and reaches as high as $43,520 for a fully loaded Touring XT. The model tested here is a high-zoot Touring with the less-powerful, naturally aspirated engine, coming in at $41,070. If you're gonna shell out for the top trim, do yourself a favor and spend the extra bucks for the upgraded engine.
Turbo is the way to go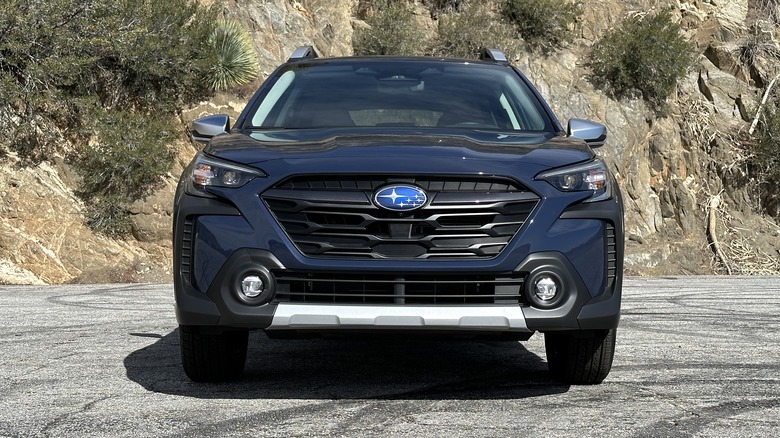 Steven Ewing/SlashGear
The Outback's standard 2.5-liter flat-4 is... fine. Just fine. This engine offers 182 horsepower and 176 pound-feet of torque, which are enough for daily driving, though the Outback is in no way quick. A continuously variable transmission manages the engine's power, and going hard on the throttle will result in the usual horrid high-rev drone CVTs are known for. If you don't care about peppiness or if you aren't planning to tow, the less-powerful 2.5-liter engine will likely be fine for your day-to-day driving. Plus, its fuel economy ratings of 26 mpg city, 33 mpg highway and 29 mpg combined aren't too shabby as far as midsize SUVs are concerned.
Still, I'd have a hard time passing up the extra power and smoother operation of the optional 2.4-liter turbocharged flat-4, available in all but the base and Premium models. With 260 hp and 277 lb-ft of torque, the turbo models accelerate with much more authority, and since the peak torque is delivered between 2,000 and 4,800 rpm, the CVT doesn't have to rev as high in order to make use of the available oomph. 
What's more, turbocharged models are rated to tow 3,500 pounds, compared to the 2,700 pounds of capacity you get with the 2.5-liter engine. Fuel economy ratings of 23 mpg city, 30 mpg highway and 26 mpg combined aren't horrific, either, though the Wilderness trim drastically reduces those figures to 22 mpg city, 26 mpg highway and 24 mpg combined – yikes.
Soft, light, and laid-back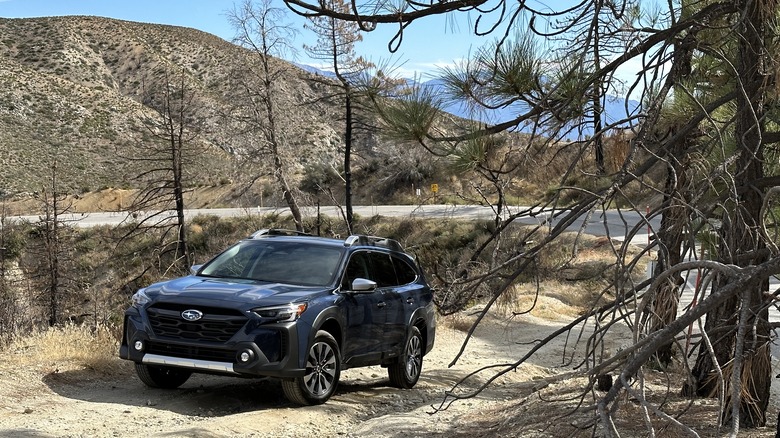 Steven Ewing/SlashGear
Regardless of which engine you choose, the Subaru Outback is all about easy, relaxed driving. The steering is light, the suspension is soft, the brakes are easy to modulate: this is a car that's boring in the best way. Every Outback comes standard with Subaru's EyeSight suite of driver-assistance technologies, including adaptive cruise control, lane-centering assist, and lane-departure warning. However, if you want features like blind-spot monitoring, lane-change assist, or a driver attention monitor, you have to pony up for more expensive trims.
A standard X-Mode traction control setting and hill-descent control keep the Outback going on dusty trails, and the substantial ground clearance means you can drive over a lot more than you think. Still, I definitely have to recommend the Outback Wilderness for folks who really want to get out into the, um, wilderness, mostly for its all-terrain tires, enhanced X-Mode tech and remapped transmission settings. It's my favorite model in the Outback lineup.
Purposeful interior with meh infotainment tech
Steven Ewing/SlashGear
Like the rest of the Outback, the interior focuses more on function than form, and that's evident with sturdy surfaces that look and feel like they're designed to last over the long-haul. Most models come with water-repellant StarTex cloth upholstery, but even the perforated leather seats of my Touring tester feel more durable than luxurious. At least they're heated and cooled at this trim level. There's a heated steering wheel, too.
Front and rear passengers have ample head- and legroom, and there's 32.6 cubic feet of space behind the back bench. Fold the rear seats flat and you've got a generous 75.6 cubic feet of room for your what-nots, and on the Wilderness trim, the expanded use of water-repellant material keeps the whole cargo area easy to clean. Throw your muddy boots and muddier dogs back there without worry.
Infotainment tech is handled by Subaru's Starlink software, housed on a 7-inch touchscreen on the base Outback, with integrated Apple CarPlay and Android Auto. Every other version upgrades to a portrait-oriented 11.6-inch screen where CarPlay can be used wirelessly, and embedded navigation is available. By and large, the Starlink system works as advertised, though the graphics feel a little behind the times and the menu structure can be a little confusing. Nice as the big 11.6-inch screen is, I prefer the easier-to-use, quicker-responding interfaces available from most of Subaru's competitors.
2023 Subaru Outback verdict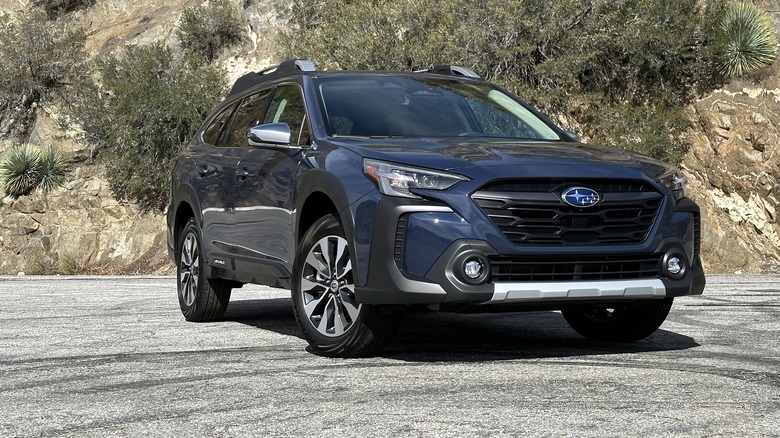 Steven Ewing/SlashGear
Speaking of competitors, there aren't really any that directly line up with the Subaru Outback. The Audi A4 and A6 Allroad wagons, Mercedes-Benz E450 All-Terrain and Volvo V60 and V90 Cross Country have a similar form factor, but skew way more toward luxury than utility. You could get a traditional five-passenger midsize crossover as well, something like a Ford Edge or Honda Passport, but neither are as good off road.
The Outback pretty much plays in class all its own, then, giving it a unique advantage in the marketplace. It's not particularly thrilling, but it doesn't have to be. Subaru's tried and true tall wagon formula is as excellent now as it ever was, and remains an all-rounder that's easy to recommend.