Netflix Is Moving Beyond Mobile Games To Make A AAA PC Game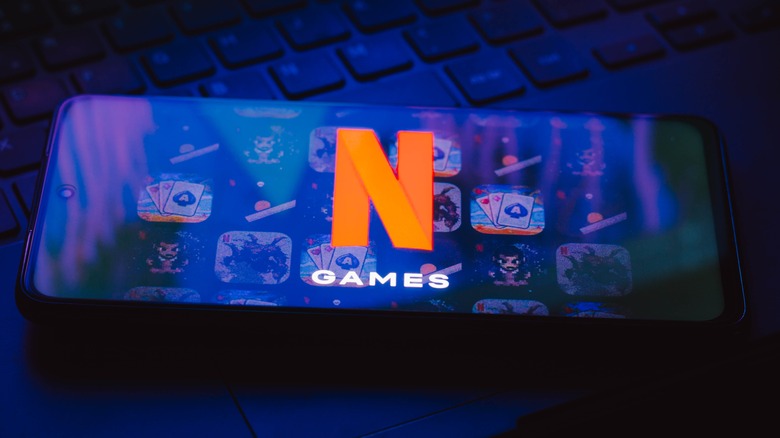 rafapress/Shutterstock
It seems that Netflix's commitment to expanding its small gaming section is a lot more long-term than anyone might have predicted. So far, Netflix's game catalog includes mobile titles, but there are whispers in the rumor mill that indicate it's about to dive much deeper — and there's even a recruitment ad that serves to prove it. Will Netflix do the impossible and redefine its image to include more than just binge-worthy shows and movies?
Netflix certainly feels a lot of pressure from its competition, and its subscription numbers are not as impressive as they used to be. TechCrunch reported earlier in 2022 that Netflix had the largest quarterly loss in its history in the second quarter of the year. With competitors like HBO Max, Disney+, Hulu, and many more, it's no wonder that people can now pick and choose among many streaming services, and this can affect Netflix's subscription numbers in a big way.
To combat these problems, Netflix seems to be trying to do more than just license and film more and more movies and shows. The company regularly expands its mobile game catalog, adding new titles that are available as part of the regular Netflix subscription. It's also toying with the idea of streaming live sports events. Now, it might be trying to capture the interest of gamers by making an AAA game of its own.
A mysterious game might soon be in the works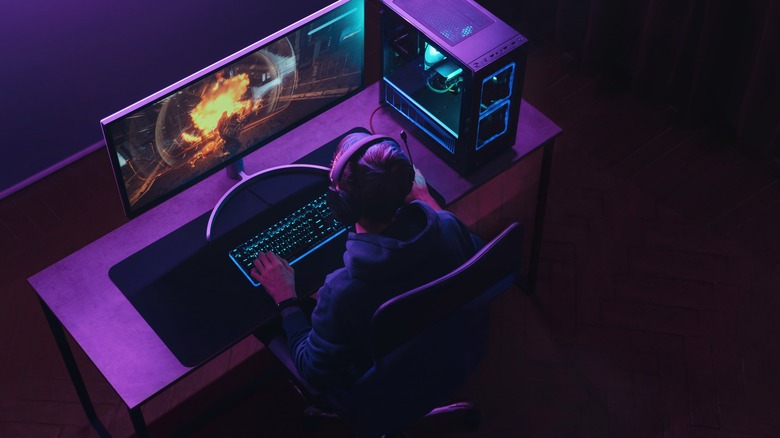 Arsenii Palivoda/Shutterstock
Netflix's plans are uncertain, but they're not exactly secret. The company posted a job ad on its official website, searching for a game director to work at its own game studio based in Los Angeles. Netflix has high expectations for the right candidate, but it also has exciting plans. According to the job description, the new hire will be tasked with helping Netflix "forge the game direction and creative vision on a brand-new AAA PC game." AAA games are generally high-end titles aimed at enthusiast gamers; think of games like "Cyberpunk 2077" or "God of War Ragnarök." 
In addition to a game director, Netflix is also searching for an art director, technical director, live service analyst, and lead engineer. Once hired, the new Netflix employees will presumably work under Chacko Sonny of Activision Blizzard fame, who now works for Netflix. Netflix's vice president of gaming, Mike Verdu, revealed during TechCrunch Disrupt that the company is vastly expanding its gaming section, and Sonny was hacked as a result. Sonny was previously an executive producer on Blizzard Entertainment's "Overwatch," which proved to be a huge success. Building a team around Sonny indicates that Netflix might be aiming for the big leagues with its new release.
As far as the actual game goes, Netflix was pretty tight-lipped on the details. However, the job description calls for "experience with FPs and/or third-person shooter games," meaning we could indeed see something like "Overwatch," but in the third person instead. Will Netflix be able to win some subscribers when this new title comes into being? It remains to be seen, but it's certainly an interesting turn of events.