Overwatch 2 Gameplay Trailer Puts New Character On Full Display
Updated gameplay footage of a new playable character for the upcoming first-person arena shooter "Overwatch 2" was featured in a gameplay video from the game's official YouTube account in Taiwan earlier today, according to VGC, but it was later taken down, suggesting that the initial upload was by mistake. Since then, the full-fledged trailer, which details additional gameplay information about the upcoming playable character, Sojourn, has been released by Activision Blizzard officially. The new footage, which is visible below, shows off Sojourn's new Railgun ability within a few short seconds of PvP gameplay.
There's little doubt that Sojourn will be a powerful contestant when "Overwatch 2" goes live, and players can expect to try her out for themselves as soon as April 26, when "Overwatch 2" enters its 5v5 PvP closed beta. Included in the closed beta will be a new mode, a new ping system, and four new maps in addition to several maps carried over from the original "Overwatch." Also included in the beta will be a series of hero reworks for fan favorites Orisa, Doomfist, Bastion, and Sombra.
Overwatch 2 release date info
"Overwatch 2" was originally slated for a November 2021 release date, however, it's been delayed to the near future, though there's no word on any proper release date happening any time soon. The best chance anyone has at trying the new characters is by opting into that aforementioned April 26 closed beta test, which will only be available on PC — sorry, console gamers! That said, the full release of "Overwatch 2" will most likely arrive sometime in 2022, and by then, it should also be available on each of the modern consoles in addition to PC. According to VG247, "Overwatch 2" is unlikely to be hindered by the recent Microsoft acquisition, and the game should ultimately arrive on PlayStation 4 and 5, Xbox One, Xbox Series X and S, and Nintendo Switch.
Regardless, Sojourn's bombastic new abilities are no surprise to players who've been following her development from the start. She's been hyped up since first appearing in "Overwatch" cinematic short, "Recall," in 2016, though she never made her way into the roster as a playable character until now. She is also notable for being the first Black female hero in any "Overwatch" game, according to Shack News. The official PlayOverwatch YouTube account also released a new origin story for Sojourn on April 13, which has stayed live since then.
Activision Blizzard continues to struggle with allegations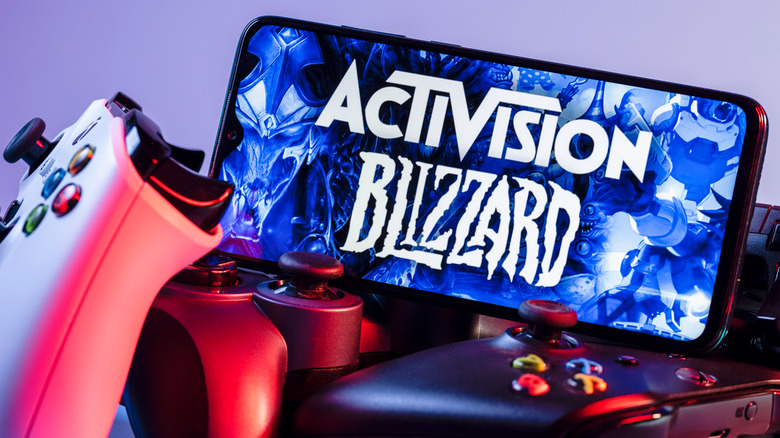 Sergei Elagin/Shutterstock
The recent $70-billion Microsoft acquisition of Activision Blizzard likely isn't the only factor that would play into ongoing "Overwatch 2" delays. Activision Blizzard, the developer behind "Overwatch" and its sequel "Overwatch 2," has continued to come under fire for a series of sexual harassment lawsuits levied toward its upper management by the Department of Fair Employment & Housing (DFEH) and the Equal Employment Opportunity Commission (EEOC) in 2021.
In March 2022, the EEOC lawsuit was formally settled for $18 million, but this settlement came only one week after the company received yet another sexual harassment lawsuit on March 24. The devastating nature of events underlying the series of lawsuits has resulted in a wide organizational movement within the video game studio, and according to the Washington Post, Microsoft has openly stated that it will respect the outcome if Activision Blizzard chooses to acknowledge the demands of the newly-formed Game Workers Alliance union that's come about partially as a result of the recent blitz of sexual assault allegations toward the video game company's upper management.