Activision Blizzard Slapped With Another Harassment Lawsuit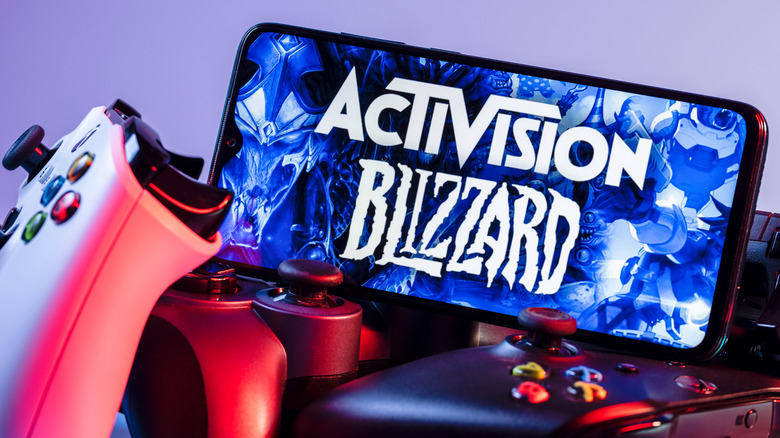 Sergei Elagin/Shutterstock
Activision Blizzard has been hit with yet another sexual harassment lawsuit. According to a report from Bloomberg, the latest lawsuit was filed in the Los Angeles County Superior Court on March 24 by attorney Lisa Bloom on behalf of a current employee referred to as Jane Doe.
According to the lawsuit, Doe has been working at Activision Blizzard as a senior administrative assistant to executives in the IT department since 2017. Doe alleges that she not only experienced sexual harassment and discrimination while working for the game publisher, but that she was also retaliated against for complaining about her plight — some of the elements of what Bloom alleged is an "alcohol-soaked culture of sexual harassment" during her conference outside of Blizzard's Irvine, California office in December 2021.
The legal move follows the California Department of Fair Employment and Housing's (DFEH) allegations that Activision Blizzard has a "frat boy culture" that's a breeding ground for "rampant sexism." The new lawsuit also contains details about the numerous occasions in which Doe was allegedly sexually harassed, pressured to participate in events that involved alcohol despite her refusals, and more.
Details of Activision Blizzard's latest harassment lawsuit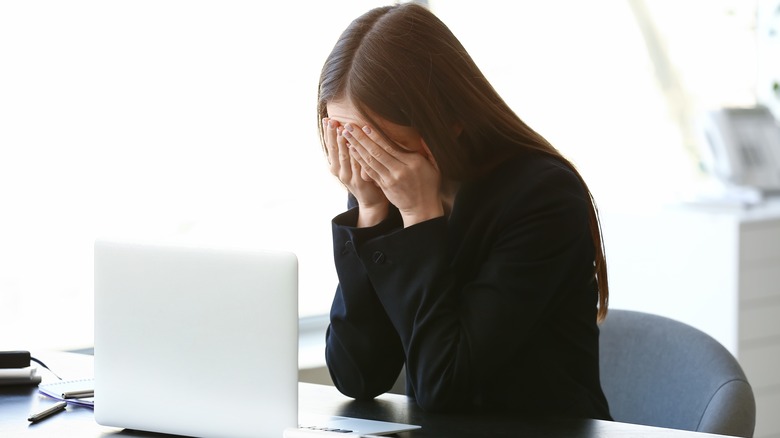 Pixel-Shot/Shutterstock
The lawsuit details an alleged culture behind closed doors that left Doe feeling uncomfortable, one that reportedly involved everything from pressure to drink alcohol to the sharing of an "embarrassing" secret and more than one game described as, at times, being sexual in nature, according to Bloomberg. Doe claims to have made multiple requests to transfer in an effort to escape the allegedly toxic culture in addition to dressing in a more conservative manner to avoid sexual harassment.
These efforts were described as ineffective, and Doe allegedly took things all the way to former Blizzard president J. Allen Brack. Upon learning about her experiences, the lawsuit claims, Doe was reportedly finally offered a new role in a different department, but it came with its own consequences: reduced company status, the lawsuit claims, as well as a drop in salary.
Before that happened, however, Doe was allegedly told by Activision Blizzard superiors that she should keep her concerns to herself out of interest in protecting the company. Her complaints are said to have resulted in a more hostile work environment, compounding issues that reportedly pushed her toward accepting the new role despite the pay decrease.
Sexual harassment scandal continues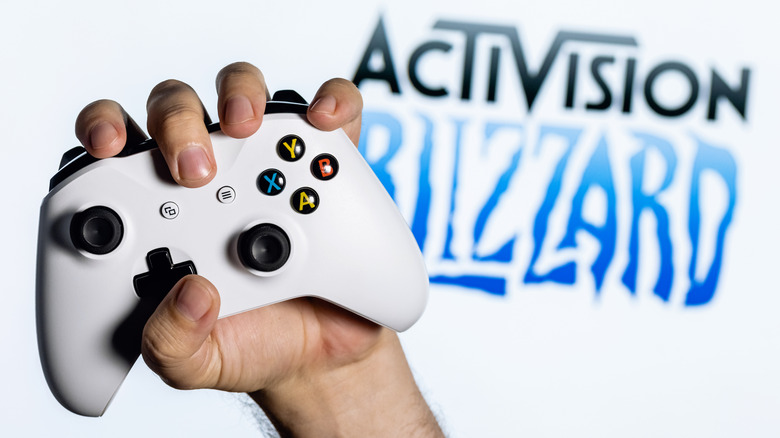 Sergei Elagin/Shutterstock
This is the latest development in Activision Blizzard's sexual harassment scandal that began when the DFEH filed its lawsuit in July 2021, shocking the gaming industry. Numerous outlets ceased coverage of future Activision Blizzard games upon hearing of allegations that an employee died of suicide after being sexually harassed during a company trip (via WaPo). Employees walked out of their jobs to demand Kotick resign from his position following a report from The Wall Street Journal that alleged he knew about the sexual harassment complaints for years but swept them under the rug.
This matter comes two weeks after eight women filed a lawsuit against PlayStation alleging workplace misconduct and systemic gender discrimination while they worked at various offices across the country. Their claims came about after PlayStation moved to dismiss the gender discrimination case filed by former IT security analyst Emma Majo.
Meanwhile, Activision Blizzard has called upon its shareholders to vote on Microsoft's $70 billion acquisition of the company. The Federal Trade Commission (FTC) is expected to approve the acquisition by June 30, 2023.