The Story Behind The Most Expensive Lamborghini Ever Sold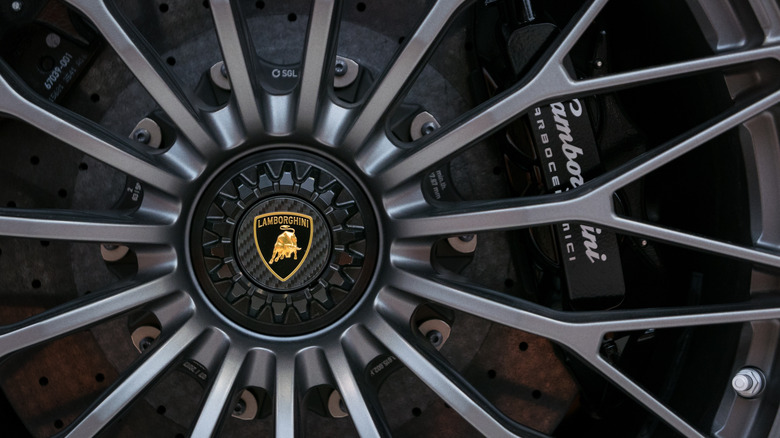 pio3/Shutterstock
Supercars usually have interesting stories to tell, but for the most expensive Lamborghini ever sold, it's one that you might not expect. When it comes to Italian automobiles, Lamborghinis usually occupy the upper echelon given their exorbitant prices. Among the most expensive cars it ever produced is the Veneno — a limited production model that debuted at the 2013 Geneva Auto Show. Representing the esteemed Italian automaker's evolution in design and technology, the Veneno was made to celebrate its 50th anniversary (via Lamborghini). Lamborghinis are known for their wild styling and the Veneno is no different, as the automaker uses endurance race cars as inspiration to elevate its design to another level.
It doesn't just look fast though; the Lamborghini Veneno's specs alone are enough to make it one of Lamborghini's all-time greats. Thanks to a roaring 6.5-liter V12 engine capable of producing 750 horsepower, the Lamborghini Veneno's top speed can reach an exhilarating 220 mph while getting from 0 to 62 mph only takes 2.8 seconds. Yes, it certainly ticks all the boxes as far as performance and aesthetics are concerned, but with only thirteen examples in existence, it's also among the rarest modern Lamborghinis in the world. That said, it's only right for a car that's mostly described using superlatives to be given an equally superfluous price tag of $4 million. However, that price didn't exactly make it the most expensive Lamborghini ever sold ... at least, not yet.
The most expensive Lamborghini model in the making
While the Veneno already had the makings of a record-breaking supercar from the start, it wasn't until 2019 that it started making its imposing presence known yet again. This came in the form of a white 2014 Veneno Roadster, which was sold at Bonhams for almost double its original price (via The Drive). Venenos are already rare enough as it is, but this particular example apparently belonged to Teodoro Nguema Obiang — the Republic of Equatorial Guinea's vice president. After he was investigated for corruption, misuse of public assets, and money laundering, among others, Obiang's Veneno was confiscated and then sold off at an auction for a whopping $8.3 million.
Fortunately, the money accumulated from the most expensive Lamborghini sale in the world is said to aid in Equatorial Guinea's various social programs. So, what made the infamous government official's Veneno so special? For starters, this pristine Veneno only had about 200 miles on its odometer, and only one other example shared the same factory color scheme. Other unique touches include a chrome set of wheels, a James Bond-esque 007 serial number, and the owner's initials adorning its bonnet and doors. Despite being in relatively mint condition, it's not without its few foibles, namely a "slight scratch" on one of its wheels as well as its battery needing replacement. Even with such a sullied history, this Veneno still turned out to be perhaps the most expensive Lamborghini ever sold. But what about the rest of this extremely rare one-off model?
Where are all the Lamborghini Venenos?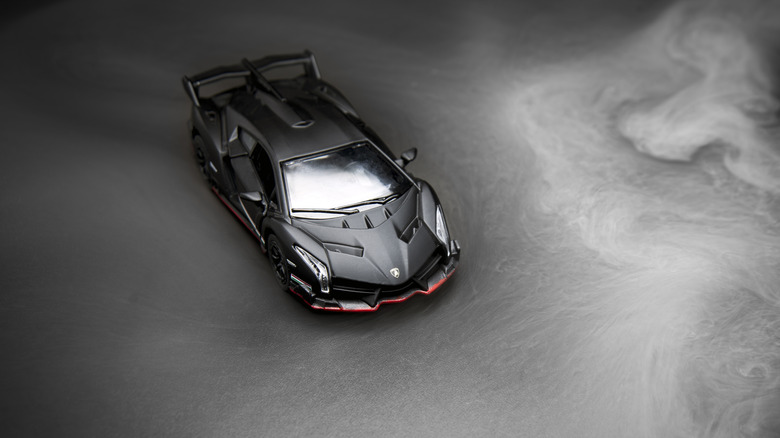 arda savasciogullari/Shutterstock
Securing a Lamborghini Veneno isn't easy even if you're strapped for cash. In fact, each example had already been sold out prior to its unveiling, per Lamborghini. Out of the thirteen total Venenos, only three coupes — in the Italian flag's colors green, white, and red — were made to be sold to the public, while a sole gray one was put on display at Lamborghini's museum MUDETEC located in Bologna, Italy. Lamborghini reportedly handpicked three buyers for the special coupes, using the customer's brand knowledge, appreciation, and purchase history as criteria, according to CNBC.
One unit went to ex-tech CEO Antoine Dominic, another was bought by investor Kris Singh, and the last was sold to an unnamed customer in the Middle East — who all had to seal the deal without even seeing the final product. The remaining nine Venenos were roofless roadsters which, like the record-breaking Lamborghini sale mentioned above, resurface in auctions from time to time. A Veneno roadster went for sale recently for over $10 million (via Autoevolution). Another example — which is said to be previously owned by Saudi Arabian royalty — is up for grabs on Sotheby's. Now, will the Veneno soon overthrow the most expensive car ever sold? Given its appreciating value, it wouldn't be a surprise. If there's one thing certain, it's the Veneno's potential to be the most expensive Lamborghini ever sold, and it just might surpass its value in the future ... again.