2024 Subaru Impreza Goes Hatchback Only In LA Auto Show Debut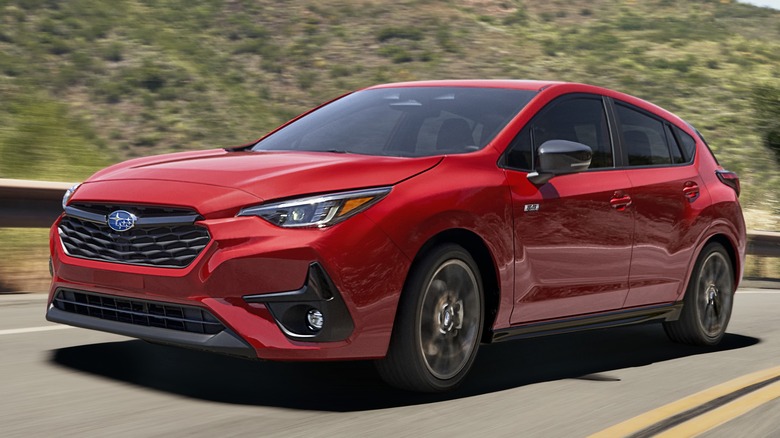 Subaru
The Subaru Impreza, beloved by tuners and families alike, just got a comprehensive upgrade for 2024. Debuting at the LA Auto Show, the new Impreza has committed to a single-body style. Subaru has ditched the Impreza sedan; just the hatchback will be coming to market. Other big changes are also coming to the zippy, affordable Subaru.
As dedicated SlashGear readers will know, we felt some changes were overdue to the established Impreza formula. The 2022 WRX STI didn't thrill us, not least because it shed the last vestiges of its connection to the simple, excellent daily driver that spawned it and committed to a completely custom build. The car tried to hang with dedicated entry-level sports cars like the new Integra and the Elantra N. It wasn't up to the challenge.
That said, speaking ill of an Impreza, even an overdesigned, underperforming tryhard of an Impreza, felt like kicking a puppy. The Impreza has been a consistently brilliant car for the best part of three decades: practical enough for daily life but still a blast to drive. We've been waiting for a real attempt to bring back the best-of-both-worlds build we loved. In 2024, Subaru may finally be ready to deliver.
Redesign on a classic foundation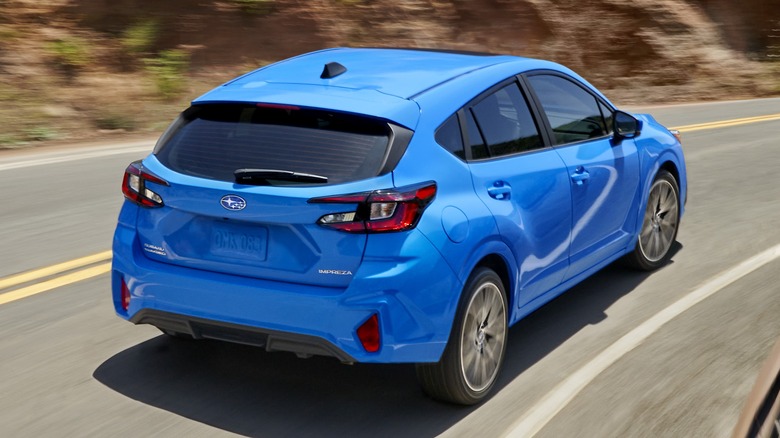 Subaru
Crucially, the 2024 Impreza will retain what has made the model brilliant over the last 30 years without trying to engineer around it. Per Subaru's press release, the car is coming in three trim levels: stock, Sport, and the new RS. Base and Sport come with Subaru's classic flat-four Boxer engine and can expect 153 horsepower. The RS gets a bigger 2.5-liter plant and will put out 182 bhp. As is right and proper for a Subaru, all three trim levels are AWD. At the same time, Subaru isn't repeating itself. Active Torque Vectoring will come as standard on the 2024 Impreza, alongside an upgraded version of the dual-pinion power steering rack from the WRX. That was one of our biggest problems with the 2022 WRX, so we're eager to see two years' worth of improvement.
As for the less sexy hardware, Subaru's excellent EyeSight safety system will come as standard on all trim levels. The cabin has been redesigned for greater comfort and the onboard electronics play nice with ApplePlay and Android Auto. Sport and RS also come with STARLINK Multimedia Plus (not that Starlink; Subaru's infotainment system just shares a name with Elon Musk's Space Internet) for best-in-show digital services and connectivity. In short, serious work has gone into making the new Impreza a comfortable, practical 5-door family hatchback that can still stand up to the sportiest competitors in its price range. Whether the actual result matches the goal will have to wait until we at Slashgear get our hands on one.