Brinc's Lemur S Tactical Drone Can Fly Through Tempered Glass
In the last few decades, the drone market has seen some impressive growth. What was once a technology reserved for niche hobbyists and the odd military applications has skyrocketed into the mainstream, with even commercial delivery services getting in on the action. Now, there is a wide variety of drones designed for anything from FPV racing to cinematography, social media content creation, and tactical applications. 
Brinc is a startup that hopped on the drone bandwagon in 2017 — although things only got into full swing later in 2020. Instead of making media creation tools or drones designed for fun, Brinc designs and manufactures drones for tactical applications, although with a caveat. According to Brinc's values and ethics page, the company's vision is to "make the world a better place," and it commits to never create tech that is designed to hurt or kill people — a welcoming committee, considering the potential harm tactical drones represent. 
To date, Brinc has launched only two products — the Brinc ball, a small, ball-shaped phone designed to be thrown into hard-to-reach or dangerous places to facilitate communications, and the Lemur S, a versatile tactical drone that the company claims is designed to keep people safe.
The Lemur S is a drone with a twist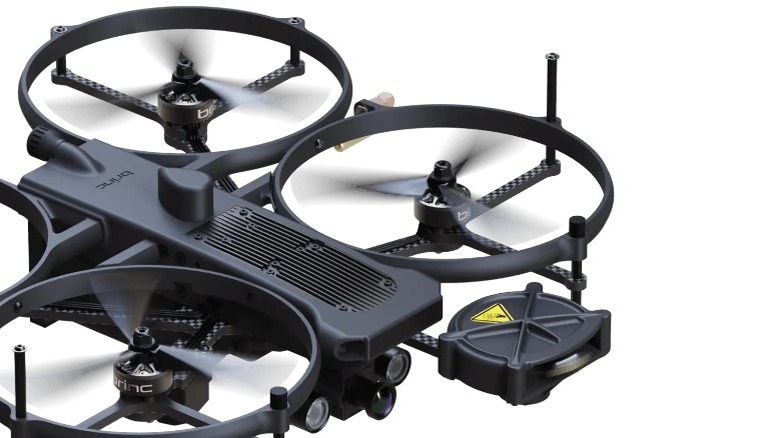 Brinc Drones
Built with tactical applications in mind, the Lemur S has a carbon-fiber-reinforced nylon body and propeller guards, which grant it the necessary durability to bump into things without taking much damage. The drone — which has a flight time of 31 minutes and a 10-hour standby while "perched" and recording audio and video — seems to be designed with imperfect or even abusive operation in mind. It's been drop tested to a height of 50 feet and comes with turtle mode built-in to self-correct when it ends up on its head. 
The added durability comes in handy when the glass breaker accessory is necessary. The glass breaker is a front-facing attachment that features a tiny spinning lump of tungsten carbide. To use the glass breaker, the operator simply spins it up and then flies straight into the glass panel they want out of the way. Brinc claims that the glass breaker can smash through automotive, tempered, and most residential glass. 
Brinc also equips the Lemur S with two-way communication capabilities featuring a 105 dB loudspeaker and two integrated microphones that can pick up voices from up to 75 feet away. The communication and entry features of the Lemur S add credence to Brinc's claims that its technology is a valuable asset in rescue and law-enforcement de-escalation efforts.