Inside The Complicated History Between Sam Bankman-Fried & Binance's CZ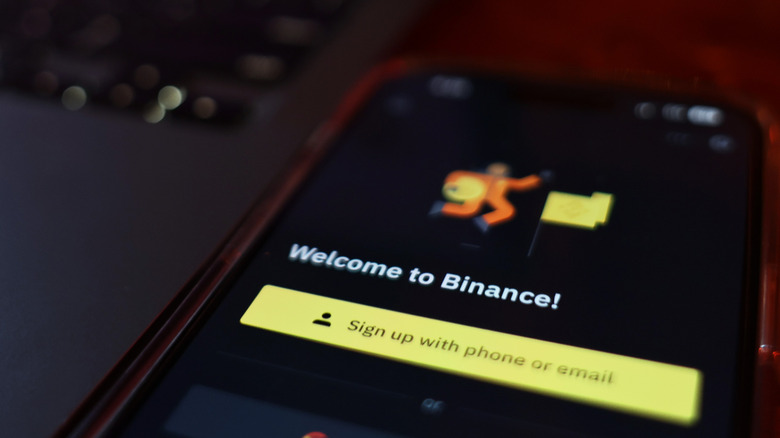 Michael M. Santiago/Getty Images
As of November 10, 2022, the cryptocurrency exchange FTX was in a decided pickle. Not only had an unprecedented number of withdrawals left it effectively bankrupt, but there was also some question of whether it would be able to cover those withdrawals at all, with decided legal scrutiny to follow. Reuters quotes a source putting the shortfall at over $9 billion. The nearest thing to a lifeline FTX has yet received, a buyout offer from rival Binance, had been withdrawn.
How did it come to this? How does any financial institution, even one as comparatively unregulated as a crypto exchange, crash and burn so quickly, so completely, and in a fashion so likely to produce serious consequences for stakeholders? Bizarrely, the story seems to come down to two men: Sam Bankman-Fried, CEO of FTX, and Changpeng "CZ" Zhao, CEO of Binance. Personal and professional rivalry turned into two radically different stories, spelling the end of one and the ascendance of the other.
How a personal rivalry devolved into professional chaos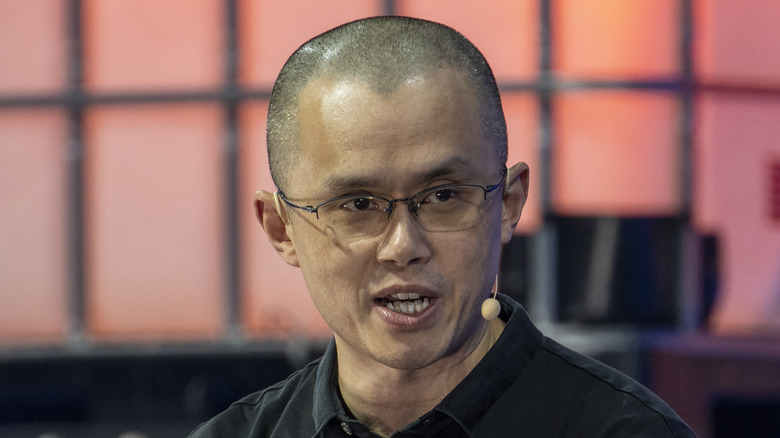 Horacio Villalobos/Getty Images
This last will-they-won't-they deal between Binance and FTX is in many ways a product of longstanding issues between the two cryptocurrency exchanges. At the heart is a culture conflict between the exchanges and their CEOs. 
The two companies began in radically different settings. Per Yahoo Finance, Sam Bankman-Fried began his career as a trader on the conventional market. He founded FTX in 2019, having been inspired by a recent conference. Changpeng Zhao founded Binance two years earlier. Zhao was almost 20 years older than Bankman-Fried, with a considerably longer resume. As Forbes notes, Zhao founded the Fusion Systems high-frequency trading service in 2005, then co-designed blockchain.info, the world's most popular cryptocurrency wallet (now blockchain.com). He also served as CTO for the OKCoin exchange before making Binance's initial coin offering in 2017.
In 2019, Binance purchased a sizable chunk of FTX. Per CoinYuppie, FTX's business at the time was limited to cryptocurrency derivatives, trading in cryptocurrency futures, options, and contracts rather than pushing a token of its own. When Bankman-Fried transitioned FTX to a true crypto exchange with its own token, FTT, he created a competitor for one of his largest investors. In the process, Bankman-Fried rebranded himself as a bit of a crypto evangelist, "crypto's JP Morgan" (via MarketWatch), rhapsodizing on every accessible platform on his vision of cryptocurrency as a well-regulated part of the conventional financial market.
In many ways, Zhao's Binance was and is the opposite of Bankman-Fried's crypto vision. Starting in mainland China (FTX was founded in Hong Kong and relocated to the Bahamas in 2021), Binance was accustomed to tight regulation and the demands of the public sector. Zhao wasn't interested in Bankman-Fried's pitch for greater regulation (via Fortune). He'd had his share. The more Bankman-Fried sought attention, the less FTX looked like Zhao's idea of crypto as a paying proposition.
That by itself was likely enough to trigger digital rivalry, but it didn't have to. The two most reliable ways to start an argument were about to enter the picture — money and Twitter. 
Crypto, controversy, and the fall of giants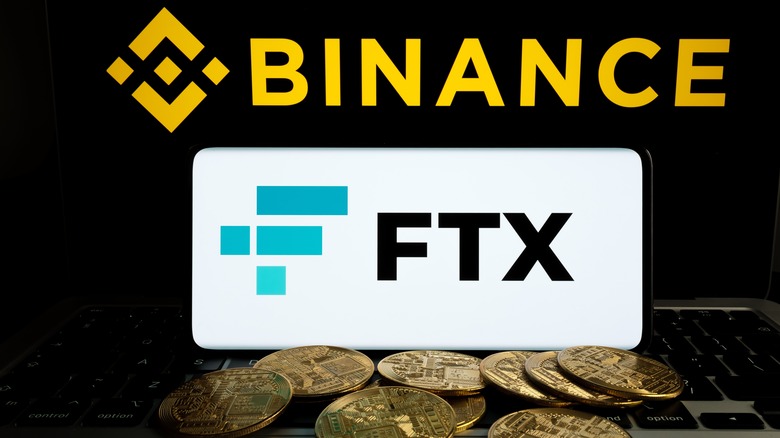 mundissima/Shutterstock
Whether Bankman-Fried's view of crypto was accurate is the stuff of a million internet arguments and certainly beyond the scope of this article. What's clear is that FTX was no longer what Binance bought. Bankman-Fried's solution was simply to buy them out. Per CoinYuppie's sources, the deal went ahead on fairly amicable terms, but with an asterisk: he used both cash and FTT to do so. Binance no longer had an actual ownership stake in FTX, but it still had a whole lot of money on the exchange. As FTX continued to grow according to Bankman-Fried's vision, Zhao had opinions.
Enter Twitter. As Business Insider India reports, Zhao made a series of Twitter statements about FTX. As an FTX customer, doing so was his sovereign right. As a changemaker in the cryptocurrency universe, Zhao's statements likely increased investor anxiety and public scrutiny of the exchange. 
That's where the wheels came off. A wave of customers decided they no longer trusted Bankman-Fried's exchange and tried to pull out. FTX couldn't cover them. Worse, FTX's finances appeared unacceptably entwined with Bankman-Fried's Alameda Research. An investigation will be forthcoming, with potential legal consequences to follow. 
Crucially, of course, neither Zhao's tweets nor anything else on Twitter should be relevant to Bankman-Fried's dilemma. Bankman-Fried doesn't own Twitter (though he thought about it), and even the loss of customers should have been a setback rather than a disaster. If he'd covered FTX's obligations and maintained the ethical distance between it and Alameda Research, Zhao's commentary wouldn't rise above the level of a vicious rumor. Instead, Zhao's statements look increasingly prophetic. For the moment, we'll leave him the last word:
Two big lessons:

1: Never use a token you created as collateral.

2: Don't borrow if you run a crypto business. Don't use capital "efficiently". Have a large reserve.

Binance has never used BNB for collateral, and we have never taken on debt.

Stay #SAFU.🙏

— CZ 🔶 Binance (@cz_binance) November 8, 2022