New Chrome Extension Shows You Who Paid For Their Twitter Checkmarks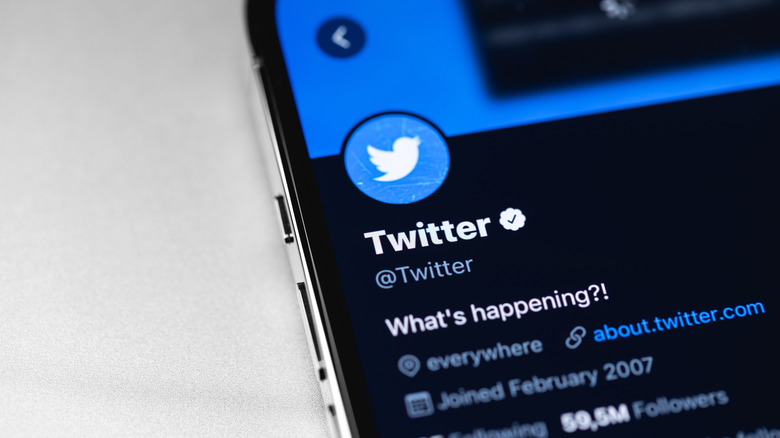 Primakov/Shutterstock
Twitter's takeover has been a mess for a lot of users (and employees), but now there's at least one way to create some semblance of order out of the chaos. That is of course until things change without warning again.
In this case, the relevant kerfuffle pertains to Twitter verification and official checkmarks. Or rather, the mess that verification has become. What used to require at least some level of vetting on Twitter's end has become more of a subscription notification icon — with users able to shell out $8 per month for a Twitter Blue subscription that includes several perks (such as the Edit button), along with a blue checkmark.
Problem is, a vetted checkmark looks the same as a paid-for checkmark at first glance, and a lot of accounts have been taking advantage of that oversight to impersonate other official Twitter accounts for laughs. And sometimes scams. Fortunately, a new Chrome browser extension named "eight-dollars" — we see what you did there — promises to let you see the difference between accounts that have official verification and paid verification with a single glance (via GitHub).
Why would anyone need eight-dollars?
It's not strictly necessary to install "eight-dollars" in order to find out whether an account is actually verified or just paid for a checkmark, but it does require some effort to spot the difference. At the moment, if you see an "official" Twitter account you can look at the actual handle (the "@" if you will) to see if it's correct, but if you aren't sure if it's the right one — or it could be slightly misspelled on purpose — you need to dig a bit.
Go to the account's profile page and select the verification checkmark, at which point you'll see a message that states either "This account is verified because it's notable in government, news, entertainment, or another designated category," or "This account is verified because it's subscribed to Twitter Blue." If the account claims to be official but you see that second message, it's possible that's not the actual official Twitter account.
What "eight-dollars" does is change the icon, which is something Twitter probably should have considered and implemented before rolling out paid verification. Once installed and running, in place of the typical blue checkmark you'll see either a checkmark with the words "Actually Verified", or a dollar sign with "Paid for Verification" alongside it. That makes it much easier to tell, without any additional sleuthing, whether or not the tweet you're looking at is from the real deal or just someone who is eight dollars poorer.