Volvo EX90 Vs. Tesla Model X: Three-Row Electric Cars Compared
Will the Volvo EX90, with its spacious seven-seater cabin and cutting-edge tech, give the Tesla Model X a run for its money? The Volvo EX90 was unveiled, boasting a plethora of high-tech features, making it perhaps one of the most advanced electric SUVs the Swedish automaker has ever made. From oodles of sensors capable of giving it full autonomy to a design that screams Volvo's trademark safety-first philosophy, the EX90 is lining itself up as a strong competitor in a market brimming with EV alternatives.
Among its closest competition is Tesla's top-of-the-line SUV — the Model X — which won't be doing the EX90 any favors given its blistering performance and tech features that are just as competent, if not better. Both of these full-sized electric SUVs can accommodate seven people, drive over 300 miles on a charge, and have enough tech to make older gas guzzlers feel ancient. As the longest-range electric SUV in Volvo's lineup, the 2024 EX90 is already offering a lot for its asking price. That said, can the Tesla Model X come up with enough to justify its steeper price?
Volvo EX90 vs. Tesla Model X specs: Both bigger, but which is better?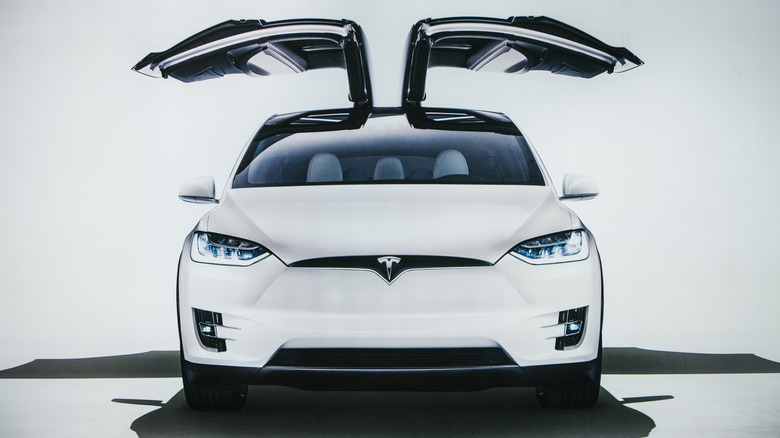 franz12/Shutterstock
Specs-wise, the Volvo EX90's features include dual-electric motors powering all four wheels, giving it 408 horsepower, a zero to 62 mph time of 5.9 seconds, and a range of up to 363 miles. It utilizes Volvo's latest safety tech features, scanning both externally and internally to alert drivers of potential hazards that may affect its passengers, surrounding vehicles, and pedestrians alike. The 2024 EX90 interior amenities feature a Bowers and Wilkins 3D sound system, headrest-integrated speakers, a LiDAR sensor, 5G connectivity, and digital key entry coming as standard.
Meanwhile, a base Tesla Model X also boasts a dual-motor AWD setup, albeit with 670 horsepower, a quicker 3.8-second zero to 60 mph time, but with a shorter estimated range of 348 miles. On the safety side, the Model X comes with the usual driver assistance like automatic braking and collision warning. However, it does have full self-driving from the get-go, while the EX90's autonomous driving is still a planned future update. The Model X interior features some high-tech amenities too, like a 22-speaker sound system with Active Noise Cancellation, integrated gaming hardware, and heating for all seats, among others. Space isn't an issue for both models, which come with three rows, seven-seat capacity, and matching front trunks, so what's the kicker?
Volvo EX90 and Tesla Model X's other pros and cons
There are other points to consider when pitting Volvo's seven-seater EV against Tesla's. In terms of charging speeds, the EX90 can recharge from 10% to 80% in 30 minutes, while Tesla claims its cars give 200 more miles after a quick 15-minute charge using the Supercharger infrastructure. When it comes to the center console, the EX90's fixed 14.5-inch portrait-oriented screen does seem lacking when compared to the Model X's wider 17-inch tilting infotainment display.
Of course, the American automaker's controversial transition to Tesla Vision deprives the Model X of utilizing the more sophisticated LiDAR system found on the EX90, and the lack of 5G connectivity out of the box gives it less future-proofing as well. As for pricing, the 2024 Volvo EX90 is expected to be below $80,000, which brings a lot of value considering the space, safety, and tech it's offering. Meanwhile, the Model X already costs over $120,000, and that's just the base model — its Plaid variant kicks things up a notch. Overall, the EX90 sounds like the best choice for buyers who value practicality, safety, and convenience for less, while the Model X is angled toward those who prefer speed and a little bit of everything else, but for a lot more.