This Video Proves The GMC Hummer EV Is Not As Indestructible As It Looks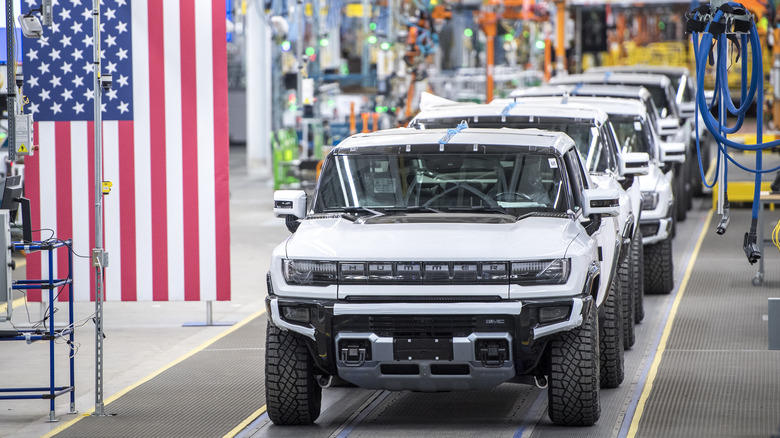 Nic Antaya/Getty Images
The all-new GMC Hummer EV is reclaiming lost glory in a way that its military-based ancestors could only dream about. It's still as big and provocative as the old Hummers of yore, but it packs a new type of wallop under its retro-inspired sheet metal — a giant 205-kWh battery to deliver an EPA-estimated 329 miles of range (more than what you get in a Rivian or Ford F-150 Lightning). It also weighs a portly 9,243 pounds, but it has three potent Ultium electric motors to compensate for its heft.
When it comes to electric cars, more spinning motors mean more power, and the latter is at the core of the new Hummer EV's growing merits. The Hummer EV Edition 1 model packs 1,000 horsepower and an astonishing 1,200 lb-ft of torque from its tri-motor, 800V electric system, enough oomph to push 60 mph from a dead stop in just 3.3 seconds (per Car and Driver), highly impressive for a beast of a truck.
Despite its almighty power, size, and heft, no automaker could prepare for the inner workings of a silly human mind. As proven by popular YouTuber Mondi, the Hummer EV still requires a sharp eye, sharper reflexes, and a mild sprinkling of common sense to extract its full potential.
How to total a Hummer EV in 19 miles or less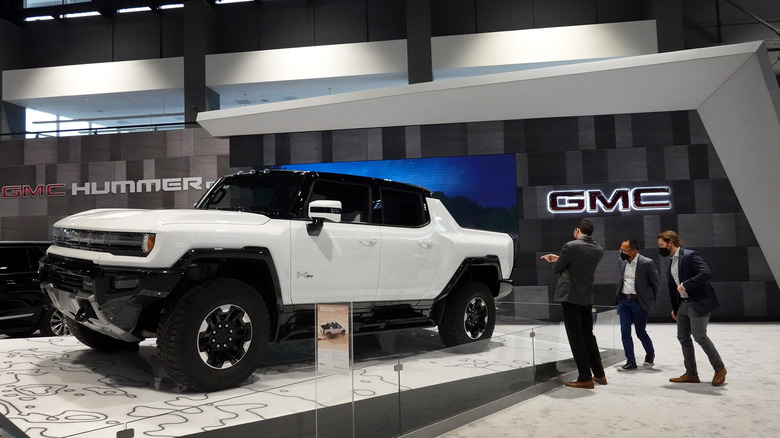 Scott Olson/Getty Images
Automotive YouTuber Mondi took delivery of a 2022 Hummer EV a few days after Halloween. After giving it a prerequisite go-around to discuss some of the truck's unique features, he and two passengers took the EV for a spin, mainly to test the Hummer EV's Watts To Freedom (WTF) driving mode. GMC gave its new EV a few driving modes (Normal, Off-Road, Terrain, etc.) to cope with changing road conditions. However, WTF mode is like activating the afterburners of a fighter jet.
With the Watts To Freedom driving mode engaged, the system lowers the suspension and cools the batteries automatically before takeoff. MotorBiscuit adds the only thing left to do is to release the brakes and keep the pedal to the metal to experience the thrill (or terror) of an almost-5-ton EV scampering the Earth below. But as Mondi found out relatively quickly, flogging the GMC Hummer EV on dirt roads is not without consequences.
Less than 19 miles after taking delivery, the Hummer EV hit a "big dip" on a rough patch of pavement at speed, and the unexpected happened. The EV punctured a radiator, lost a few parts, and could have a permanent "Crab Walk" rear axle. No vehicle is indestructible (unless we're talking about the Toyota Hilux that Clarkson, Hammond, and May unsuccessfully destroyed in old Top Gear), and Mondi has proven that even the GMC Hummer EV is not immune to the nuances of human-induced fun.