Electrifying EV Conversions Take Center Stage At SEMA 2022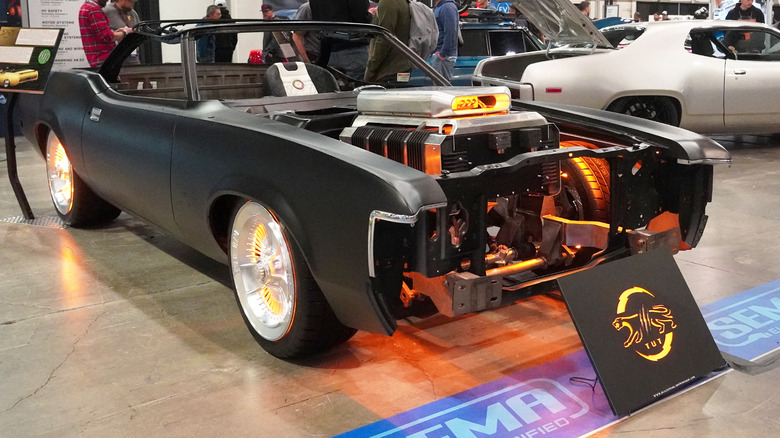 Michael Teo Van Runkle/SlashGear
SEMA descended once again upon Las Vegas this week with all the usual fanfare of excessively lifted pickup trucks, oversized chrome rims, and 1,000-horsepower twin-turbo muscle cars designed to attract attention to new products available to the automotive community. But the Specialty Equipment Market Association long ago left any pretense of sticking to hardware, tools, gadgets, and appliances and this year, around nearly every corner, I spotted an EV-swapped classic, vendors selling conversion components, and demonstration booths teaching basic wiring and installation techniques for new dropped-in drivetrains.
New concepts from OEMs also aimed to shoulder in on the craze, including Dodge's all-electric Charger Daytona SRT muscle car, Nissan's beach-combing Ariya Surfwagon design, and a sleek Lexus EV that looks not-so-subtly related to the fifth-gen Toyota Supra. Those portends of the mainstream automotive industry's future joined an unbelievable number of custom Teslas that everyone I spoke with at SEMA couldn't help but bring up, along with the obviously swelling crowds that signaled a return to normalcy following 2020's cancelled event and last year's noticeably diminished attendance.
Making EVs special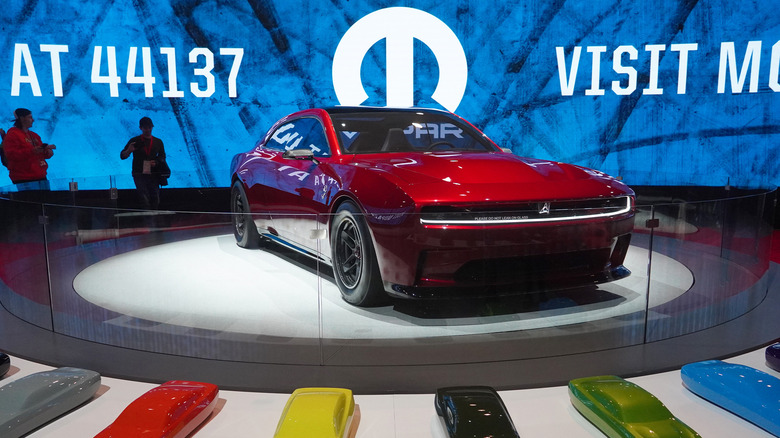 Michael Teo Van Runkle/SlashGear
Near the EV-focused section dubbed "SEMA Electrified," I visited with Abe Choe, Head of Business Development at carbon-fiber specialists ADRO. Standing next to a pair of ADRO's modified vehicles including, fittingly, a slammed and carbon-trimmed Tesla Model 3, Choe and I bounced off the walls about the sheer number of customized Teslas dotting SEMA's 1.7 miles of booths, lineups, and drifting extravaganzas. I speculated that maybe most Tesla buyers want to feel that their electric commuter cars might be more special than just another solution to a problem.
"The truth is, really, electric cars still aren't super convenient," Choe told me. "People who buy them are more about getting in on what's new, they want future tech and that crazy performance."
All the carbon-fiber pieces that ADRO builds for front splitters, side skirts, rear diffusers, and spoilers—not to mention mirror caps and interior trim pieces—serve the same purpose as rims, brightly colored wraps, and exotic air suspension systems. Namely, they help EVs look and feel as fun as the straight-line acceleration made possible by instantaneously available torque.
Still, that gut-wrenching performance is no joke and videos of Teslas, Porsche Taycans, or Lucid Airs blowing modern muscle cars away at the drag strip undoubtedly help to nudge the general public along the road to electrification. Elon Musk—flaws and all—recognized that fact early on and now, even diehard internal-combustion devotees seem ready to jump on the bandwagon.
Mapping a different route to Tesla and Lucid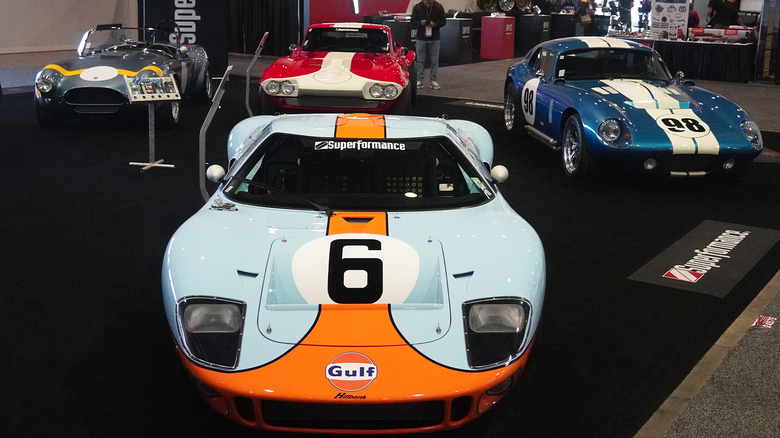 Michael Teo Van Runkle/SlashGear
Perhaps few companies embody the mythical age of ICE supremacy more than Superformance, which sells historically perfect modern recreations of the iconic Shelby Cobra, Ford GT40, Daytona Coupe, and Corvette Grand Sport—all of which owner Lance Stander brought along to SEMA. But Stander left his own car nearby at SEMA's sister show AAPEX this year: a fully electric Cobra prototype that borders on truly living up to Tesla's Ludicrous mode with 1,500 pound-feet of torque on tap in a 2,400-pound rear-wheel-drive package.
Superformance plans to install more batteries in the first customer build to allow for about 220 miles of driving on a charge, which will up the car's weight to 2,800 pounds, but the point isn't to road trip alongside a Tesla or Lucid. And Stander admitted he doesn't want to drive a Tesla Plaid anytime soon, either.
"I want to keep being able to say the fastest car I've ever driven is my own Cobra, zero to a hundred," he laughed. "You gotta have a chance to get the tires warm. But if we put a set of cheater slicks on that thing, I mean, it's just gonna stand up."
Managing traction control & driving dynamics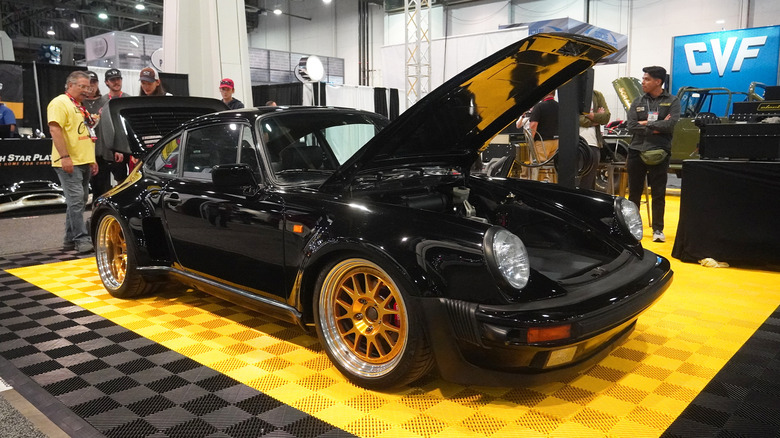 Michael Teo Van Runkle/SlashGear
Traction control presents a serious challenge for anyone swapping used Tesla drivetrains into lightweight classic cars, even before considering the complexity of the electronic components. The attraction to such ungodly power might sound nice to backyard mechanics but the original engineering can make those dreams quickly turn into a nightmare.
"We have to put traction control in," Stander told me, "And I'm almost at the point where I don't want offer a switch to turn it off... If you're driving on the street, you're not concentrating perfectly and the car's always saving your life. But now you turn this off and all of a sudden, it's not."
Improvements to traction control and throttle modulation (if we can even call an EV's gas pedal function a "throttle") need to come a long way to enhance daily drivability for electric builds.
"We're building the first customer electric car," Stander went on, "'cause I won't sell the prototype. I'm keeping it. That car is gonna have ABS, traction control... I didn't know how it works. I know how it works on a gasoline engine, you know, where they cut fuel, cut timing, all that kind of stuff. This actually works by a satellite and it picks up the movement, if the tires are spinning faster than if the car is moving forward, according to the satellite, it limits the power. I mean, it's just so advanced."
The cost of a modern classic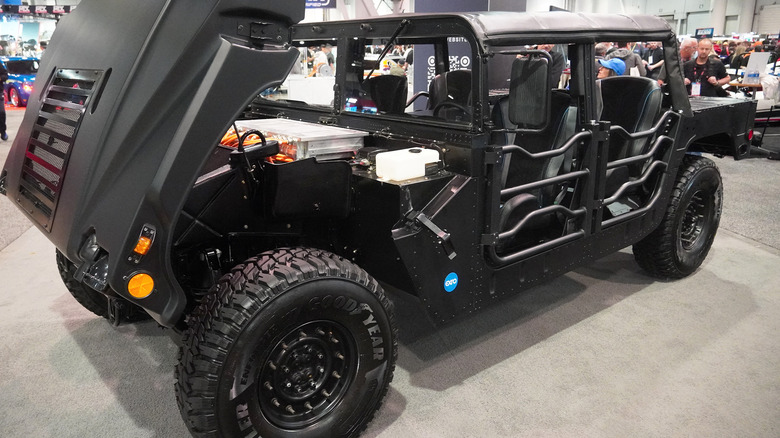 Michael Teo Van Runkle/SlashGear
An electric Cobra from Superformance costs well into the six-figure range, as does the rest of the lineup. And Stander's customers can expect wait times as long as late-2024 or early 2025, depending on what they want—an all-wheel-drive electric version of the Daytona Coupe on the way should help to mitigate traction issues, if Superformance doesn't then double down on output power with the dual motors. Best of all, Stander's years of efforts trying to earn official recognition under the 2015 law defining low-volume vehicle manufacturers finally paid off recently, which will allow buyers to pick out a turnkey car, though such concerns don't apply to any electric builds since they don't even cause problems with California's infamous Air Resources Board.
Avoiding smog testing on cars built post-1975 serves as another incentive for individuals and companies hoping to keep classics alive in the modern era. And the fact that a major company like Superformance even wants to get in the game reveals market demand, as do the huge number of other companies at SEMA showing off parts to support the enthusiasts undertaking EV swaps at home. Strolling through the various halls at the Las Vegas Convention Center, everything from ECUs to relays, standalone motors, even manual transmissions with EV motors already connected sat out on display.
EV swaps from the pros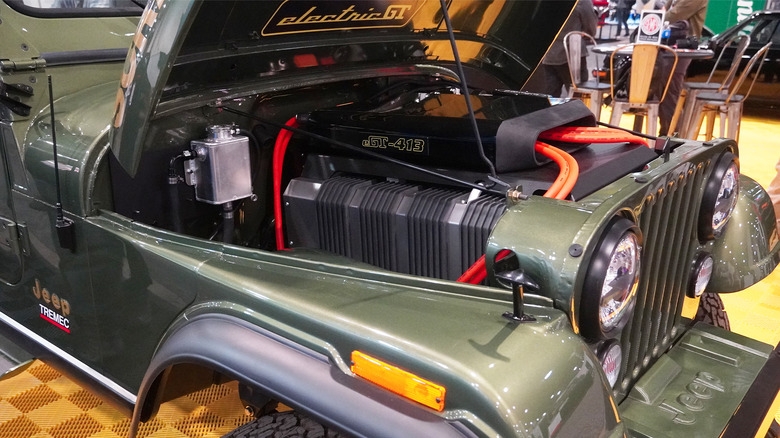 Michael Teo Van Runkle/SlashGear
One of the most eye-catching pairs of custom EV-swapped classics sat under the banner of a company called Electric GT, which used an air-cooled Porsche 911 and a Jeep Scrambler pickup as proof-of-concept for drop-in, reversible electric drivetrains. As I checked out the duo and the matching components on display nearby, founder Eric Hutchison wandered over and began explaining the long and difficult the development process that led to this year's EV explosion at SEMA.
More specifically, I wanted to know how Electric GT handles the Scrambler's manual transmission and transfer case, which still looked installed given the long-necked vintage shifters sticking up into the open cabin.
"Unlike a Tesla motor or a higher-RPM motor with 12 to 18,000 RPM, which you would use with a single-speed gear reduction box," Hutchison explained, "In this particular case, our first round of motors are 8,000-RPM motors with 275 horsepower, but 406 foot pounds of torque."
The Scrambler uses Electric GT's eight-cylinder equivalent, which fits in the same volume as a small-block Chevy or similar engines. And the Scrambler as well as a Defender 90 or 110, for example, uses a Tremec TR4050 gearbox that can handle 600 lb-ft so Hutchison described a unique method for driving the Jeep, either on or off-road, by starting out in third gear and then using fourth as a high-range option. After all, the electric motor won't stall at low speeds or even when stopped, so drivers don't ever need to use the clutch.
Power and weight considerations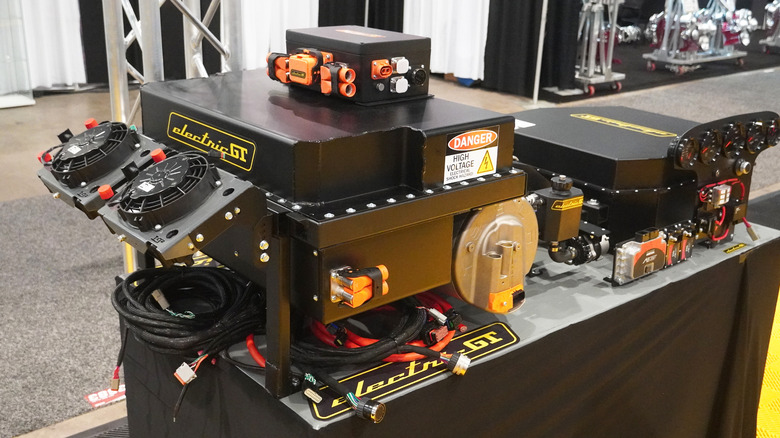 Michael Teo Van Runkle/SlashGear
Electric GT offers various sizes of battery packs to allow for fitments in Jeeps and Defenders, plus Mustangs, Land Cruisers, Corvettes, and more—while also catering to preferred range requirements. For example, the Porsche with a 47-kWh battery in the frunk and spare tire compartment might average around 150 miles of range. But I asked about the weight distribution, knowing the air-cooled 911's famous tendency towards throttle liftoff snap oversteer given the model's iconic (some might call it stubborn) rear-engined layout.
"This system brings the car to within its original weight specs within a hundred pounds," Hutchison revealed. "And we add about 2% forward a weight shift to the car to get it kind of closer to a 42-58."
The 436-horsepower Tesla drive unit sends grunt through custom 930-generation 911 axles that bolt straight to the wheel, with a limited-slip differential option. In addition to the front battery, the entire rear substructure bolts into the rear engine bay without requiring any drilling or cutting. Wiring to vintage-style gauges for the dash allow for new readouts to display state of charge, speed, braking regen, and even an analog clock, in classic Porsche style.
But neat as they look, Electric GT's setups certainly don't come cheap. The plug-and-play V8 eMotor with a 53-kWh battery and the Porsche eGT-913 setup with a 47 kWh battery, including all the necessary wiring and accoutrements, both cost around $66,000. No wonder handy home mechanics feel inclined to source their own parts and perform an EV swap themselves.
Everything a backyard builder might need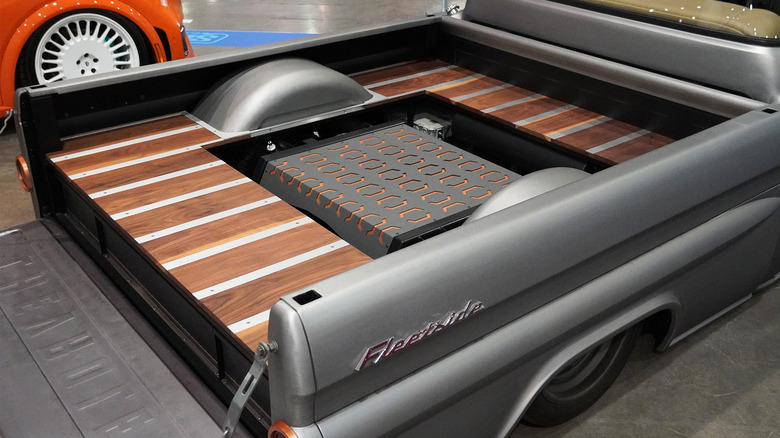 Michael Teo Van Runkle/SlashGear
SEMA 2022 included plenty of inspiration for such projects, which go far beyond the realm of putting silent power into funky old cars. Instead, SEMA revealed how far the EV-swapping community has already stepped into the world of artistry. Immaculately machined mounts and inventive battery placements seem to provide new outlets for imaginative creativity, given the lack of traditional engineering requirements that internal-combustion engines put on automobile manufacturers.
Sourcing the parts to actually unlock those creative juices never seemed easier, either. QR codes at each display of inverters, motor mounts, or battery cooling and leak detectors provided pricing, delivery, and even tutorials for installation. A nifty Electra-Five E-Train package even offered a fully built five-speed manual transmission with a 120-horsepower and 160-lb-ft electric motor attached, including the flywheel, clutch, and release bearing—and of course, an eight-ball shifter sat atop to attract that old hot-rodder spirit.
Some assembly knowledge required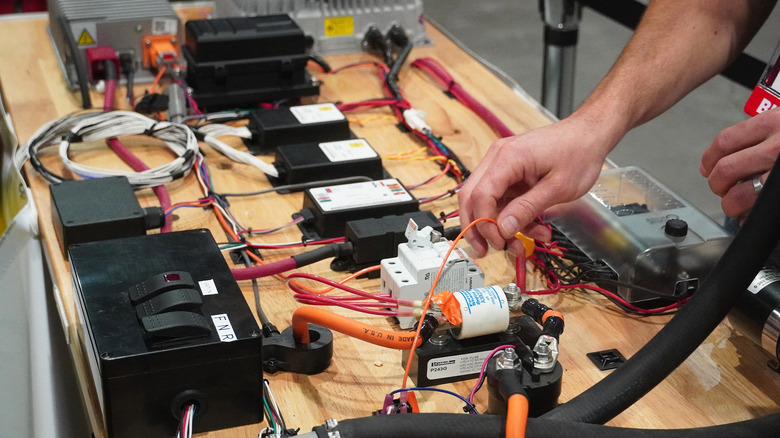 Michael Teo Van Runkle/SlashGear
Nearby, a company called Torque Trends had laid out rebuilt units for parts that typically fail during EV swaps, including carrier housings, flanged yokes, and output shafts. And SEMA clearly recognizes the new knowledge required for amateurs to effectively and safely perform an EV swap, so the show included demonstrations of how to wire new components that students young and old signed up for to build on their knowledge and skills.
After all, even as Tesla, Rivian, and Lucid change the game—and legacy OEMs try to catch up—plenty of controversy surrounds the expanding EV market regarding potential reliability issues. And that's with billions of dollars going into R&D, not to mention fully trained and experienced engineers at the helm! The cars and companies on hand at SEMA in 2022 clearly revealed how much further into the world EV modification and full electric drivetrain swaps the aftermarket community of enthusiasts may soon explore, especially as Moore's Law marches steadily along making electric car parts both better and cheaper simultaneously.