2023 Aston Martin DBX 707 Review: Ferocity Comes Standard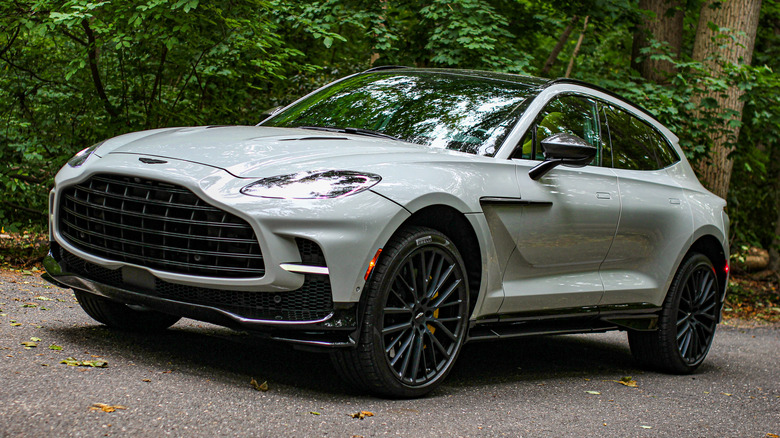 Alex Kalogiannis/SlashGear
Aston Martin has been around for over a hundred years, and with a legacy like that, it's hard to focus on the current state of the brand, particularly now that it's in a bit of a pickle. It's way easier to look back wistfully at the many endurance race wins, historically endeared road cars and maybe, once in a while, see an Aston Martin starring in your favorite movie.
Nobody wants to think about the business side of things, like how badly the pandemic impacted the luxury sports carmaker, its consortium of owners, and its attempt to right the ship. We have to, though, because SUVs print money for automakers, and even those who doggedly adhere to their sports-cars-only attitudes are eventually forced to relent. Just ask Lotus.
Still, if something is worth doing, it's worth doing right, and Aston Martin has not been passive in regards to the DBX. The sport utility vehicle is a manifestation of the brand's aggressiveness, both in style and performance, and the DBX 707 is a further, louder declaration that Aston Martin will not go quietly into the night. With even more power and capability than before, the mighty sports SUV is Aston Martin's attempt to dominate the field, but one can't help but wonder if it's maybe trying too hard.
Powerlifting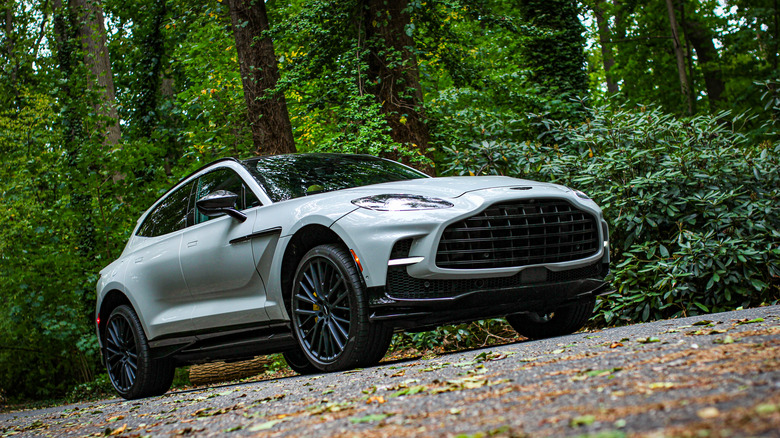 Alex Kalogiannis/SlashGear
The Aston Martin DBX 707 takes the Mercedes-AMG-sourced 4.0-liter twin turbo V8 housed under the hood and bumps the power output from 542 horsepower and 516 pound-feet of torque up to 697 horsepower and 663 pound-feet of torque. Incidentally, 697 horsepower equates to 707 PS, or metric horsepower, and thus where the car gets its name. That extra comes by way of new, larger turbochargers and updated boost calibrations, among other tweaks. All of it is channeled through a fast-shifting 9-speed wet-clutch automatic and sent to all four wheels. Power can be evenly split, but 100% of the Aston's juice can be sent to the rear when the situation calls for it.
If all of that grunt is applied correctly, Aston states that the DBX 707 can launch from 0 to 60 in a staggering 3.1 seconds. Over the base DBX, the 707 receives a multitude of upgrades to match the increased output. To manage it all, the 707 has updated dampers of its triple air suspension, changes to its active roll control and has had its rear track increased by a few millimeters. All of this is rounded out by a high performance carbon ceramic braking system.
Performance enhancements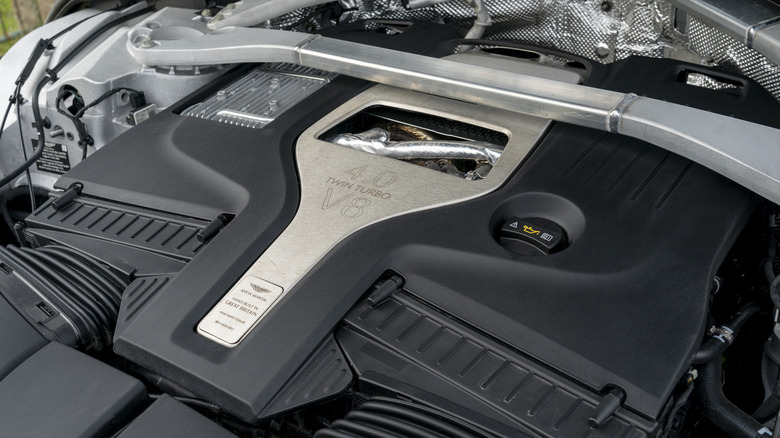 Aston Martin
For its first SUV, Aston Martin had to nail the looks and it's hard to deny that they did so spectacularly. The brand's distinct DNA is clearly present, with the front and rear standing out as embiggened versions of elements present in the Vantage and DB11. Everything in between is expectedly paunchy due to its SUV nature, but it's still muscular and aggressive, particularly with its slimmed-out middle contours that blend in with aerodynamic bodywork from the front.
The DBX tweaks whats present with more air-channeling components like redesigned vents and diffusers to both increase the SUV's stability but to also pump more air into its more demanding engine. Optional 23-inch forged black texture wheels round things off, as do various touches of dark chrome and carbon fiber for an added sprinkle of bling.
Carbonated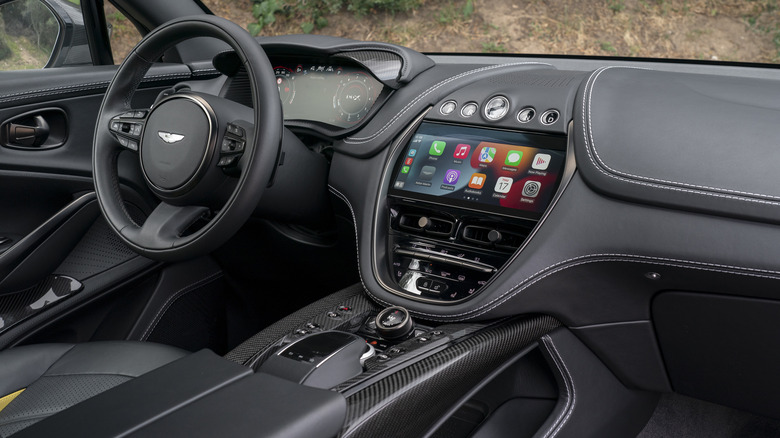 Aston Martin
While the elements of the exterior design are very purposeful, either functional or to convey the car's sporty attitude, the interior is another matter altogether. Here, Aston Martin blends the "sport" and "luxury" together and the result is certainly distinct. The sport side of things is hammered home thanks to no shortage of carbon fiber along the center console and throughout the cabin. As for luxury, whatever surface isn't carbonized is wrapped in panels of leather and bright stitching that can be contrasted with other colors depending on the degree of personalization involved. So much of it folds in on itself and surrounds the cabin that it feels like you're sitting in MC Escher's luggage.
The saving grace is that, though snug, the high roofline prevents the DBX's interior from being too overwhelming. The driver's seat position is commanding and the forward visibility is excellent. It's a great vantage spot not only to see the road ahead, but to witness all the onlookers and passers-by doing double-takes or whipping out their phones to snap a photo of this highly distinct vehicle.
Speaking of luggage, the remaining 22.3 cubic-feet of cargo space in the DBX fulfills its utility mandate quite handily. In real-world parlance that means there's ample room for several suitcases, handy for weekend jaunts to Chamonix or wherever DBX owners vacation. Sardinia, probably.
Untouchable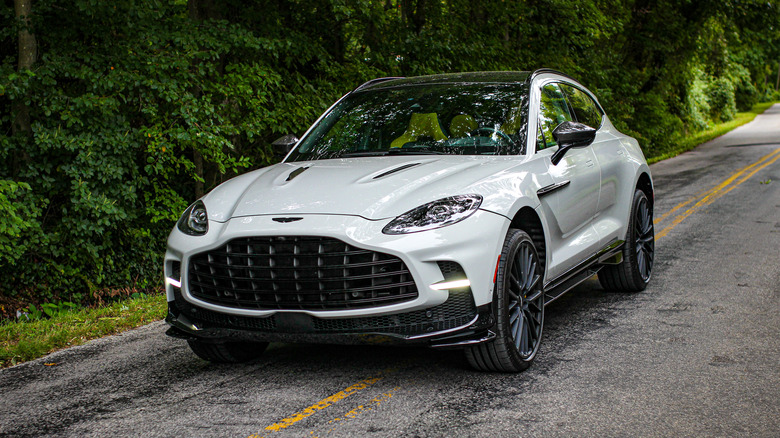 Alex Kalogiannis/SlashGear
With the benefit of being Aston Martin's newest vehicle, the DBX 707 fares better than the Vantage, but not by much. This Aston is also fitted with an interface from the Mercedes-Benz parts catalog, with a 10-inch display and touch pad interface on the center console. At the very least, it's easier to deal with than what's found in the Vantage and it's mercifully modern enough to provide wired Apple CarPlay functionality. You'll still groan whenever you habitually tap on the non-touchscreen to open an app, but it could be far worse.
There's much more convenience tech present as well. The DBX has adaptive cruise control, 360-degree cameras, a collection of parking sensors, lane-keep assist, and emergency braking if it detects an imminent crash ahead.
Brute force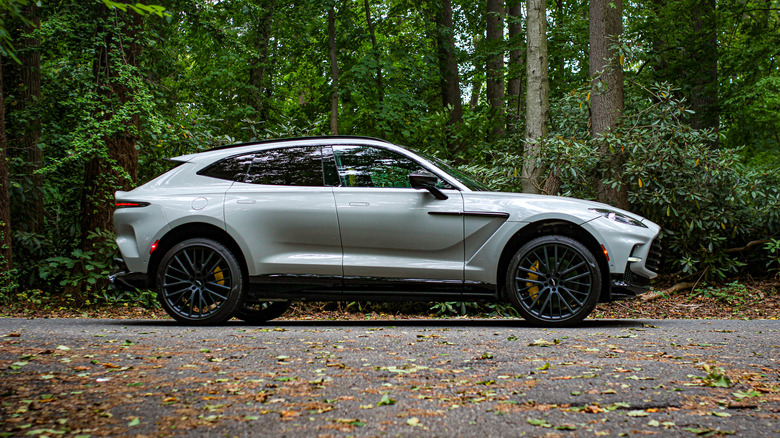 Alex Kalogiannis/SlashGear
As one would imagine, the increased power of the DBX 707 is the vehicle's showcase and it's eager to share it the moment the ignition button is pressed. Like most modern cars, the DBX has different drive modes to suit different situations, but you'd be right to guess that this Aston Martin leans heavy on the sport side of things. GT is the default mode, while sport and sport + progressively strip away any drive assists while upping the powertrain responsiveness. As it's ostensibly a utility vehicle, a "terrain" mode is present to help the DBX traverse more easily when taken off the beaten path.
Even in its softest setting, however, the 707 feels like its barely containing itself. The hyperactive engine acts like an over-caffeinated heart that permeates the Aston with jittery energy. This is substantiated with the shorter, more aggressive gear ratios that are optimal for the 707's performance intentions.
Come at me, bruv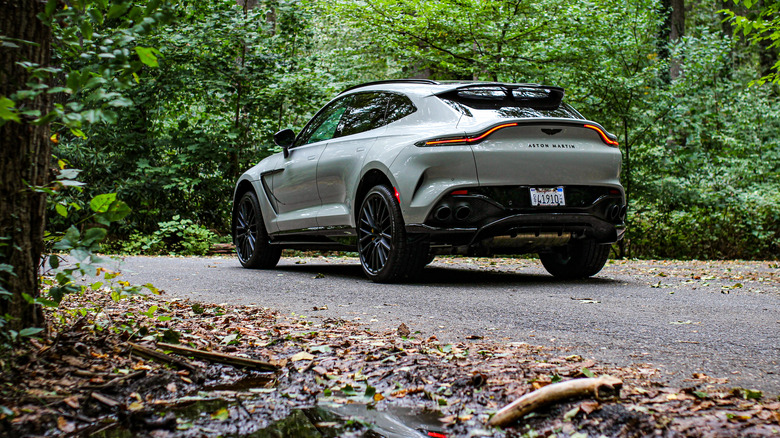 Alex Kalogiannis/SlashGear
That's great when firing through them on a highway, In daily stop-and-go situations, the DBX bucks forward as it tries to dispatch first gear as quickly as possible. It doesn't matter how soft-footed you are either as it's almost defiantly resistant to finesse. That hair trigger attitude is great for stunning would-be challengers at red lights, but living with that energy all the time is taxing.
At the same time, the brutish Aston rolls down the street like a burly bouncer walking down a narrow hallway, arms bowed out and antagonistic. For all of its capabilities, it's not graceful. It doesn't carve corners, it bludgeons them, mainly as punishment for being in the way of the straightaways it wishes to consume like so much protein powder. When finally given the permission to attack, the DBX 707's mild restraint is rewarded with an intense and satisfying rush of power. It shouts down highways with all the subtly of a cannonball and, thanks to its ornery appearance, it's just as frightening.
Gauntlet, thrown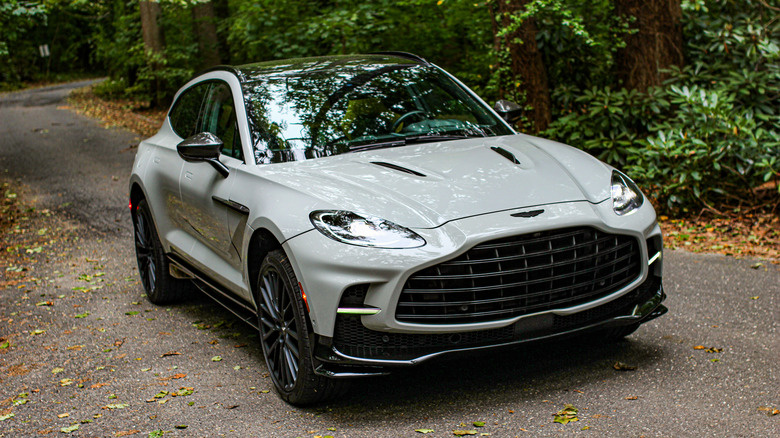 Alex Kalogiannis/SlashGear
The DBX 707 is a statement for both Aston Martin and the customer that rolls away with one. For the individual, the DBX is nothing short of a status symbol that announces their desire to go all-in with something of a maverick when there's so many other safe bets in this segment. Porsche's Cayenne – for example and what could arguably be blamed for this entire segment – manages to be comparatively quick with its range-topping Turbo GT. This sport SUV brings the heat but also nets buyers the leg-up Porsche has had in refining the sporty characteristics of its utility vehicle. It's also laden with more up to date technology.
Bentley's Bentayga Speed is an equally compelling SUV to consider. Though it skews heavily on the luxury side of things, it's no slouch in the power department, and brings its own unique British charm to the table, if that's also something that makes owning an Aston Martin alluring.
All of these come with hefty price tags, with the Porsche starting at 188,700 and the Bentley asking upwards of $259,000 just to even look at the Speed. The DBX 707 demands an equally wallet-busting $236,000 that can easily grow past the $292,500 mark with added extras. I suppose that makes its own statement, too.
For Aston Martin, the DBX 707 is important enough to show the world that it's not pulling its punches. By naming it after its own power output, it's wearing its intentions to be a dominating factor in this very combative segment on its very, very mean face. If it will be successful enough to pull Aston Martin out of any financial mires is yet to be seen, but while it attempts to do so, it will be impossible to ignore.