The Jaguar XJR-15 Is The Coolest Supercar You've Never Heard About
Jaguar made the prowling beauty that is the XJR-15 in the 1990s, but it remained a supercar that only few know about, and even fewer will ever get to actually own. When it comes to Jaguar's most definitive supercars, the iconic XJ220 usually gets all the limelight. Prior to the XJ220's conception, however, the British automaker already came up with an exhilarating '90s Jaguar supercar, one that looked just as good, if not even better. Enter the Jaguar XJR-15 — a brutally powerful V12 supercar that basically foreshadowed the XJ220's future popularity. Although Jaguar unveiled many futuristic concepts that were never brought to life, the XJR-15 actually became a road car that anyone could've driven back then.
That is, if they were lucky enough to snag one of the only 53 examples ever produced during its limited run in 1990 (via Jaguar). In fact, it was basically a street-legal production version of Jaguar's Le Mans-winning XJR-9 racecar. To accomplish this, Jaguar started a joint collaboration with Tom Walkinshaw Racing, under the Jaguar Sport subsidiary. The task was simple: Create a car that allows extremely wealthy individuals to drive a real competition-winning racecar on public roads. The result, on the other hand, was one of the coolest '90s supercars ever made. But there's more to the XJR-15 than its aerodynamic contours and alluring aesthetics.
Meek on the street, a supercar under the sheets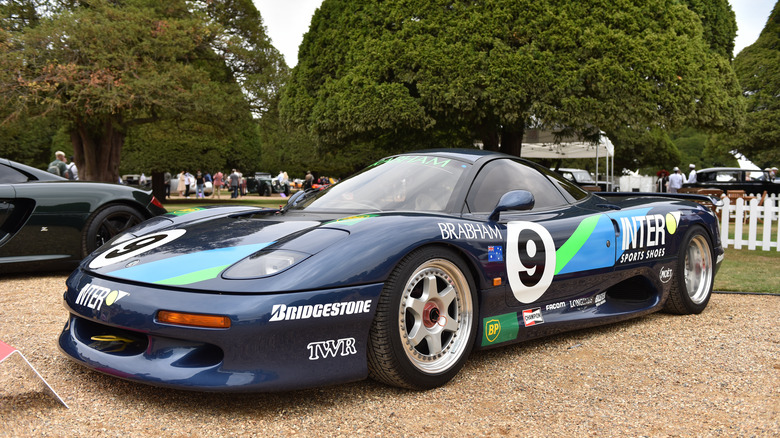 John Keeble/Getty Images
The Jaguar XJR-15 specs are nothing short of supercar-worthy, with a 450-horsepower 6-liter V12 engine capable of pushing it to a top speed just shy of 200 mph, and 0-60 mph in under four seconds (via Motor1). All that power wasn't solely intended for the streets though, as Jaguar even made a race series specifically for it (via Silverstone). Throwing an exclusive celebratory event made sense considering the Jaguar XJR-15 price already cost over half a million dollars when it went for sale in 1991, according to Silverstone. What's worth celebrating more though, is the Jaguar XJR-15's game-changing design that pioneered the carbon fiber monocoque.
It was the product of decorated racecar designer Tony Southgate and Peter Stevens — the man behind iconic vehicles like the Lotus Esprit, Lamborghini Diablo, and McLaren F1, per Bonhams. This resulted in the XJR-15 becoming the world's first-ever fully carbon fiber car, a trend that modern supercars have continued to follow generations later. So, why is it still being overshadowed by the XJ220's popularity? Sure, this V12 monster sounds like everything the Jaguar's V6 XJ220 failed to be, but there's also less of it to go around compared to the latter, which sold close to 300 units. Only 27 of the total 53 examples made it to the streets, while the rest were destined to be abused on the race track (via Motor1). With only a handful of owners ranging from musicians to sultans, finding one on the road can be a challenge in itself, let alone getting behind its wheel.
How much is a Jaguar XJR-15 worth today?
In an era when many supercar icons burst onto the scene, Jaguar's lesser-known supercar wasn't exactly competitively priced back then. However, the same can't be said now that volumes are getting scarce on the market. In 2005, a track-spec'd XJR-15 — which was bought for over $500,000 in 1992 — was sold on Bonhams for a modest $91,941. Fast forward 16 years later, another example was up for grabs, but now carrying a seven-figure price tag. Being among the 27 rare road cars with only 78 miles on the odometer, this Jaguar XJR-15 example cost almost $2 million when it was sold on Sotheby's. The auctioneer put a similar street XJR-15 up for sale in 2022, with an estimated price of around $1.1 to $1.4 million.
Given the rising XJR-15 price, is this '90s Jaguar supercar even worth driving regularly? In a YouTube video, car reviewer Doug DeMuro showed the many quirks that could make the XJR-15 quite an impractical daily driver. For starters, its cabin barely provides any noise insulation — requiring passengers to wear headphones for communication, and to keep its deafening engine noise at bay. From its barebones climate control and driver instrumentation, to its extremely cramped seating, the XJR-15 interior doesn't offer many luxurious amenities either. This goes to show it's still a racecar at heart, and the way it relegates driver comfort to a secondary role — focused purely on racing — makes the Jaguar XJR-15 one of the coolest supercars that barely get the recognition it deserved.