What's Up With Tesla's Whompy Wheel Problem?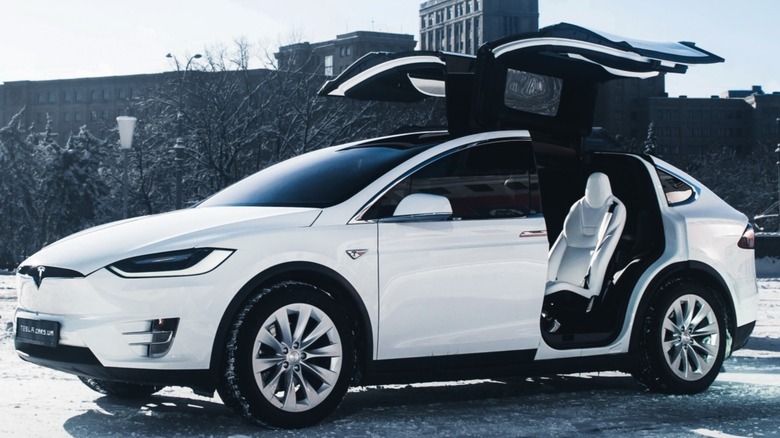 Veyron Photo/Shutterstock
When it comes to cars, small problems in the assembly line or quality control can lead to devastating outcomes. This is rarely exemplified as well as it has been in recent times by a problem that's come to be known as "whompy wheels." The problem originally seemed to mainly affect Model S units made between 2013 and 2017, and Model X units made between 2016 and 2017, according to complaints that led to an investigation by the NHTSA [PDF] and a Tesla technical service bulletin [PDF].
Although previously assumed to only be present in certain year models, a recent lawsuit that followed a fatal accident in Florida alleges otherwise. According to the lawsuit filed in February 2022, a Tesla Model 3 suffered a suspension failure, causing the bottom of the car to impact the road surface. The driver lost control of the vehicle and it veered off the motorway into a tree, exploded, and caught fire, resulting in the death of both the driver and the passenger.
What is the whompy wheel problem?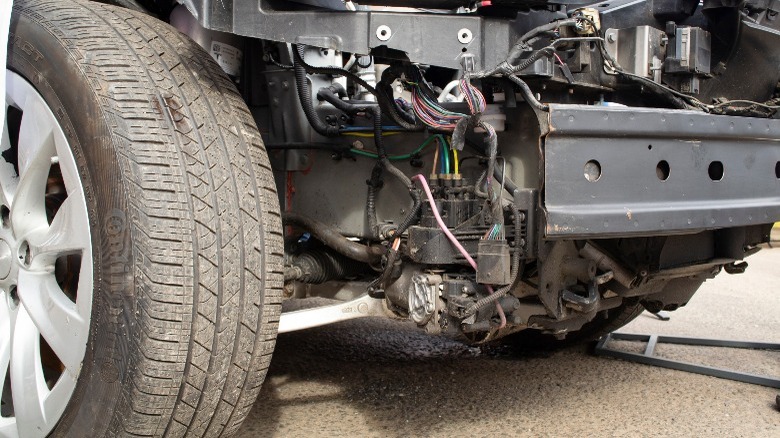 Ann1bel/Shutterstock
As described by one driver on Tesla Motor Club (via archive.org), drivers affected by this issue may hear a loud popping noise, followed by a grinding noise and then a degradation in the ride quality and handling. The noises heard by drivers who have experienced these problems may be associated with one of the control arms snapping or a suspension fore link failing, which may cause the loss of stability and control.
As identified in the NHTSA complaints, some of the alleged failures are said to have happened when the car was stationary or moving very slowly, making it little more than a costly inconvenience. Other cases, however, reportedly occurred when the vehicle was moving at speed, and they were often reported as more severe in nature. One gallery on Flickr paints a particularly grim picture, filled with screenshots of allegations and images of Teslas with entire wheel and steering assemblies jutting out of the wheel wells at 90-degree angles, or otherwise looking very much unwell.
Despite issuing a recall of 29,193 vehicles in China, Tesla downplayed the severity of the issue in a letter to the NHTSA [PDF], blaming the recall on excessive wear caused by "driver abuse."
What causes Tesla wheels to go whompy?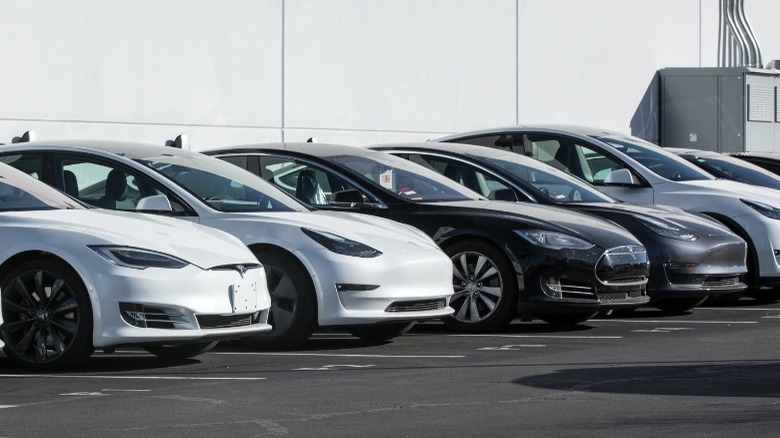 RYO Alexandre/Shutterstock
While the whompy wheel problem seems to span multiple generations and vehicle designs, the root cause seems like it could potentially be some combination of a lack of quality control and poor manufacturing, though we'll have to wait for official details to know for sure. According to a Tesla technical service bulletin published by the NHTSA in February 2017 [PDF], "Some Model S and Model X vehicles may have been manufactured with front suspension fore links that may not meet Tesla strength specifications," indicating there was a problem in the manufacturing of the suspension links that wasn't caught during quality control — somewhat of a trend with Tesla, it seems.
While it is certainly concerning that suspension components may catastrophically fail on some Teslas, it's heartening to know that it's mostly on older year models. Teslas also generally score positively when it comes to crash-test safety ratings, too. What's more, Tesla certainly seems to be owning up to it more readily than before, whether through recalls or technical service bulletins.