Garmin DriveCam 76 Review: GPS With A Little Extra Security For The Road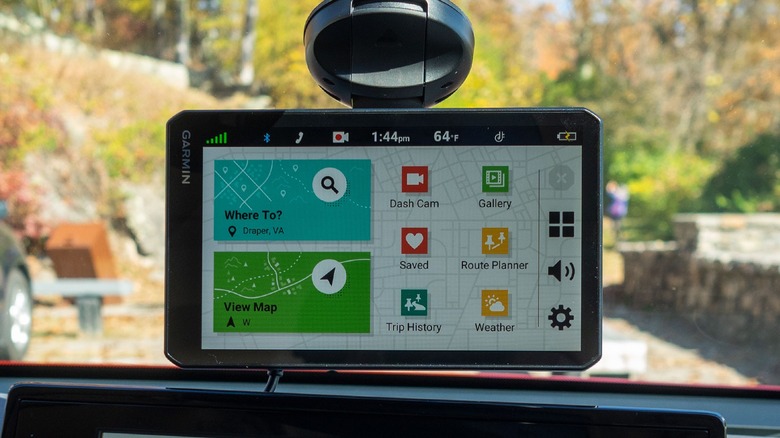 Cameron Aubernon/SlashGear
My 1997 Toyota RAV4 lacks a few things most take for granted today. Things like SiriusXM satellite radio, adaptive cruise control, blind-spot monitoring, and a sizeable herd of horses inside the ol' Four-Cylinder Corral with some hybrid tech in their saddle bags. Oh! And of course, Android Auto and Apple CarPlay, let alone any OEM infotainment and navigation. Most of the time, my classic crossover (yes, I can say "classic" now, since it's 25 years old) never leaves its familiar stomping grounds; thus, I don't need any sort of GPS to lead the way.
Recently, though, I couldn't get a vehicle to review for a trip to LS Fest East 2022 in Bowling Green, Kentucky. So, it was time to take the little RAV4 out on its first road trip in what may have been years. Normally, I would use my equally small iPhone 12 mini and Apple CarPlay to lead the way; it's fine, but not ideal. However, Garmin recently introduced a line of Drive Series GPS units with built-in dashcams, another feature my RAV4 — and most other vehicles new and old, for that matter — don't have. What better way to see what this was all about, then, than by taking a DriveCam 76 unit for a journey through the Smoky Mountains of Tennessee, back through the Appalachians of Eastern Kentucky, West Virginia, and Virginia, and around home?
Equally ideal for RVs and your ride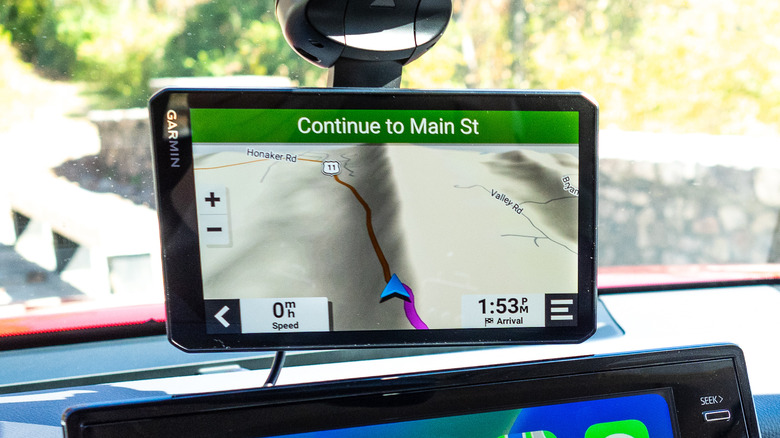 Cameron Aubernon/SlashGear
Though the DriveCam 76 is pitched toward RV and camper owners, the Garmin GPS is suitable for almost any vehicular application; Garmin also makes GPS units for motorcyclists and truck drivers, as well as for RV-specific applications. The Drive GPS series ranges in screen size from five to eight inches, as denoted by the "x6" or — in the case of the five-inch model — "x2" identifier. My review unit features a seven-inch touchscreen (thus, the "7" in "76") with traffic and, of course, a built-in dash cam. The 76 is also the only model to have the dash cam as an option, which is only available with the traffic option.
As for where the dash cam's footage goes, the DriveCam 76 comes with a 16 GB Micro SD card already installed and can support cards between 4 GB and 256 GB with a speed rating of Class 10 or higher; the second slot is for a Micro SD card with map and data info, if so needed.
Aside from the very handy dash cam feature, the Garmin DriveCam 76 gains more functionality with the Garmin Drive app. Once you've installed the app on your iPhone or Pixel, you can receive notifications from your phone on the GPS, can make phone calls without using your phone, and access all of the dash cam's footage. Speaking of said footage, Garmin offers two monthly subscription plans for its Garmin Vault storage: a $4,99/month plan which keeps your cam's footage for up to seven days, and a $9.99 plan which gives you up to 30 days of storage. Both automatically renew on a month-to-month basis.
Setting it up, moving on out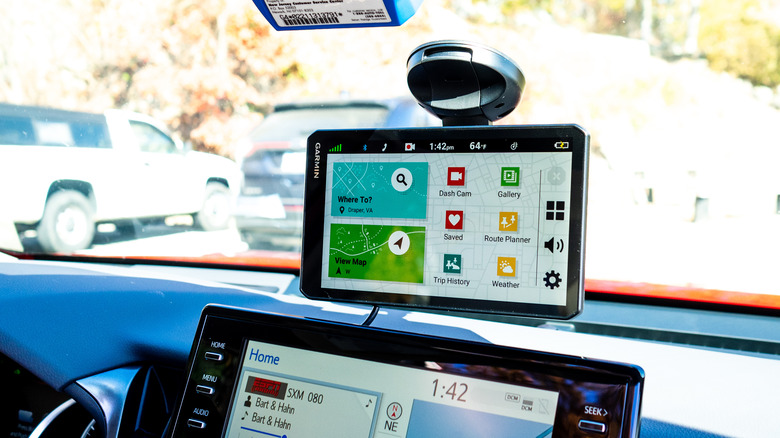 Cameron Aubernon/SlashGear
If you just want to get going, the Garmin DriveCam 76 is easy to set up. Just attach the suction cup to the windshield in the position best for you, plug one of the cables into the GPS unit, lock the GPS into its cradle, and plug in the USB end into the 12-volt charger, then start your vehicle. It'll pull down info from the satellites above while you center the dash cam for the best capture.
As for entering a route, you can either go through the touchscreen via the main menu or simply say "OK Garmin" or "Hey Garmin," followed by a given address or destination. You can also ask it to turn up or down the brightness, though it opens a slider on the touchscreen for you to do the job, as well as make phone calls after connecting your phone via Bluetooth and the Garmin Drive app and tell the GPS to save a photo or video from the dash cam.
Speaking of cams, though, you can also add a wireless rearview camera (including one with night vision) from Garmin to give your 2018 and earlier vehicles — like my RAV4 — a much-needed extra set of eyes.
Capture it all, hope you never need to use it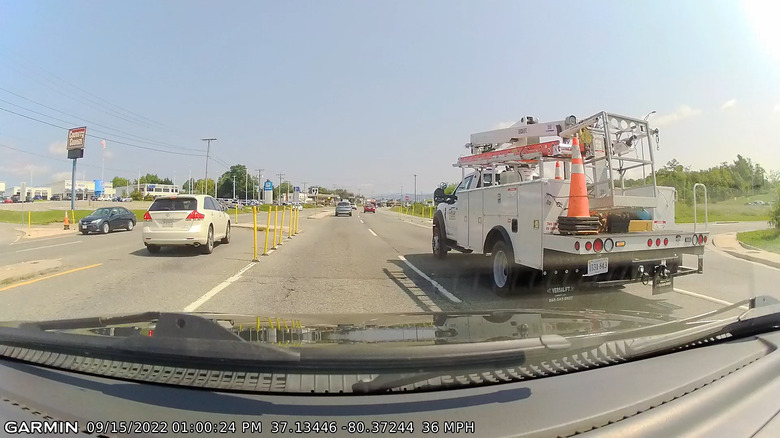 Cameron Aubernon/SlashGear
While the Garmin DriveCam 76 is an effective navigation tool and can be made more so with traffic info, the inclusion of the optional built-in dash cam makes this version of the GPS unit the one to have when needed most. We all know about the legendary dash cams of Russia and the insane footage captured from them (and if not, a YouTube search will bring you to speed). 
Though I (thankfully) didn't need the footage the cam captured along the way to and from Bowling Green and LS Fest 2022, the cam offers peace of mind and plenty of evidence should you and yours be caught up in an accident. Just plug the GPS into your 12-volt outlet, and the cam will do the rest. As you can see in the above and next screencaps, the footage is clean and clear, with all the info needed (just in case) stamped onto the footage.
While downloading one of the dashcam captures for this review, I noticed the video was chopped into one-minute segments. Along with all of the other footage the Garmin DriveCam 76 held, that makes for a hefty download. Additionally, unsaved footage is constantly overwritten, which can be a bit of a problem if you drive for as long a time as I did and you rely on the 16 GB Micro SD card that comes with the GPS. You'll definitely want a bigger card for such journeys, especially if you don't want to opt for a Garmin Vault subscription. 
Some oddities distract from an otherwise good GPS unit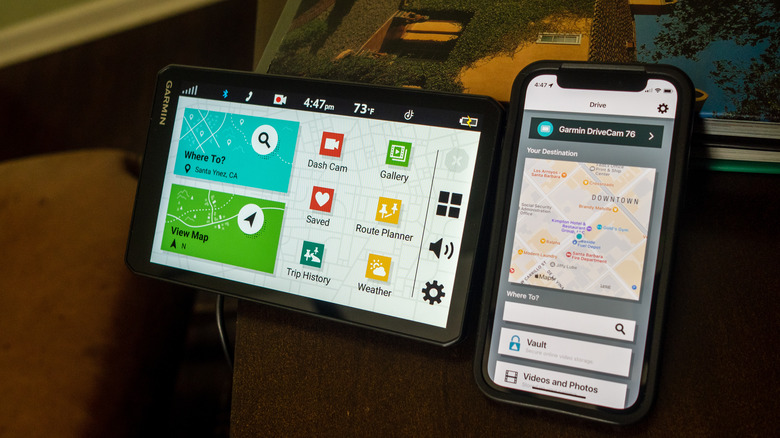 Cameron Aubernon/SlashGear
For all the greatness found in the Garmin DriveCam 76 with traffic and dash cam, there were a few problems I found with my review unit. The first was with the 12-volt USB charger, in that it lacked a second port for me to charge my phone. That issue can be remedied by going through Garmin to order one with an extra USB port, though it would be nice if one was shipped with the GPS unit.
Another issue, though, will need some programming from Garmin's end. On my way through West Virginia back into Virginia along U.S. 460, there were spots where the speed limit increased from 55 mph to 60 or 65 mph. One would figure the GPS would acknowledge these changes, especially with the dash cam active, and thus, able to see the signs with the higher speed limits. Nope. It held firm to 55 mph until I reached an area it knew had a higher speed limit some 30 minutes or so away from the first increase.
My last issue with the Garmin DriveCam 76 was its night mode. Specifically, the fact that when the GPS switched to it, the screen didn't match the brightness it had when I turned up the brightness during the daylight hours. Once again, I had to ask the GPS to turn up the brightness, and once again, I had to use the touchscreen to crank it up. Once turned up, though, the inverted colors looked very nice in the dark.
Extra functionality, no matter your vehicle's age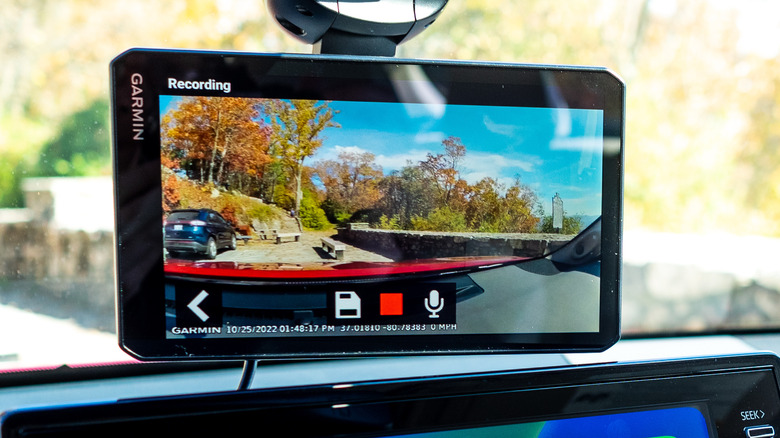 Cameron Aubernon/SlashGear
Though my iPhone would've been fine for the long trek to LS Fest, having a dedicated GPS unit like the Garmin DriveCam 76 is a godsend. A few years ago, I drove through an area where my phone lost all signal, forcing me to use the OEM navigation to get me back on the interstate. In my RAV4, such a trip would've been more miserable.
Instead, I sailed through the very spot where I lost signal years before with ease; it also helped that I did so during the day instead of at night like last time. All day long and to the point where I could ignore the GPS on the final miles towards home – it tried to take me onto a different route that was slower than the one I know by heart – the Garmin DriveCam 76 carried me through the winding roads along the plateaus of Kentucky and into the Appalachians of Virginia and West Virginia.
For $449.99, you really do get it all: a GPS to guide you and yours along unfamiliar roads, traffic updates to keep you posted on how things are along the way, and a dash cam to help if and when it all gets hairy (or for a good laugh once at your final destination or back home). No matter if your ride is brand new and you need some backup for your vehicle's state-of-the-art infotainment system or a classic without any of those things (like my RAV4), you can do no wrong by choosing the Garmin DriveCam 76. 
If you're looking for a dash cam with a more intense view of the world, make sure you also take a peek at the Nexar Beam, next. For those that'd rather just use the smartphone they have in their pocket, be it an iPhone or otherwise, there are always plenty of options.