Why Porsche Discontinued The Legendary Carrera GT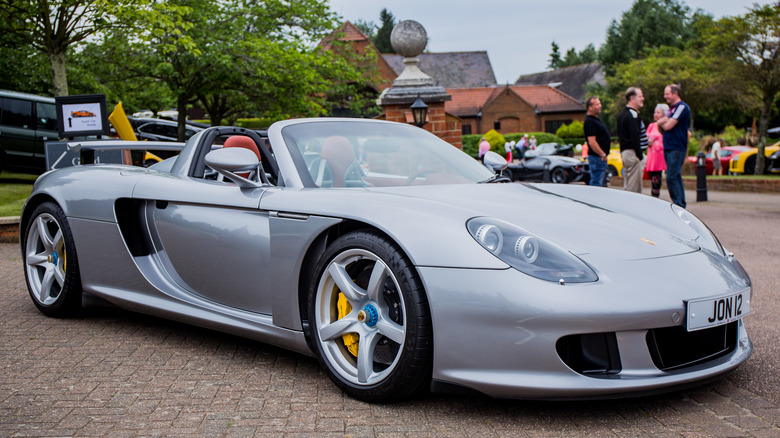 Martyn Lucy/Getty Images
The Porsche Carrera GT, also called the Type 980, is a beast of a sports car, with some even referring to it as a hypercar instead of a supercar (via CNN). The difference is negligible but essential. Supercars are rare, built to go super fast, and usually aren't equipped with much performance technology. At the same time, hypercars are even rarer, go faster, and are designed with the explicit purpose of doing the near impossible. Such was the reason for the Carrera GT, which is, unfortunately, also known as the vehicle Paul Walker was riding in when its driver lost control and crashed, leading to the deaths of both. Some might incorrectly connect the dots and assume this was the reason the car was discontinued, but it's not. 
In 2003, 10 years before Walker's death, Porsche unveiled the production version of the Carrera GT at the Geneva International Motor Show. Three years before that, the automaker showed the prototype to the public at the Paris Motor Show. The first GTs (with a sticker price of $440,000) hit the roads in 2004. The company made only 1,270 during its minimal production run, according to Porsche. From its monocoque ("single shell") to the subframe and the sleek mid-engine body, this car was made of pure carbon fiber. Even the seats were made from carbon Kevlar.
The Carrera GT was incredibly fast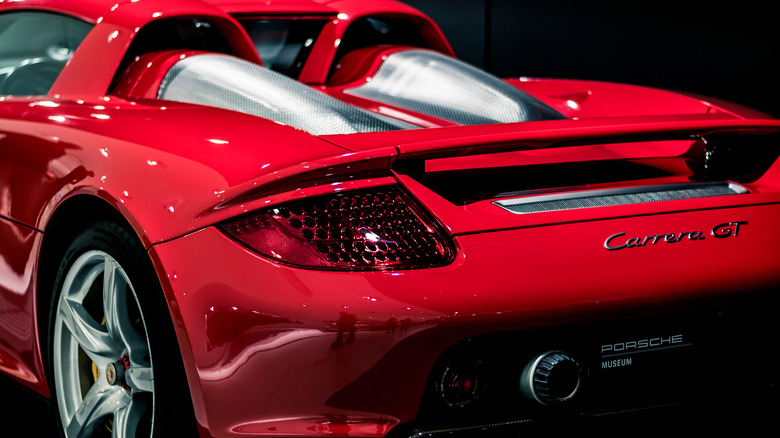 mi_viri/Shutterstock
Porsche used forged magnesium wheels instead of aluminum to further reduce weight, meaning the Carrera GT boasted a curb weight of only 3,050 pounds. However, the automaker used aluminum for the upper control arms, pistons, and 10 titanium connecting rods. The oil tank was cast directly into the transmission housing, eliminating the need for external oil lines (via Car and Driver). That might not seem slim and trim by today's standards, but there was a reason. Porsche designers had to stiffen the chassis by adding extra carbon fiber to accommodate the open-top Targa concept. It came with two removable roof panels made from — what else? — carbon fiber.
The body was designed to direct airflow to optimize aerodynamics and funnel air into one of the car's more noticeable features. Sitting toward the back is a massive aluminum air intake, which Porsche claims — along with three radiators — had an area five times bigger than those found in the Porsche 911 Turbos of the same era. So, why does it need all that air? Keep in mind this car was initially created as a Le Man's prototype. The GT powerplant is an aluminum 350 cubic inch (5,733cc), naturally aspirated, DOHC 40-valve V10 able to kick out 604 horsepower at 435 lb-ft. It could go from 0 to 62 miles per hour in 3.9 seconds and on to 124 miles per hour in another six seconds. Porsche listed the "official" top speed at 205 miles per hour.
The Carrera GT wasn't a practical vehicle
Since the Carrera GT was designed to have a shallow center of gravity sitting smack in the middle of the chassis, it was capable of changing directions almost instantly, "very much like a race car," Eddie Alterman, editor-in-chief of Car and Driver magazine, told CNN. They called the Carrera GT "spectacularly impractical" and even went on record saying that "only a fool" would drive it on public roads. Even Porsche claimed the car "pushed technological boundaries beyond any existing supercar" of the time.
Given its Le Man's pedigree and trepidation from experts, what came next shouldn't be a shock — but it was because it had nothing to do with how fast it could go, how hard it was to handle, or how impractical it was for street use. Oh, no. After only two short years of production, the last Carrera GT rolled off the production floor at Porsche's plant in Leipzig, Germany, on May 6, 2006.
What, if not speed or handling issues, could waylay such a legendary sports car? Airbags. In 2006, the National Highway Traffic Safety Administration (NHTSA) mandated that all new vehicles made in the United States needed to have dual-stage airbags (via Autowerkes). That was not a feature Porsche was willing to add to its hypercar, and thus it decided to discontinue production entirely. That doesn't mean the Carrera GT isn't still out there, roaming the highways and byways. In fact, if you have a few million bucks just lying around needing to be spent, you might be able to find one on the secondary market. Happy hunting.