Here's How You Can Earn Extra Money By Renting Out Your Car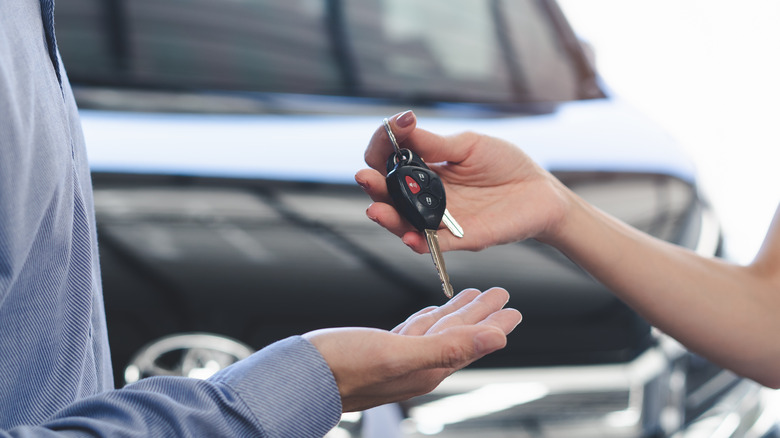 Pormezz/Shutterstock
Starting your own car rental service can be quite profitable and easy, but there are a couple of things you should keep in mind first before diving in. Today's technology allows anyone to start renting out their lesser-used personal vehicles via car sharing. Such car sharing platforms allow owners to rent out their cars without the hassles of starting a business from scratch. Unlike popular ride sharing platforms like Uber, car sharing delivers decent annual revenue, all while skipping the whole driving phase. Some might be wondering, is there any catch, what are the risks of using such services?
While risk is usually a factor in starting any venture, it's a good thing most of these platforms offer certain safety measures. For example, people who rent your car will have to go through a background check, and will have to use a valid card that can trace back to them should anything happen to your vehicle (via CNET). Now, there are various car sharing platforms, including Turo, Hyrecar, and Getaround, to name a few. Despite their similarities, keep in mind that some may benefit you more than others, depending on your car rental business needs and expected return on investment.
Which car sharing app is the best?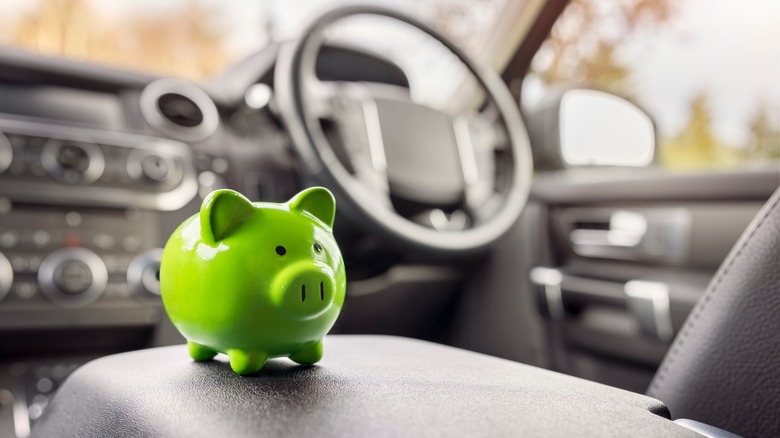 Brian A Jackson/Shutterstock
Peer-to-peer car sharing platform Turo is a popular choice for many owners hoping to rent out their vehicles short-term, like to one-off vacationers or those with overnight gigs. Some owners have even trusted it enough to put special movie car icons up for rent on Turo. Depending on your location and type of car, you can earn an extra annual income ranging from $6,500 to as much as over $35,0000 per vehicle, according to Turo's income calculator. Hyrecar, on the other hand, caters to owners looking to rent out their vehicles to more long-term customers, such as ridesharing Uber drivers. Hyrecar also has perks for bigger scale car rental businesses, wherein listing 15 cars on the platform nets an additional monthly income of over $12,000.
It's worth noting that owners would be able to set their own prices for their car services, so your monthly yield will vary. According to Autoblog, another income-generating factor lies in tax deduction, as renting out your vehicle can lead to a tax write-off of over $20,000 a year. Of course, both car sharing platforms share similar downsides as well: Customers using roads with numerous toll roads could get troublesome for owners, while potential damages done to your car could be both expensive and time consuming. Given how maintenance costs could outweigh your potential income, using the right vehicle matters.
Choose the best vehicles for car sharing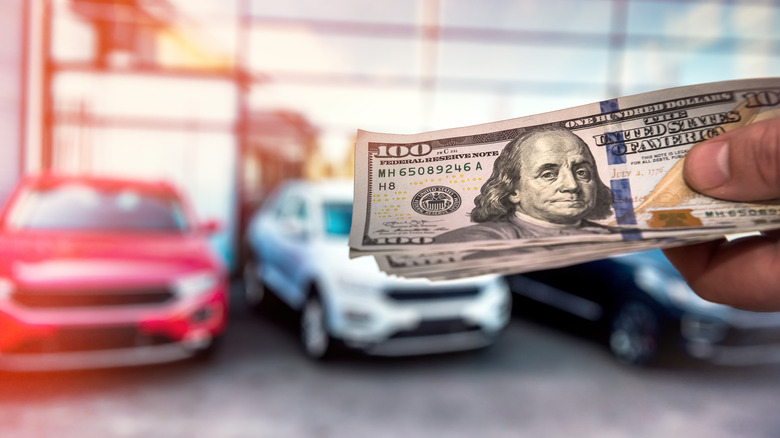 RomanR/Shutterstock
Getting started is as easy as signing up to your preferred car sharing platform and meeting their specified requirements for your vehicle. However, picking the right type of car rental vehicle is a step that's just as important. For instance, using Hyrecar for Uber-driving clients will likely put down a lot of mileage on a car. The accumulated wear-and-tear could result in certain parts no longer working once you get it back, so consider using a cheaper vehicle, or at least one you wouldn't mind being constantly abused.
There are also more stringent requirements when using services like Getaround, such as mandatory inspection for cars 10 years or older, as well as requiring installation of additional hardware into your vehicle. Another concern is insurance, as some companies won't cover damages on vehicles used for car sharing purposes (via Car and Driver). Most car sharing platforms do come with their own vehicle insurance, but not all of them offer the same plans. Turo's insurance plan includes $750,000 in third-party liability, 100% reimbursement of eligible damage costs, and exterior wear and tear. Meanwhile, Hyrecar's insurance bumps up liability coverage to $1 million, but with only up to $25,000 damage and $75 cleaning reimbursement. 
Overall, it's best to see which app and plan works best for your situation first to ensure you're earning more than what you're spending.