Here's How Fast The 2022 Toyota Supra Really Is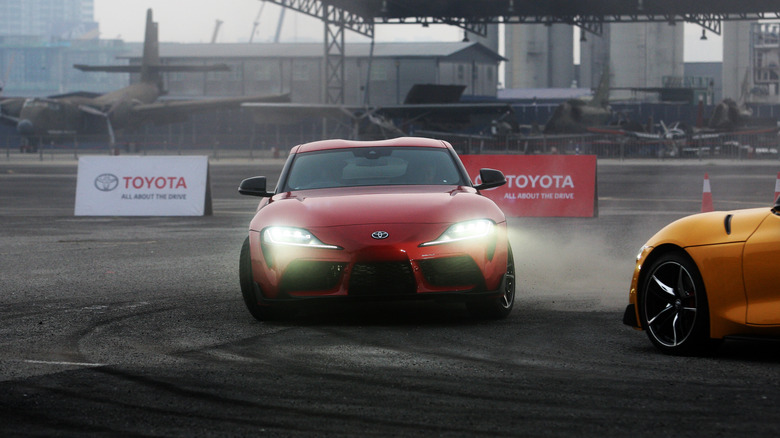 Friko Keiro/Shutterstock
There's no question the 2022 Toyota Supra looks fast, but just how fast can it really get? The fifth-generation Supra marks the resurgence of Toyota's iconic nameplate, which now comes with a touch of BMW engineering. Like in the previous year's model, the 2022 GR Supra trims come with varying degrees of performance and features. The base 2.0 has a two-liter, four-cylinder engine making 255 horsepower and the 3.0 has a three-liter straight-six generating 382 horsepower. Then there is the 3.0 Premium, which is similar to the regular 3.0, albeit with more luxurious interior offerings.
There is also the North America-exclusive Supra A91-CF variant, which adds a lot of carbon fiber panels into the mix with its limited production of only 600 units. In addition, the 2022 range introduces a slew of new standard safety features, along with an optional Safety & Technology package. So, how does this all translate in terms of performance? All of the 2022 GR Supra top speeds are electronically limited to 155 mph (via Toyota). The four-cylinder 2.0 Supra, on the other hand, comes with a zero-to-60 acceleration that takes a little longer at 5.0 seconds compared to the beefier 3.0 variant's 3.9 seconds. But surely the improved GR Supra can be a lot faster than what those figures suggest, right?
The 2022 GR Supra specs don't show the full picture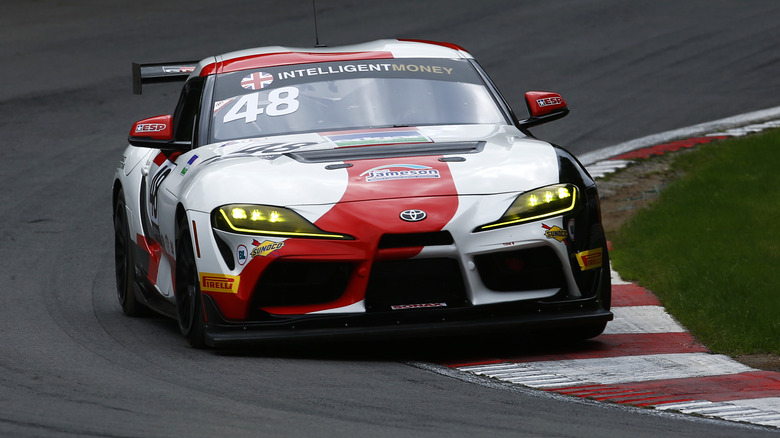 Ker Robertson/Getty Images
Aesthetically, Toyota hasn't made many changes from the previous year's model, but the 2022 GR Supra's price is set a bit higher (via Autoblog). Aside from the 3.0 variant having standard heated seats and its Premium counterpart actually costing less, all 2022 models are still pretty much sporting similar performance gains that came with the 2021 GR Supra. However, that doesn't mean the updated GR Supra will only go as fast as Toyota's official spec sheet suggests.
According to test drive results from Car and Driver, a 2022 GR Supra can reach up to 160 mph with a zero-to-60 time that's a tad faster than Toyota's claim of 3.9 seconds. Despite sharing the same platform with the Z4, the 2022 GR Supra actually performs quicker than BMW's equally controversial roadster. Of course, having to comply with road safety standards means limiting the Supra's performance from its full potential, but what if that wasn't the case?
Can the 2022 Toyota Supra's top speed be even faster?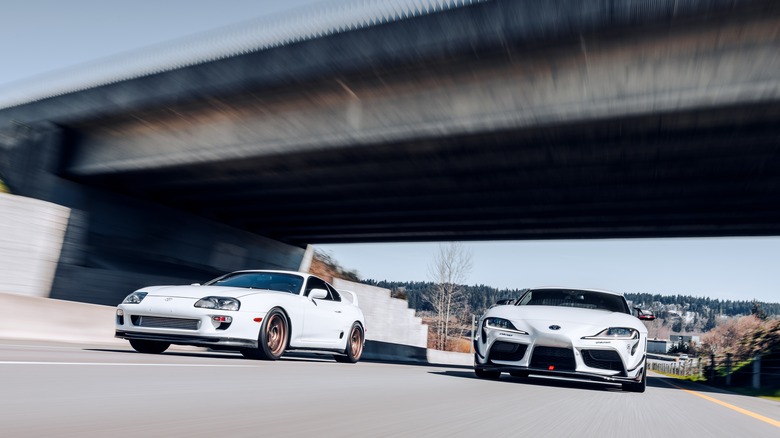 Brandon Woyshnis/Shutterstock
Being the successor of a legendary nameplate that's constantly lauded within tuner culture puts a lot of pressure on the fifth-generation Supra. Fortunately, Toyota put a lot of emphasis on customization in developing the Supra. Although it might not have its predecessor's iconic 2JZ engine, the 2022 GR Supra engine — a BMW-sourced B58 — still has plenty of potential for performance gains. Orlando-based Titan Motorsport showcased its fine-tuned B58 engine to Speedhunters, which gave the GR Supra a whopping 800 horsepower.
When compared to the 12 seconds of its stock counterpart from Car and Driver's test results, the tuned Supra was able to do a quarter-mile in just 8.93 seconds. Sure, there's a big difference in performance, but perhaps the biggest challenge that's inhibiting the Mk5 Supra from more power lies in its BMW internals, with its ECU and BMW ZF transmission proving to be difficult to modify. That said, there's no doubt the 2022 Toyota Supra can go faster than its limited top speed, considering the performance upgrade its engine received from the 2021 model. To be able to accomplish that, however, is another story.