2021 Toyota GR Supra 3.0 and GR Supra 2.0 detailed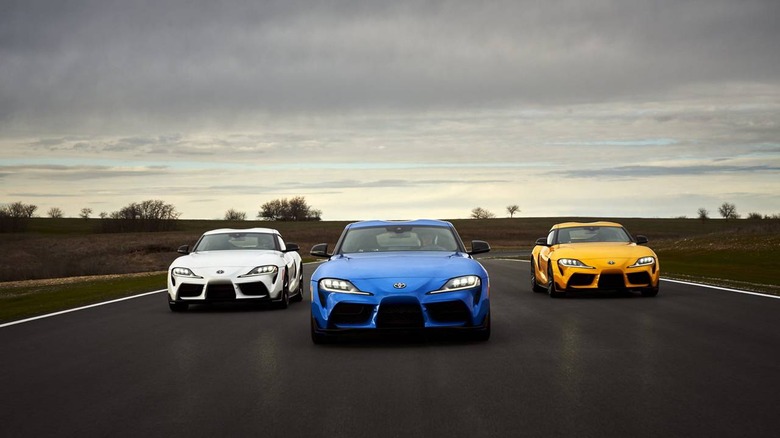 Toyota is pulling the wraps off the 2021 GR Supra cars. The GR Supra 3.0 carries on with more power, while the new turbo-four GR Supra 2.0 is introduced with less weight and horsepower than its big brother. Toyota has also unveiled the GR Supra A91 edition with exclusive color and design features.
When the new Supra launched last year, the first 1,500 were Launch Editions. For 2021 Toyota has 1,000 new A91 Editions that will be for sale. All will be Supra 3.0 and will come in two colors, including Nocturnal or Refraction. They will have a carbon fiber lip spoiler, matte black wheels, C-Pillar graphics, and carbon fiber mirror caps.
The cars will have black Alcantara leather-trimmed interior with blue contrast that is exclusive to the model. The special version comes with two exclusive key gloves and a trunk mat. 3.0 Premium and A91 Edition cars get Brembo front brakes. All 2021 Supras get an 8.8-inch audio touchscreen. The Supra 3.0 gets more power with 382 hp and 368 pound-feet of torque.
The chassis has also been improved for the 2021 model year for better ride and handling. GR Supra 2.0 is the first-ever four-cylinder Supra. The car is meant to be an intermediate model between the Toyota 86 and Supra 3.0.
Supra 2.0 has an 8-speed automatic and can run 0-60 mph in 5.0 seconds. Supra 2.0 is 200 pounds lighter than the bigger car and makes 255hp and 295 lb-ft of torque. Both cars will hit dealers in June, with pricing announced closer to launch. We hope the Supra 2.0 is much cheaper than the Supra 3.0. It may be an appealing ride if it is.