These Android Apps Are Terrible For Your Phone's Battery Life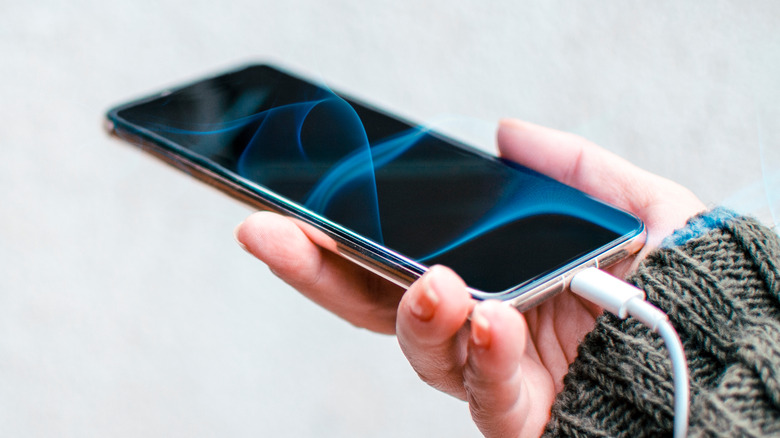 Pearl PhotoPix/Shutterstock
Android phones have been on an upward trajectory when it comes to daily battery life and performance. Depending on how often you use them in daily life and the number of apps they're running, many Android smartphones can last an entire day or longer without needing to be charged. Many feature-intensive apps gobble up a lot of power and tap into Android features and hardware that can cause increased battery usage, whether it's through tracking your location via GPS or using your phone's power-hungry GPU for mobile gaming.
Cloud storage company pCloud conducted a study examining various highly downloaded Android apps and pinpointed which of them caused massive battery drainage. Several features were tracked for about 100 apps, including the average battery requirements needed by the apps to access media files, internet connectivity, storage, call and app histories, location, text messages, contacts, microphone, camera, and calendar. The study also observed whether these apps had dark mode capabilities and monitored how often they tapped into the user's personal information, the phone's system details, and mobile data settings.
Some apps that topped pCloud's findings are ones that you probably can't avoid using, so you may need to consider the amount of power they use as simply an unfortunate necessity. Other apps, however, may be ones you can live without — or, at least, that you can easily replace with less demanding alternatives.
Fitness-tracking apps and phone carrier bloatware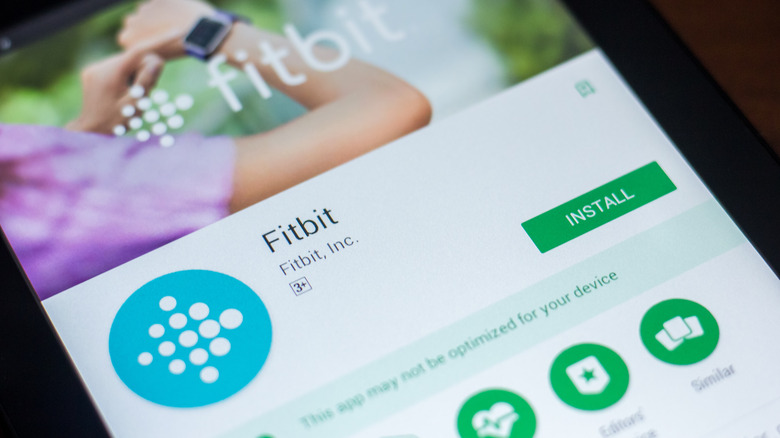 Sharaf Maksumov/Shutterstock
According to pCloud's analysis, Fitbit tops the charts as the app that consumes the most battery power — or, at least, that has the potential to. Of the 16 background processes and permissions pCloud tracked, Fitbit was able to run 14 of them in the background on a phone — and, the report notes, four of those processes also happen to have the biggest effect on battery drain. If you use Fitbit regularly, it would be a good idea to make sure your phone is fully charged before heading out for your workout so you have plenty of power to spare.
The same is true for at least some pre-installed apps, which are also known as bloatware. Most phone manufacturers or carriers pack their devices with these apps, and they may be battery zappers. A good example is the Verizon app, which landed in second place in pCloud's ranking. Results showed that Verizon uses just as many power-demanding background processes as the Fitbit app, including location services. If you are a Verizon customer and your phone's battery is dwindling faster than you'd like, consider managing your account or contacting customer service via a desktop web browser rather than through the carrier's mobile app.
Social media and online dating apps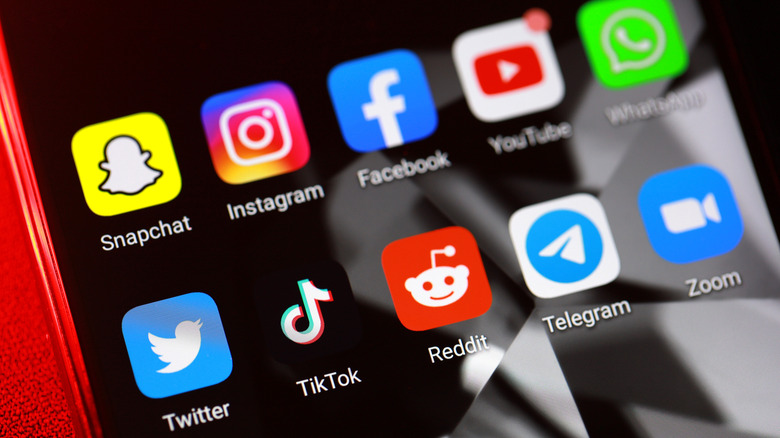 TY Lim/Shutterstock
It's not surprising to learn that the most popular category for battery-draining apps is social media. The report's Top 20 battery-draining apps included six social networks: Facebook, Instagram, Snapchat, YouTube, WhatsApp, and LinkedIn. Though not quite as bad as the Verizon and Fitbit apps, these social media apps were found to allow 11 processes to run in the background on phones. On average, at least, pCloud also found that Grinder, Tinder, and Bumble — all of which are dating apps — also let 11 features run in the background. 
As well, none of the dating apps offer the ability to enable dark mode, which would have been a great way to reduce battery usage — at least on devices that have an OLED display. Popular video chat apps like Skype, WhatsApp, and Zoom also made the Top 50 list, which is home to a wide variety of genres. Other apps found to have the potential to substantially drain your phone's battery include everything from Amazon Music and Spotify to Yelp, the United Airlines app, Netflix, PayPal, and even the language-learning app Duolingo.
Some apps are repeat offenders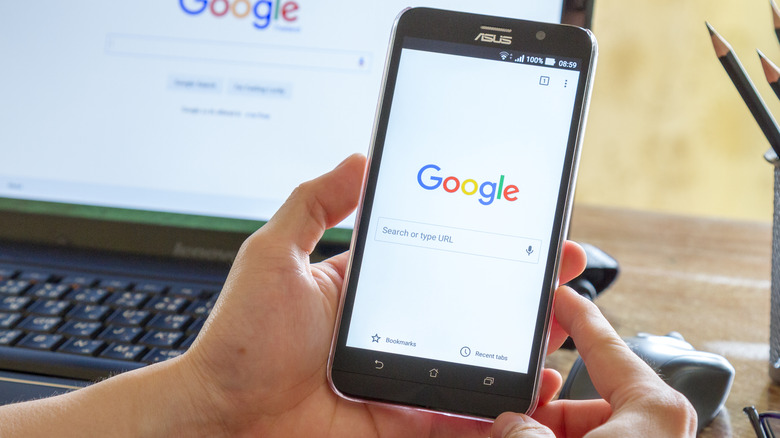 Kasin/Shutterstock
Uswitch, a price-comparison website, conducted a similar study that analyzed the most downloaded apps across various online marketplaces and looked into their permission demands. Although some of the titles that make up its list are the usual suspects — Facebook, Facebook Messenger, WhatsApp, and YouTube — the Google app was crowned as the ultimate battery-draining app. Other members of the Google suite were also named with Gmail and Chrome near the top.
Though the list of battery-draining apps will change over time, popular titles are often found at the top of the list and that's unlikely to change. In 2015, for example, AVG Technologies published a research report that, among other things, found Snapchat was the most draining app when it came to battery life (via CBS News). That finding was based on a study of actual phone usage logs and other metrics harvested from more than one million phones. Interestingly enough, Amazon's U.K. app and the Walmart app were also among that year's most draining titles.
Find out what's draining your Android phone's battery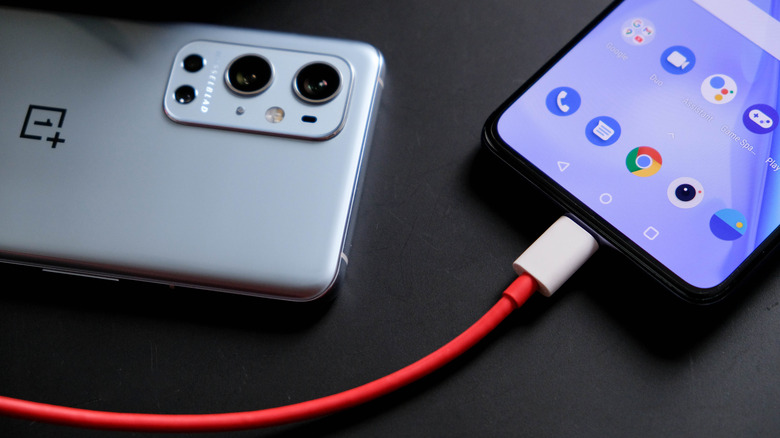 Framesira/Shutterstock
At the end of the day, each Android phone user has a different combination of mobile apps they use on a daily basis that may include major power consumption. If you're interested in finding out which of your installed apps could be responsible for a more rapid battery drain, you can easily find that information by looking at the related power menu included with Android.
Launch your Android phone's Settings app, then tap on the Battery option. Depending on your Android phone model, you may already see a list of installed apps with their corresponding power usage percentages in the last 24 hours on this page, arranged in order of battery consumption. If you are not seeing it, you may need to hit an additional Battery Usage button to get the battery app rankings.
Seeing which of your downloaded mobile apps are using up the most battery may be a valuable insight to have, especially if your phone is about to die and you're in a situation where you absolutely need it to stay on. At the very least, doing so can help you decide which apps you should hold off using until your phone has more juice, whether you want to keep them installed, or if you should look for other options instead.