The Top 3 Most Expensive Motorcycles In Tom Cruise's Collection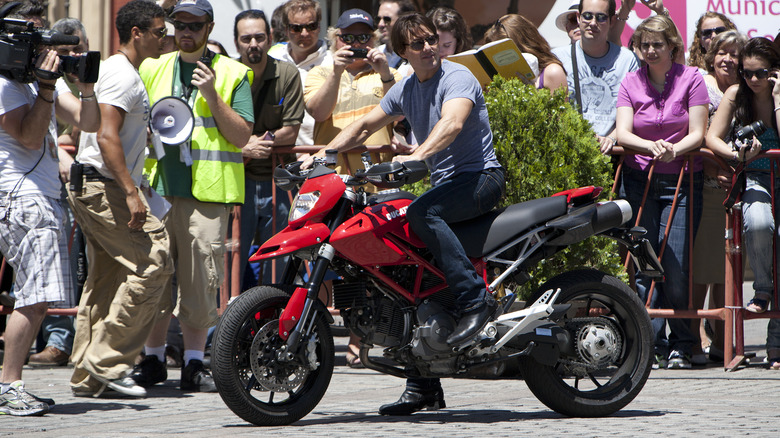 Fernando Camino/Getty Images
Hollywood mega action star Tom Cruise is riding on cloud nine. His latest hit, "Top Gun: Maverick," has grossed $1.2 billion in ticket sales worldwide, making it Paramount's highest-grossing global film (per Forbes). With a reported net worth of about $600 million (via Celebrity Net Worth), Tom Cruise has the means to pursue his need for speed. According to GQ, the actor spent much of his wealth on cars, helicopters, airplanes, and motorcycles. In addition, he purchased most of his movie cars and bikes to add to his ever-growing collection, including a 1970s Mitsubishi Colt Galant that he drove to New York to kickstart his acting career.
The staggering cost of Tom Cruise's auto collection is not for the faint of heart. The lineup includes wallet-busting exotic and vintage cars like a $1.9-million Bugatti Veyron, a $60,000 Ford Mustang Saleen, a $32,000 Chevy Chevelle SS, and a 1949 Buick Roadmaster similar to the one featured in "Rain Man" with Dustin Hoffman (per Motorbiscuit).
But since we're aware that Tom Cruise is a massive bike freak, we scoured our brains and the interweb to find out which among his motorcycles is the fairest of the lot. Here are three of the costliest bikes in Tom Cruise's motorcycle collection.
Tom Cruise and two wheels: the perfect combination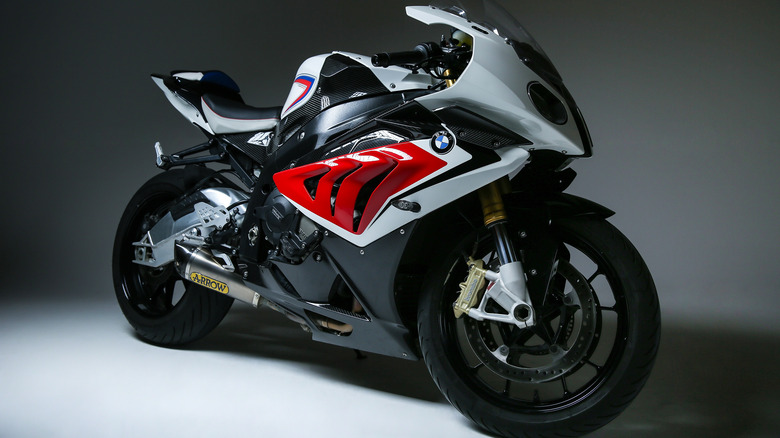 Petr Smagin/Shutterstock
We typically see Tom Cruise on top of a two-wheeled pocket rocket in his movies. He rode a Kawasaki Ninja 900 in the original "Top Gun" movie. He straddled a Harley-Davidson Heritage Softail Classic in the 1990 hit "Days of Thunder" with ex-wife Nicole Kidman (per GoMotoRiders.com). He rode a BMW S1000RR in "Mission Impossible: Rogue Nation," and he executed his stunts on top of a Triumph Speed Triple in "Mission Impossible II." We could go on, but which is the most expensive?
Tom Cruise is the proud owner of a Gen 2 Confederate Hellcat, an American-made crotch rocket built by electric motorcycle maker Curtiss Motorcycles. It has a 2,032 cc S&S V-twin engine that pumps out 130 horsepower and 140 lb-ft of torque. The bike has a vertical-stack five-speed manual transmission, and everything about it is custom-made for its owner. Cruise rode his Confederate Hellcat at the premiere of "Mission Impossible III," and sources say it costs around $60,000 (per MotorBiscuit).
Moreover, Tom Cruise owns one of the rarest production Ducati motorcycles ever made, the Desmosedici RR, which made its maiden appearance at the Misano Circuit at World Ducati Week in 2007. The Ducati Desmosedici RR is a road-legal MotoGP street fighter with a 197-horsepower 998 cc V4 engine. It also has MotoGP-spec Brembo brakes, chassis tuning, and adjustable Ohlins suspension. It costs over $72,000 when new, but Bonhams sold one at auction for about $78,000 in 2017. Ducati only made 1,500 units of the Desmosedici RR, and less than 300 made it to American shores.
The most expensive: Vyrus 987 C3 4V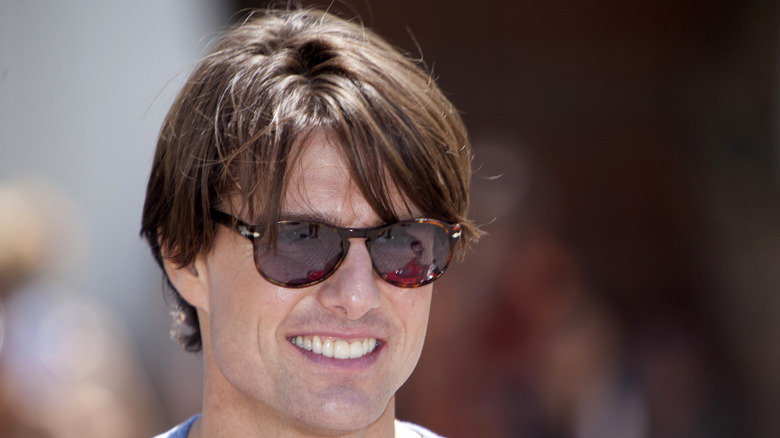 Fernando Camino/Getty Images
The most expensive motorcycle in Tom Cruise's collection is, hands down, the Vyrus 987 C3 4V. It's one of the rarest and most expensive motorcycles ever made, and it certainly looks the part. Vyrus is a boutique Italian bike maker that custom builds each bike to the exact measurements of the rider. It has a 1,198cc Ducati V-twin motor that churns out up to 180 horsepower. However, Vyrus has an optional supercharged engine that hikes the power output to an astonishing 211 horsepower, enough to become one of the world's most powerful production motorcycles (per New Atlas). Other noteworthy features include hub-centered steering, a standard aluminum frame (a carbon fiber architecture is optional), carbon-ceramic brakes, carbon body panels, and standard Ohlins TTX suspension (air suspension is optional).
The cost? According to Asphalt and Rubber, the supercharged Vyrus 987 C3 4V cost $112,000 in 2010, but it's easy to breach $150,000 if you pile up the optional kit. Vyrus has yet to release the performance numbers, but the 987 C3 4V reportedly has a 183.3 mph (295 km/h) top speed.