Movie Cars That Tom Cruise Can't Get Enough Of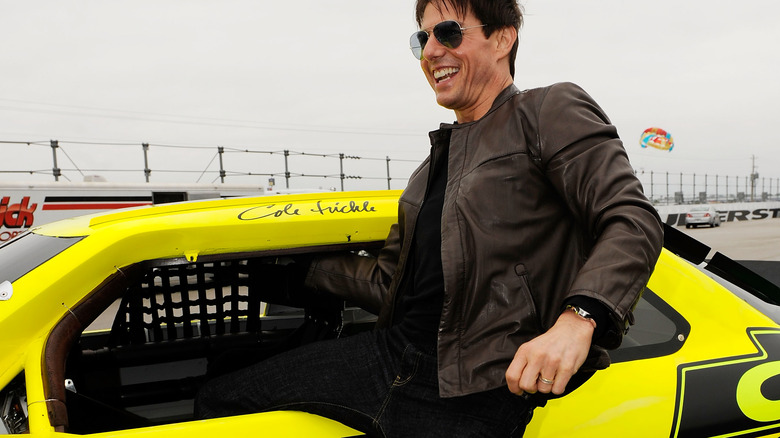 Rusty Jarrett/Getty Images
Tom Cruise's movie career has been varied, with comedies, action movies, and serious dramas all finding a place on his resume. His on- and off-screen relationship with cars is quite the opposite. When he's spotted in the driver's seat, he's usually behind the wheel of something powerful, rare, or classic.
Cruise's success on the screen has left him with a net worth of over $600 million and a personal car collection worth around $2.4 million. That collection includes classics, rare hypercars, and the practical vehicles he uses to get from A to B (via 21 Motoring). His on-screen vehicle list is even more impressive. It includes Porsches, race cars, and the Folex of the Ferrari world. Cruise is rich enough to comfortably afford almost anything, and the cars he has access to on set are usually pretty amazing, so as you can imagine there has been some overlap between the two. Here's a list of movie cars Cruise has owned, some he may have owned, and one even he probably couldn't get hold of.
1949 Buick Roadmaster from Rain Man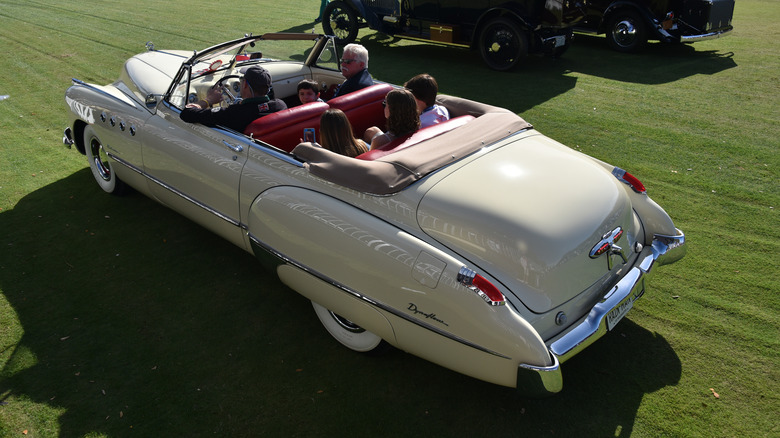 Bloomberg/Getty Images
There were two 1949 Buick Roadmasters used during the production of Rain Man, and Tom Cruise owns neither of them. One of the Roadmasters used in the movie was, until recently, part of his co-star Dustin Hoffman's collection. Hoffman recently sold the Roadmaster at Bonham's Scottsdale Auction where it fetched a price of $335,000 including the buyer's premium. Speaking before the sale, Hoffman said: "The Buick's been in storage too long, It should be driven, enjoyed, and cherished." The other Buick Roadmaster featured in Rain Man belongs to the movie's director — Barry Levinson. Levinson described the car as having "third billing" in the movie, saying "it became a character. Dustin, Tom Cruise, and the '49 Buick."
Although Cruise missed out on one of the two Roadmasters used in Rain Man himself, he may have the ability to borrow one, as GQ states he has used the car "off-camera on several cross-country road trips." That said, Gentleman's Quarterly also states that Cruise, "fell in love with the convertible and kept it," and HotCars does the same. This contradicts what Bonham's says about there only being two Rain Man Buicks with one going to Hoffman and the other going to Levinson.
If Cruise does occasionally go cruising in the Roadmaster, it's also unlikely to be Hoffman's as the actor claims he had it stored for decades preceding the sale. MotorBiscuit offers a more plausible explanation, simply stating that the actor liked the car and purchased one independently after filming wrapped. Make of all of that what you will.
1970 Chevrolet Chevelle SS from Jack Reacher
The 1970 Chevrolet Chevelle SS, or "Super Sport," is a peach of a motor from the golden age of muscle cars. It would be a fantastic addition to anyone's collection, so it's no surprise Tom Cruise has one. Cruise had actually owned the Chevelle SS for a long time before deciding to take it to work and pop it on screen in 2012's Jack Reacher. The Chevvy appears in one of Jack Reacher's most iconic chase scenes, where Cruise is trying to escape a good number of law enforcement officers (via GQ).
The Top Gun actor's Chevrolet Chevelle SS has a 450-horsepower V8 engine at its disposal and is capable of going from 0-60 in six seconds. In 1970, the Chevelle SS engine had the highest factory horsepower rating of any production model on record. That isn't as fast as Cruise's Bugatti Veyron, but you have to take into account the fact the Chevelle SS is over 50 years old and weighs just under 4,000 pounds (via Newport Car Museum). Fewer than 4,500 Chevrolet Chevelle SS models were manufactured in 1970, so if you come across one in a barn you've found something special. If you come across one in an auction house, you may have to remortgage your home.
The Chevy Lumina from Days of Thunder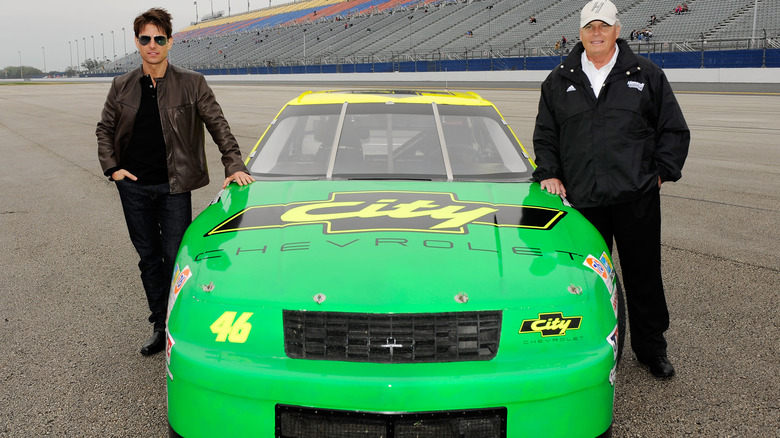 Rusty Jarrett/Getty Images
Cruise is a huge racing enthusiast, and the NASCAR-centric movie Days of Thunder was one of the early successes that helped springboard him into the big time. During the movie, the action star was racing a Lumina, which is a line Chevrolet ran from 1989 to 2013. The stock version of the Lumina wasn't that impressive, especially compared to other vehicles on this list. Its 3.4-liter V6 produced 213 horsepower (though there was a 3.1-liter, 160-horsepower version). It had five seats, and it would get around 20 miles to the gallon (via Auto-Data). The actual racing version was a touch more impressive, with 650 horsepower on offer. Like a lot of movie cars, especially those used in action sequences, several Luminas will have been used during the production of Days of Thunder, and some may have been totally destroyed. One did show up in Florida and was subsequently sold.
Motorbiscuit's HJ Pizzaro tried to track an actual Lumina Cruise drove in Days of Thunder down, but didn't have much success. He does, however, acknowledge the possibility it may be a part of Cruise's collection. Pizzaro may have a point. Cruise had a solid interest in racing, and Days of Thunder was a large part of his early acting success. The iconic Lumina spending its days comfortably nestled under a tarp in one of Cruise's garages is also a more comforting thought than it rusting away on a scrap heap somewhere with no one knowing how famous it used to be.
The Ferrari 250 GTO from Vanilla Sky
This is a very rare, very collectible, car that Tom Cruise doesn't have, and surprisingly the movie it appeared in didn't even have one, either. It's the Ferrari 250 GTO, a stunning red coupe from the early 1960s. The trouble is, Ferraris are incredibly expensive to begin with, and only 36 Ferrari 250 GTOs were ever produced. The scarcity means that when they do come up for sale, prices can be expected to hover around the $50 million mark, and even that may be a low estimate. An example sold by R M Sotheby's in 2018 sold for over $48 million — and everything, including classic cars, has gotten a lot more expensive since then. There is a remote possibility of renting one, but the insurance bill alone would probably cost more than most hypercars, never mind the stack of cash you'd need to trust your most prized possession to a Hollywood production. Hollywood blows nice cars up all the time.
The price means if Cruise were to buy one, it would be worth about 20 times the value of his current car collection, and just shy of 10% of his total net worth. It may have also priced the producers of Vanilla Sky out, as despite what you may think you saw, there was no Ferrari 250 GTO in that movie. What Cruise was actually driving was a far cheaper 1976 Datsun 260Z with some heavy modifications to its bodywork, a new engine, and a nicer interior (via Drive.com). Despite intensive research, we have not been able to confirm whether or not Tom Cruise's car collection currently contains a Datsun — though the "Alpha One" from Vanilla Sky did go to auction in 2019.
1983 Porsche 928 from Risky Business
Less famous than the 911, but still eye-catching, is the Porsche 928 that Tom Cruise found himself behind the wheel of in Risky Business. Although he would eventually own one of his own in real life, Joel (the character he played in the movie) didn't. He decided to "borrow" his wealthy dad's expensive German sports car while both of his parents were out of town. The 928 was originally intended to replace the 911 — but it turns out the 928 was "no substitute" for the 911, as Porsche stopped making the 928 in the mid-90s while we still get new 911s to this day. However, the 928 was a very good Porsche. Its V8 produced 300 horsepower, which is a lot considering the state of motoring at the back end of the 1970s US oil crisis. It was certainly enough to get Cruise away from an angry pimp with some bad intentions.
According to GQ, Cruise didn't get to keep the 928 he plowed into a lake during the movie. He did, however, go out and buy a drier version himself shortly after filming wrapped. One of the movie's 928s that avoided the lake and was actually quite well preserved sold to a private collector for $1.9 million.