The M35A2 Is The 6.75-Ton Military Vehicle You Can Own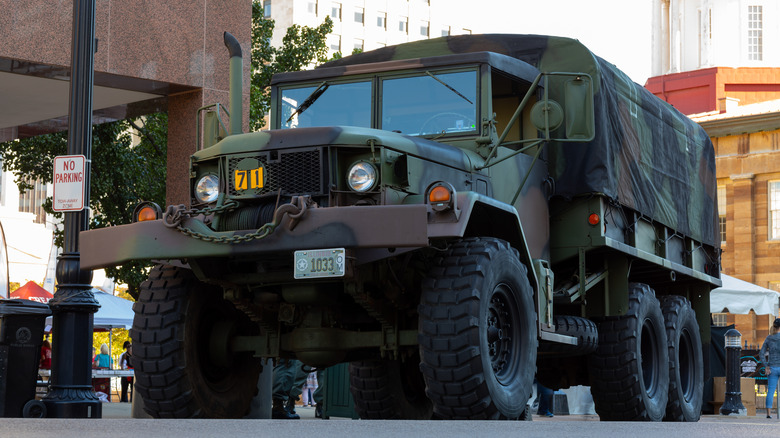 Roberto Galan/Shutterstock
There's no doubt that most new trucks today are capable. With tailgates that fold in different directions to integrated Apple CarPlay and Android Auto capabilities, several trucks today can function as a mobile workspace. Pair that with an eight-foot bed and a crew cab and you have a truck ready for whatever the workday brings.
Unfortunately, most models with all of the bells and whistles are rather expensive. A top-of-the-line diesel Chevy Silverado HD 3500 High Country will cost well over $80,000 to drive off the dealership lot. In today's market climate, even used trucks in lower trim levels command a huge premium over nearly any other type of vehicle. However, all hope is not lost for someone who wants an incredibly useful truck without breaking the bank.
Enter the M35A2 "Deuce and a Half," a bona-fide military truck most people can go out and buy today. The M35A2 offers all of the cargo capacity of today's trucks with all the readiness of a Vietnam War-era combat mission. 
M35A2 trucks are very versatile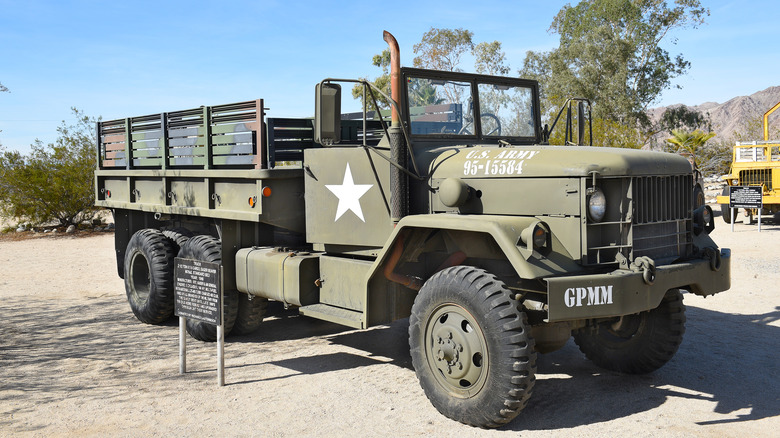 Steve Cukrov/Shutterstock
The M35 first saw action right after World War II and served as the United States military's do-it-all heavy-duty cargo truck for several decades. The A2 variant is the most common; it earned the name "Deuce and a Half" for its stated 2.5-ton carrying capacity and similarity to World War II-era vehicles (via SiloDrome). It can be configured as a covered troop transport, a tractor trailer, a box truck, a pickup truck, and even a platform for all manner of machine guns and other armaments (via Motor Trend). The model was originally produced by the Kaiser Jeep corporation, making it technically a Jeep product, although your local Jeep dealership likely won't be able to service it as it weighs well over 13,000 pounds.
For specs, the M35A2 is equipped with a turbodiesel straight-six engine and six-wheel drive. Cargo models were equipped with a 12-foot-long bed. While modern trucks are essentially luxury cars that can haul a sheet or two of plywood, the M35A2's interior is a little more minimalistic. Air conditioning, for example, was not an available feature, according to Motor Trend. What it lacks in creature comforts, it makes up for in versatility. You'd be hard-pressed to find a new truck at the dealership that can make a trip to the hardware store while carrying several fully equipped soldiers.  
The truck does come with some hard compromises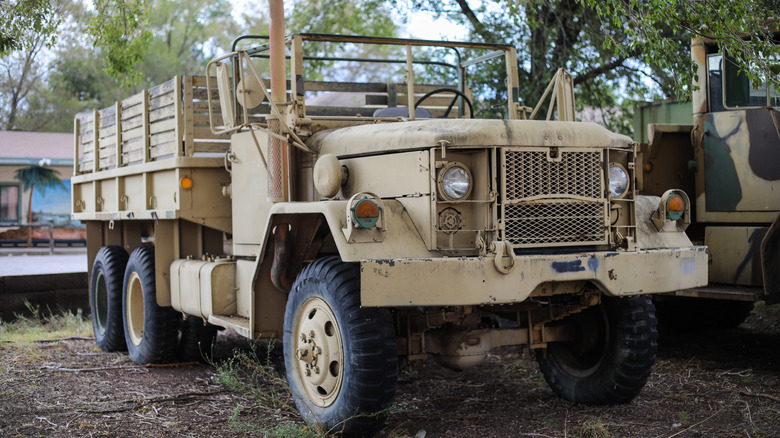 photo-denver/Shutterstock
M35A2 trucks are a bargain compared to anything from Chevy or Ford. Running and driving models usually sell for a little over $10,000 from military surplus sellers and well cared for custom 4x4 models retail for around $30,000, based on current listings. Given the M35A2's basically limitless capability, some enterprising van-life aficionados have used the truck model as an RV. 
A several-decade-old military truck comes with a few trade-offs, of course. Compared to a new truck, the M35A2 is significantly slower, with a top speed of somewhere around 45 miles per hour. Motor Trend reports single-digit miles per gallon, not to mention the fact it likely won't fit in anything but the most spacious of parking spots. 
Unless you're delivering soldiers to an active war zone, city driving in an M35A2 is a bad idea. When it comes to capability, value, and sheer size, the M35A2 is hard to beat. Just don't expect the local homeowner's association to be happy with it.