The Most Expensive Car In Steven Tyler's Collection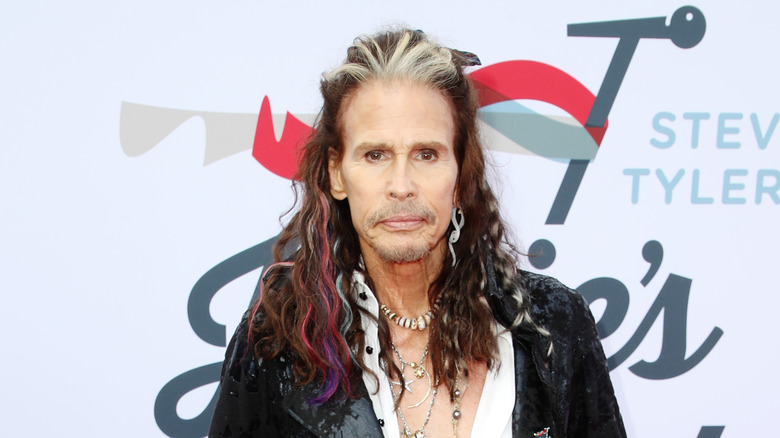 Joe Scarnici/Getty Images
Many of us know Steven Tyler as the theatrical lead singer of the Boston-based rock band Aerosmith. Others may know him from his two-year stint as a judge on "American Idol" for seasons 10 and 11. Still, others may know him as the father of actress Liv Tyler ("9-1-1: Lone Star," "Lord of the Rings," "Armageddon").
For those that aren't keen on Tyler's musical prowess, Aerosmith was inducted into the Rock & Roll Hall of Fame in 2001, and made it into the Songwriters Hall Of Fame in 2013. Rolling Stone (the iconic music magazine) even called him "one of the greatest singers of all time." At the ripe age of 74, he's been rockin' longer and harder than many of us have been alive.
Like many globally famous rock stars, the Demon of Screamin' has battled his fair share of issues, reportedly spending as much as $2 million on cocaine over the years. Drug and alcohol addiction has landed him in rehab more than once. He also spends a lot of money on cars and motorcycles. In fact, Tyler was once part of a custom motorcycle company. In 2012, Tyler dropped what amounts to a king's, or rock star's, ransom on the most expensive car in his collection.
Hennessey Performance is the maker of the Venom GT. When he first saw it, Tyler was smitten. While filming "American Idol" in Texas (the home of Hennessey Performance), he called them to take a test drive. Almost before the ride was over, he placed an order, but, naturally, he wanted it customized to fit his unique personality.
This car makes even demons scream
Only six Venom GTs were made, five of the "basic" versions (at $950,000 a pop) and Tyler's solo all-black convertible Spyder, which cost him $1.1 million. The extra $150,000 was needed to make "structural changes" to the roof and roll cage so it could be a convertible. The changes added another 30 pounds to the car (1244 kilograms or 2,742.55 pounds), so company owner John Hennessey had to boost the engine to 1244 bhp to keep it in line with their 1-horsepower to 1-kilogram power-to-weight ratio (via Today).
The Venom stings the road with a 7.0-liter twin-turbo V8 throwing out 1,244 hp and 1,155 lb-ft of torque, especially with a 6-speed manual transmission. Like Tyler, it screams, going from zero to sixty in 2.7 seconds and hitting a top speed of 278 mph. At the time, it was the world's fastest street-legal car (via Today).
Other custom touches include a sound system tuned by Audio One's David Frangioni, who ironically once worked for Aerosmith as an audio engineer. The black leather interior has red stitching complete with a teardrop eye image that copies one of Tyler's own tattoos (via Motor Authority).
Alas, all good things must end, and in 2017 Tyler sold his Hennessy Venom GT Spyder at a Barrett-Jackson auction for $800,000. All the proceeds went to Janie's Fund; a charity Tyler established in 2015 to help abused girls. If the name Janie sounds familiar, that's because Aerosmith's 1989 hit song "Janie's Got a Gun" was an inspiration.