How To Tell If Your PS5 Is Spying On You And What You Can Do About It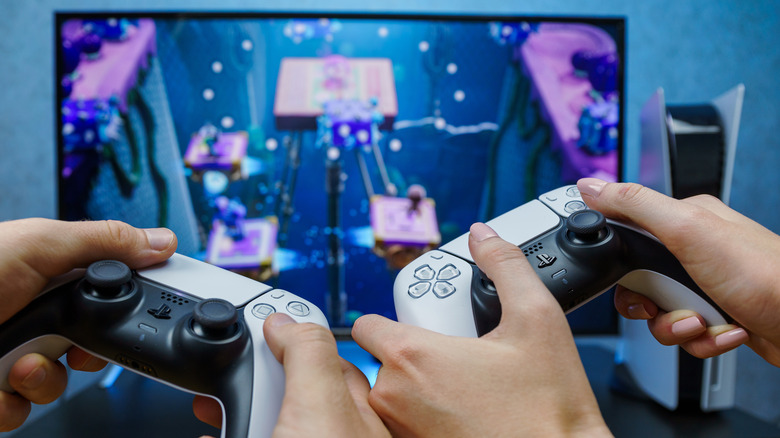 Rokas Tenys/Shutterstock
As tech becomes more prevalent in most people's daily lives, we have to keep privacy and security in the back of our minds — especially when it comes to connected devices, whether they're smartphones, smart lights, or, in this case, gaming consoles. Not every company will set its default privacy options in your favor; in fact, most don't. Data collection is a big market and companies both big and small are happy to sell your information to advertisers. Thankfully, the vast majority of companies let those who are more privacy-conscious change those privacy settings.
Currently, if your mic is enabled and you join a Voice Chat, Sony will record a rolling five-minute clip of your conversation; this is done in case you say something offensive to a player and that player decides to create a harassment report. When creating a report, players will be able to send audio clips 20 to 40 seconds in length from that five-minute segment to Sony. As the company explained in a post on the PlayStation Blog, this feature cannot be opted out of as it is part of the company's effort to promote online safety. If you use Voice Chat on a PS5, you can be certain that your conversations are passively recorded. Despite that, there are a few toggles and settings you can change to reduce the amount of data Sony is able to collect about you.
Change your default PS5 microphone settings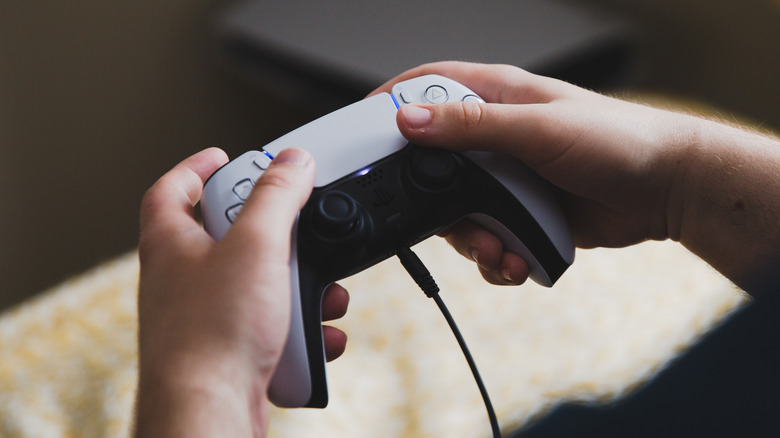 Clare Louise Jackson/Shutterstock
As Sony points out in its privacy policy, the PS5 collects some data about you by default, potentially including everything from your IP address to the content you download, which games you play, the dates and times you use the console, and even the things you do within games published by the company. There's no way to avoid most of that data collection, but you can minimize the scope of it and get some peace of mind in the process.
Though you can't prevent Sony from recording a portion of your Voice Chats, as mentioned above, you can make sure the microphone on the DualSense controller is turned off by default. This, if nothing else, may offer some reassurance that you don't have a hot microphone always around during your gaming sessions. 
By default, the mic is always listening and available, but there's a menu option to change that. After turning on the console, head to Settings > Sound > Microphone > Microphone Status When Logged In and toggle that setting to "Mute." Of course, Sony will still record Voice Chats when you turn the microphone back on and join one, so keep that in mind. 
Reduce how much PS5 data Sony collects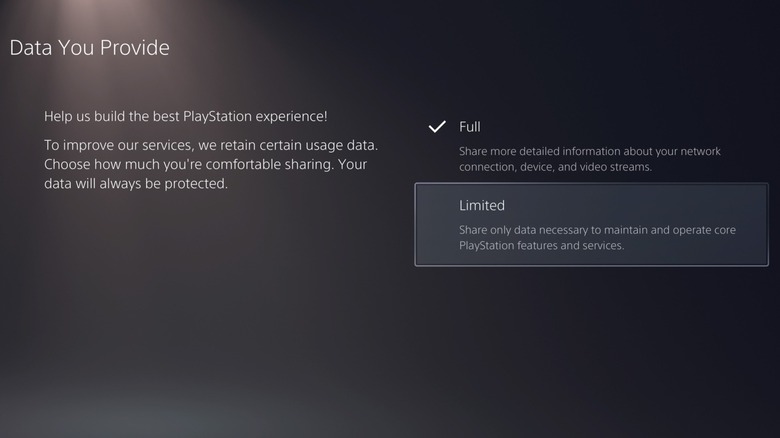 SlashGear
Though you can't completely disable data collection on the PlayStation 5 console, you can reduce it to a degree, which means Sony will collect less information about you and your gaming habits. To do this, users must switch their console's data collection setting within the Privacy menu to the "Limited" option, which, according to Sony, means it will only collect data that is necessary to keep your PS5 working and provide access to its various services like the PlayStation Network.
To do this, head to Settings > Users and Accounts > Privacy > Data You Provide and switch it to the "Limited" option. This is in contrast to the "Full" option, which enables Sony to collect more information about your gaming habits "to enable a richer experience," according to the privacy policy.
Next, you'll want to head to Settings > Users and Accounts > Privacy > Voice Data Collection and switch this over to the "Don't Allow" option. By default ("Allow"), Sony will be able to analyze all of your voice interactions with the system to help improve its services. It's worth noting that Sony says even if you choose the Don't Allow option, voice features won't be disabled.