The Reason The Tesla Model S Plaid Was Banned By The NHRA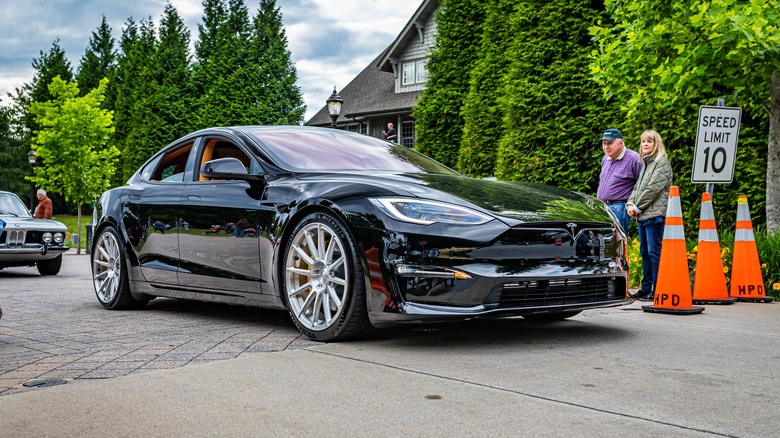 Gestalt Imagery/Shutterstock
You probably heard about the NHRA banning the Tesla Model S Plaid from competing in drag races across the United States. It had something to do with the Model S Plaid's voracious appetite for speed, as reported by The Drive in 2021. The video below by popular Tesla YouTuber Rich Rebuilds shows a Model S Plaid posting a 9.6-second quarter-mile time at 149.9 mph. After the rundown, track officials kicked out the Model S Plaid for going over the speed limit.
So yes, the National Hot Rod Association (NHRA) did ban the Tesla Model S Plaid for being too fast for the agency's good. The same fate has befallen the magnificent Dodge Challenger SRT Demon, possibly the baddest production muscle car to roam the Earth. Dodge optimized every aspect of the Demon for professional drag racing, and it didn't hold back.
Equipped with a supercharged 6.2-liter V8 Hellcat engine churning out 840 horsepower, the Challenger SRT Demon trashed the quarter-mile in 9.65 seconds. According to the NHRA, "Dodge's new 840-horsepower 2018 Challenger SRT Demon blurs the line between street car and drag car." Moreover, "any vehicle running 9.99 seconds or quicker at an NHRA Member Track needs to have certain NHRA-accepted safety equipment," like a roll cage and safety harnesses.
Banned no more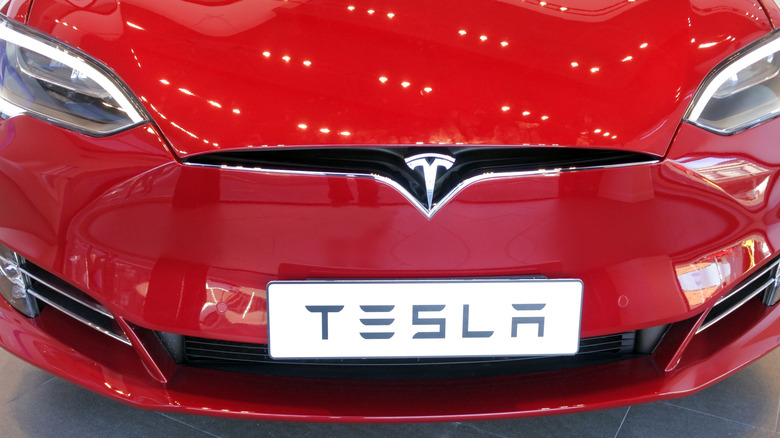 ChameleonsEye/Shutterstock
Even though the Tesla Model S Plaid and Dodge Demon were banned on the drag strip, it doesn't mean you couldn't go the track and race your Tesla or Dodge. According to an article by Jalopnik, Demon owners found a loophole; all it required was a not-so-heavy right foot. Since the Demon can do the quarter mile in 9.65 seconds at 140 mph, you could still have fun on the track if you maintained 9.99 seconds or slower than 135 mph. Tesla owners could use the same technique to circumnavigate the rules, with some owners applying the brakes mid-way to keep everything tidy (per Teslarati).
However, something magnificent happened in March 2022, and it had something to do with the NHRA changing its mind once again to bend the rules. The agency updated its Street Legal program to allow faster cars like the Tesla Model S Plaid and Dodge Challenger SRT Demon to do what they do best within the confines of a drag strip.
"We continue to see manufacturers make faster vehicles available right off the showroom floor while increasing features that couldn't be overlooked anymore," said Matt Deyoung, Tucson Dragway Track Manager. "We believe our racers will embrace these changes, and it will grow our grudge racing and Street Legal Program while helping prevent faster OEM cars taking to the streets."
New NHRA rules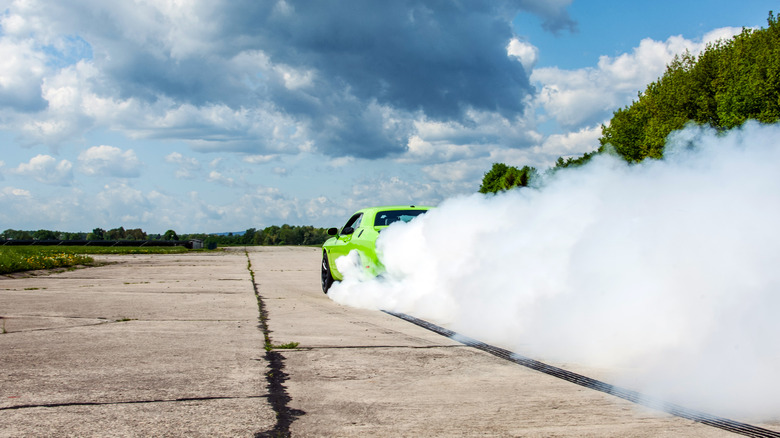 chorche de prigo/Shutterstock
Under the changes in the NHRA's Street Legal program, production cars made in 2014 and newer can run as quickly as 9.0 seconds at 150 mph in the quarter-mile. Moreover, vehicles manufactured from 2008 to 2013 can still run a 10-second (135 mph) quarter-mile without risk of getting banned. Drivers need an NHRA Level 6 license if quicker than 10 seconds or faster than 135 mph. A Level 7 competition license is available for racers with times above 10 seconds.
These new rules mean the Tesla Model S Plaid, Dodge Challenger SRT Demon, and other ridiculously fast sports cars, supercars, and pickup trucks are legal on the drag strip as long as the vehicles do not breach 9.0 seconds and 150 mph. In addition, the car should have OEM-installed brakes, chassis components, floors, firewalls, and safety equipment (airbags). The tires can be OEM or aftermarket, providing the rubber is DOT-approved.