10 things you need to know about NVIDIA's TITAN X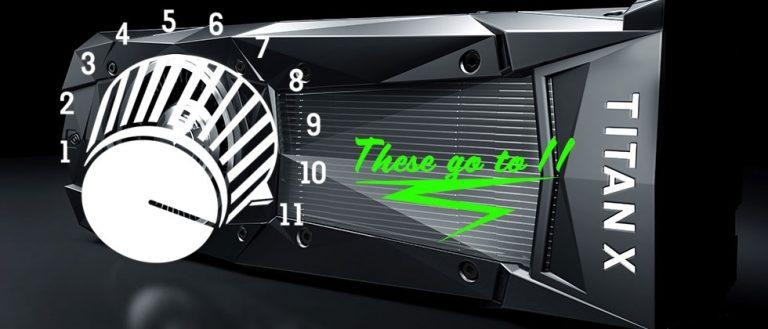 Today NVIDIA reveals its next most powerful graphics processing unit in the world, the NVIDIA TITAN X. This graphics card will cost users a cool $1200 – or around that thereabouts – and will very likely crush all graphics cards that came before it. According to NVIDIA, the creation of this graphics card was hinged on a bet. According to NVIDIA, "Brian Kelleher, our top hardware engineer, bet our CEO, Jen-Hsun Huang, we could get more than 10 teraflops of computing performance from a single chip."
1. 11 Teraflops
According to the legend, or what NVIDIA might classify as a legendary bet, Kelleher's suggestion to Jen-Hsun was met with some skepticism. "Jen-Hsun thought that was crazy," they say, but "as of today, Jen-Hsun now owes Brian a dollar."
They've turned this one up to 11. This graphics card – one single card – runs with 11 TFLOPS FP32 computing performance. Why is that important?
2. 4K60 on a single card
This graphics card could be able to give us 60 frames per second gameplay at 4K resolution. It COULD give us that. We'll be waiting to actually review the card to see how close it actually gets – or if it runs over the hump.
3. Heavy Duty CUDA
This card features the same number of cores as NVIDIA's monster Tesla P100 at 3584 (NVIDIA CUDA cores, that is). That's a GPU built for deep learning. Have a peek at our feature on the DGX-1 Deep Learning Supercomputer to find out what the Tesla P100 is capable of.
4. Supergamer not Supercomputer
This TITAN GPU is not made for supercomputing, but super gaming computing. With the deep learning inferencing instruction "44 TOPs of INT8" on this device's specifications sheet, NVIDIA points toward greater aspirations in the near future – if there is any greater aspiration than great gaming, that is.
5. GP102 Inside
Inside this unit you'll find a brand new chip by the name of GP102. This is a GeForce GTX 10-series card, bringing heat with what NVIDIA describes as "up to 3X faster performance" of previous-generation graphics cards. When they make that comparison, they suggest they're comparing to the GeForce GTX 900 Series cards (again, from last year).
6. Memory Specs
Inside this card you'll find 384-bit memory interface width and 480-GB/second memory bandwidth. That's running 12 GB GDDR5X at a memory speed of 10 Gbps.
This card's GPU engine runs 3584 CUDA cores (as mentioned above) with a base clock of 1417 MHz and a boost clock of 1531 MHz. This can power a display at maximum digital resolution of 7680 x 4320 at 60Hz. The card includes DP 1.43, HDMI 2.0b, and Dual Link-DVI to connect to your monitor or monitors of choice.
7. Thermal and Power Specs
This card has a maximum GPU temperature of 94-degrees celsius and a graphics card power of 250 W. This card works with a recommended system power of 600 W and includes 1 8-pin and 1 6-pin power connector in the box (supplementary).
8. Technology Support - all in
This card supports OpenGL 4.5, Vulkan API, Microsoft DirectX 12 (API with feature level 12_1_ and has PCIe 3.0 bus support. Users will be able to work with simultaneous multi-projection of course, and the card is well and above ready for virtual reality – Oculus Rift, HTC VIVE for Steam VR, and etcetera.
NVIDIA Ansel, NVIDIA G-Sync (for G-Sync displays), and NVIDIA GameStream are all supported. Users will be able to tie together the power of multiple TITAN X cards with SLI HB Bridge support, and NVIDIA GPU Boost 3.0 is supported as well.
9. Exterior Design
While we'll see other designs in the future from 3rd-party manufacturers, the NVIDIA design for the NVIDIA GeForce GTX TITAN (2016) works with a casing that's very similar to the GTX 1080. This case is painted black, instead, and continues to roll with die cast aluminum and an abundance of sharp, straight edges.
This card is 10.5-inches long and 4.376-inches tall, and attaches with a 2-slot design.