10-inch BlackBerry PlayBook leaks ahead of 2013 debut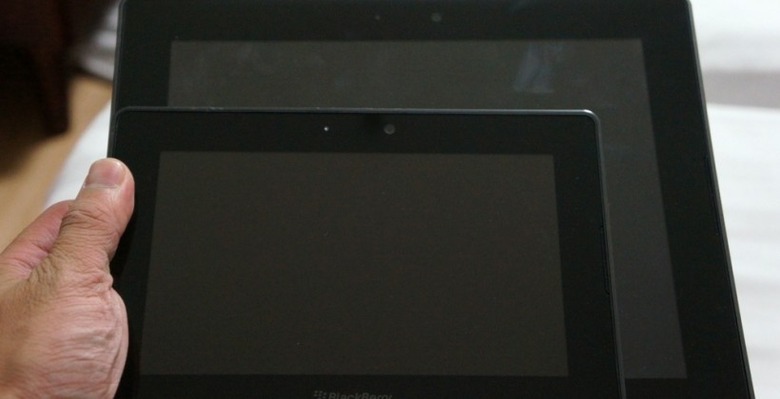 RIM's 10-inch BlackBerry PlayBook has cropped up in Vietnam, a larger version of the existing 7-inch PlayBook and apparently following the iPad in using a 4:3 aspect touchscreen. The 10-inch model – which is not shown turned on – was spotted by the Tinhte forums, and includes a SIM card slot that's expected to be used with an LTE modem.
Exact specifications for the 10-inch PlayBook have not been confirmed, so it's hard to know what's going on inside the black slab. The current PlayBook uses a Texas Instruments dual-core chipset, so it's possible RIM has stuck with the OMAP46xx range with this larger model.
Externally, it's more of the same: black bezel, matte-finish black casing and a front facing camera, while there's a second camera on the back. Narrow cut-outs on the left and right edges of the fascia reveal the speakers, and there are pogo pins on the bottom edge for a docking station.
When the 10-inch model might hit shelves is a matter of contention. RIM was originally expected to launch a larger PlayBook sometime this year, but delays around BlackBerry 10 have apparently changed all of that; now, according to a more recent roadmap leak, the target date for a larger "Blackforest" PlayBook is Q3 2013.
Meanwhile, there's a 4G PlayBook 7-inch still to come, which according to that same leaked roadmap is headed to retail in Q4 2012. That means it will presumably run the same PlayBook OS as we've already seen so far, rather than launching with BlackBerry 10.
[via Engadget]