1.4m Nokia Ovi Maps downloads: people like free stuff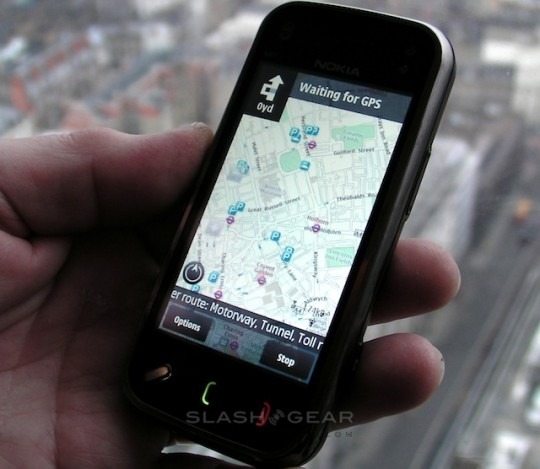 Nokia have announced that, in just under two weeks, its free Ovi Maps Navigation app has been downloaded 1.4m times.  In fact, the company broke the 1m barrier at the end of last week.  Unveiled in its new, subscription-free form on January 21st, this latest version of Ovi Maps includes spoken turn-by-turn directions together with formerly-premium content such as Lonely Planet guides.
According to Nokia, the most popular devices for downloading the app were the 5800 XpressMusic, N97 mini, N97 (only added a week after the full launch), 5230 and E72.  As of next month, all new Nokia GPS-equipped devices will be preloaded with Ovi Maps, including local mapping data.
[vms 226ae47fce7bff88e9c3]
Press Release:
New Ovi Maps with free navigation races past 1 million downloads in a week

ESPOO – Nokia has today announced that since the launch of the new version of Ovi Maps with free walk and drive navigation, on Thursday 21 January 2010 just one week after the launch, there have been over 1.4 million downloads. The one million mark was reached already at the end of last week.

"We're averaging a download a second, 24 hours a day," said Anssi Vanjoki, Executive Vice President, Nokia. "When we announced free walk & drive navigation we knew it would be a game-changer. The number of people now using their Nokia for navigation, and as a result looking for more location-aware software, is growing faster than even we predicted."

The success of the new version Ovi Maps is a key part of Nokia's strategy to lead the market in mobile maps, navigation and location-based services. By leveraging its investment in NAVTEQ, Nokia has been able to remove the costs associated with navigation for drivers and pedestrians and is quickly activating a massive user base to which it can offer new location features, content and services.

"This is great news for our 3rd party application developers. Within a matter of days there is an installed base of more than 1 million active users all potentially hungry for new and innovative location-aware apps," continued Anssi Vanjoki. "For the operators too there is a growing opportunity to sell more data-plans and a complete navigation package to existing and new customers."

As of 31 January 2010 the top five countries downloading the new version of Ovi Maps were: China, Italy, UK, Germany and Spain. The top five most popular Nokia devices installing the download were: Nokia 5800 XpressMusic, Nokia N97 mini, Nokia N97, Nokia 5230 and Nokia E72.

"There is a huge appetite for GPS navigation on mobile phones. We estimate there were already 25.9 million people actively using GPS navigation on their mobile phones at the end of 2009," said Chris Jones, VP & Principal Analyst at research firm Canalys.

From next month, all new Nokia GPS-enabled smartphones will include the new version of Ovi Maps, pre-loaded with local country map data, with high-end walk and drive navigation and access to Lonely Planet and Michelin travel guides at no extra cost.

Ovi Maps covers more than 180 countries with car and pedestrian navigation for 74 countries, in 46 languages, and traffic information for more than 10 countries. There are more than 6000 3D landmarks for 200 cities around the world. Lonely Planet and Michelin guides have information on more than 1,000 destinations globally.

Notes to editors:

Current list of compatible Nokia devices: Nokia 97, Nokia N97 mini, Nokia 5800 XpressMusic, Nokia 5800 Navigation Edition, Nokia E52, Nokia E55, Nokia E72, Nokia 5230, Nokia 6710 Navigator, Nokia 6730 classic and Nokia X6. For the latest device list, please go to http://www.nokia.com/maps.

Data transmission charges may apply. Please contact network operator for information about the data transmission charges.