Nokia Ovi Maps now free: turn-by-turn, offline access & travel guides [Updated with Video]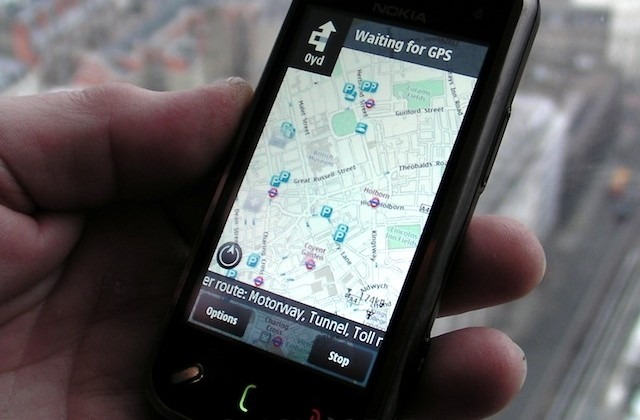 Nokia have announced free Ovi Maps worldwide walk and drive navigation for S60 handsets, complete with turn-by-turn spoken directions, traffic information in 10 countries and both online and offline functionality.  The new software – which will initially be available on ten S60 devices, including the Nokia E72 and N97 mini; full list after the cut – differs from existing smartphone PND apps by using vector rather than bitmap graphics; while that might not ostensibly mean much to most users, it results in increased Ovi Maps speed, less than one-tenth the data traffic and reduced battery consumption.  Meanwhile there'll also be premium-style content included for free, such as Michelin and Lonely Planet travel guides, Time Out and wcities, and close integration with Facebook.Updated with video demo after the cut
Nokia were keen to position their announcement not only as a product launch but as a platform direction.  Since the company already makes their navigation and mapping APIs available, the company expects the new version of Ovi Maps to be particularly popular with developers.  As one Nokia exec explained to us, currently they see a large proportion of Ovi Maps users taking up short-term subscriptions to the service when they're going on holiday or travelling, then cancelling their account; that's left developers uncertain of the platform.  Nokia are hoping that more consistent access (and features that best what's available on other smartphones) to PND functionality will spur the development of location-based services and Augmented Reality apps, both of their own and third-party projects.
Mapping data is available for over 180 countries, voice navigation for pedestrians and drivers in 74 countries, and there are 46 languages supported.  Even if you turn off the data connection – such as to avoid roaming charges – the mapping functionality will still operate, since everything is locally cached.  Link in your Facebook account and every update you make from your Nokia handset can have geographical information added.
Nokia Ovi Maps video demo:
[vms 226ae47fce7bff88e9c3]
Ovi Maps will be preloaded on all new compatible Nokia handsets from March 2010, complete with mapping data specific to the country of sale.  So, buy a phone in the UK and you'll get European mapping preloaded; buy it in the US and you'll get North American data.  Of course you're also free to add in worldwide mapping yourself – which is, again, free – either directly via the handset's data or WiFi connection, or side-loaded from a computer.
Initial compatible devices:
Nokia N97 mini,
Nokia 5800 XpressMusic,
Nokia 5800 Navigation Edition,
Nokia E52,
Nokia E55,
Nokia E72,
Nokia 5230,
Nokia 6710 Navigator,
Nokia 6730 classic,
Nokia X6
Maemo – as on the Nokia N900 – support is on the roadmap (though with no specific release date at present), while the N97 version will apparently follow on in a week or so.  You can download the app from nokia.com/maps.
Press Release:
Nokia makes worldwide walk and drive navigation free on smartphones

ESPOO – Nokia today announced plans to make walk and drive navigation free on its smartphones as part of a new version of Ovi Maps, available for download at www.nokia.com/maps. Nokia's mapping and navigation software has been specifically designed for mobile use and is based on unique hybrid technology. The new version of Ovi Maps will include all essential car and pedestrian navigation features, such as turn-by-turn voice guidance for 74 countries in 46 languages, and traffic information for over 10 countries, as well as detailed maps for over 180 countries.

"We want to make using your mobile for navigation as familiar as using it to send a text or take a picture. We believe that making the best maps with voice guided navigation available for free will be the catalyst to do this," explained Anssi Vanjoki, Executive Vice President, Nokia. "Why have multiple devices that work in only one country or region? Put it all together, make it free, make it global and you have something that is truly useful and can help you get round almost any city in the world whether you're on foot or driving."

Five key features that sets Ovi Maps apart:

1. No hidden costs

The new version of Ovi Maps comes with all the maps and high-end, car grade navigation features you need for free and is yours to keep for the life of the smartphone. No additional licenses needed for extra countries, regions or services like traffic information or city guides. Data charges from network operators may apply.

2. Best global coverage

You take your mobile with you wherever you go in the world so, as standard, voice guided navigation for both pedestrians and drivers is available for 74 countries in 46 different languages and there are maps for over 180 countries. This gives you the best maps with the largest global coverage for free.

3. No network connection required when navigating

Avoid expensive, battery-draining network connections with Nokia's unique hybrid technology. Maps can be pre-loaded on to your Nokia smartphone so you can set Ovi Maps to offline mode, saving battery power, and the navigation system will still work. This is particularly useful for those worried about data connection costs when travelling abroad or when you are travelling through areas with little or no network coverage.

4. Unique hybrid technology

Ovi Maps is built on an advanced technology called hybrid vector maps. Vector maps are high quality but less data intensive and allow you to continue to navigate even if you lose your network connection. This means that maps downloaded or updated across a network connection are about half the size of bulky bitmaps used by other mobile map providers. The hybrid technology ensures that, unlike other providers, any downloaded map data is stored on the device for future use.

5. Voice guidance & traffic information

Turn-by-turn, voice guided navigation comes free for both drivers and pedestrians. For drivers this includes lane assistance, traffic information, safety camera and speed warnings. For pedestrians this includes shortcuts through parks and pedestrian-only zones for over 100 cities around the world as well as 6000 3D landmarks in over 200 cities to help you find exactly where you are.

Ovi Maps is immediately available for download for 10 Nokia handsets, including the popular Nokia N97 mini, Nokia 5800 XpressMusic and Nokia E72, with more Nokia smartphones expected to be added in the coming weeks. In the meantime, current owners of Nokia smartphones that are compatible with the new Ovi Maps can download it free of charge from www.nokia.com/maps.

From March 2010, new Nokia GPS-enabled smartphones will include the new version of Ovi Maps, pre-loaded with local country map data, with high-end walk and drive navigation and access to Lonely Planet and Michelin travel guides at no extra cost.

More press materials are available at www.nokia.com/press as well as at http://events.nokia.com.

Broadcast materials are available at http://digitalnewsroom.nokia.com.

Notes to editors:

Current list of compatible Nokia devices: Nokia N97 mini, Nokia 5800 XpressMusic, Nokia 5800 Navigation Edition, Nokia E52, Nokia E55, Nokia E72, Nokia 5230, Nokia 6710 Navigator, Nokia 6730 classic and Nokia X6. For the latest device list, please go to http://www.nokia.com/maps.

Data transmission charges may apply. Please contact network operator for information about the data transmission charges.