ZTE launches two Axon variants to match your budget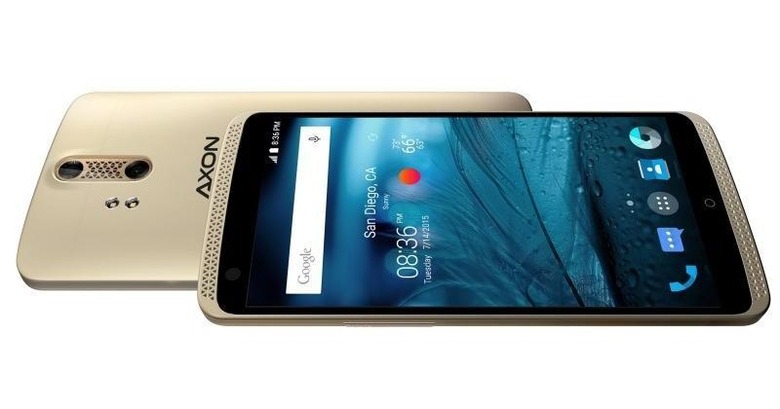 Last July, ZTE surprised the mobile world when it unveiled the very high-end Axon smartphone, the first such premium device it launched in the US. But not everyone might have been able to stomach the price tag, especially considering ZTE sells its smartphones unlocked and in full price, without carrier subsidies. Responding to customer request, or so it says, ZTE is launching a slightly toned down ZTE Axon. But for those who can afford it, it is offering an even more expensive Axon Pro with 64 GB of storage.
ZTE's devices in the US aren't exactly the most notable, considering it is content to battle it out in the mid-tier, unlocked smartphone market. So when it rolled out the Axon, now called the Axon Pro, it was an unexpected but welcome change. The Axon Pro, for example, sported a 5.5-inch QHD screen. It ran on the most current, but also most criticized, Snapdragon 810 with a whopping 4 GB of RAM. It also carried a large 3,000 mAh battery. But it also carried a $400 price tag that buyers would have to pay in full at once.
In comparison, the new ZTE Axon takes the specs down a notch. It's still the same size, mind you, but the 5.5-inch screen now only reaches 1080p resolutions. It is also powered by last year's Snapdragon 801, with half the RAM at 2 GB. In all other cases, however, the Axon and Axon Pro are pretty much alike, with the same 13 megapixel rear shooter, large 3,000 mAh battery, and a H-Fi audio system. All these for only only $329.98, also unlocked.
ZTE, however, is also going to the other extreme. It is now offering a new Axon Pro model that doubles the storage size to 64 GB. Fortunately, it doesn't double the price too, going for $449.98, only $50 higher than the base model.
ZTE has been increasing its efforts to push the unlocked smartphone market in the US. With its Axon Passport warranty offer and its new leasing plan, the Chinese manufacturer is trying to make up for the loss of carrier subsidies and warranties, to make it easier for consumers to swallow the concept of buying unlocked smartphones directly.