ZTE Iconic Phablet hands-on: 5.7-inches, Jelly Bean and multi-window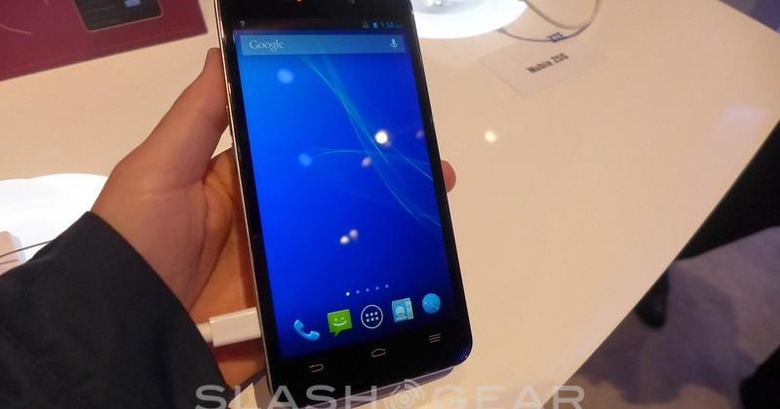 ZTE has jumped into the phablet space. The device, teased just ahead of CES and shown off during the show is called the Iconic Phablet. This is a 5.7-inch device powered by a quad-core Qualcomm Snapdragon processor. Some of the remaining specs includes 1GB of RAM and 8GB of internal storage.
Thankfully there is a microSD memory card slot that supports cards up to 32GB in size. Touching back on the display and we find Corning Gorilla Glass protection and an 720p HD resolution. Overall the device, while big in size, sports some rather middle of the line features. Continuing here and we find an 8 megapixel rear-facing camera and 1 megapixel camera on the front.
One plus here comes in with the connectivity, LTE. Of course, the usual array including WiFi, Bluetooth 4.0 and GPS can all be expected. The handset also has a nicely sized 3200 mAh battery. ZTE will be launching this will Android 4.3 Jelly Bean, but as always, whether or not the Iconic Phablet will get Kit Kat remains a mystery.
While running Jelly Bean, ZTE did invest in some software extras. One of which, will seems familiar to those carrying some Samsung devices — multi-window. The Iconic Phablet has this and just like Samsung, it works only with select apps. The ZTE multi-window setup is activated by pressing and holding the back button in the lower left and works in both portrait and landscape.
ZTE will be releasing the handset sometime in the coming months, but so far there hasn't been anything mentioned in terms of a price.