Zen Pinball for Tegra Android, an ultra-early hands-on look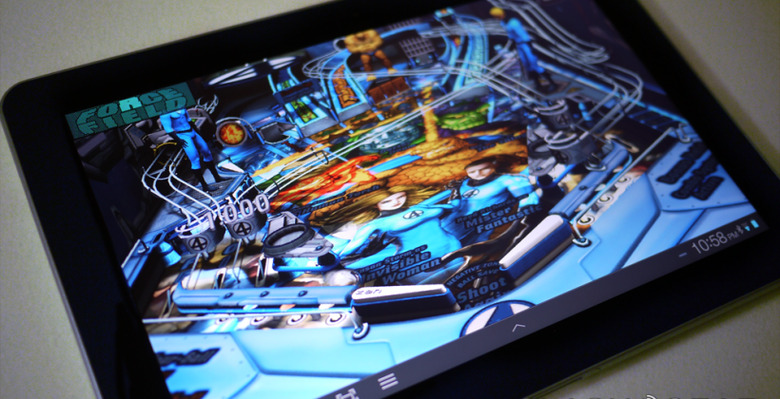 This week we've gotten the opportunity to take a peek at a game that'll be released on the Android Market and through the Tegra Zone – Zen Pinball THD, exclusively for Tegra 2 dual-core processor-toting mobile devices. This is a game that allows you to take your love of pinball and apply it to a handful of utterly fabulous tables, both branded by the developers behind the game and developed inside other universes such as Marvel Comics with the Fantastic Four and Spiderman. Have a peek at a couple of tables in a very early build of this game here!
This game is one in a series of games made by developers working directly with the team at NVIDIA to create masterpieces optimized specifically for the NVIDIA Tegra processor family. Have a look here at a bit if information on how NVIDIA worked with Zen Studios' Creative Director Neil Sorens – this bit comes from a short interview done with Sorens posted in the Tegra Zone all the way back this summer in July:
"How easy was it to port your game over to Tegra 2?

We got Zen Pinball up and running very quickly, actually. NVIDIA's been in the graphics business for a long time, so they know exactly what developers want. It was a very smooth process. They're like "what can we do for you, how can we make things easier, here are some tablets, just go do what you do best and let us know if you need any help." It's been fantastic. On the Tegra platforms, it's like working on another console. That's basically what it is and we can do the same assets, same engines, and just get it on there quickly and everything will work. The game runs at 60 frames per second with full texture quality and full physics effects going one. In some ways, this is actually superior to what we have going on with the Xbox 360 and the PlayStation 3. It's super impressive." – John Gaudiosi via Tegra
Now have a peek at how far they've gotten with this game thus far. I'll mention it in the video again, but let it be clear here: this isn't the final release, nor is it a release that's near enough to release to review. What this is instead is a glimpse of the future, now!
The other game mentioned in the video is Pinball HD, a game you can check out here on SlashGear in a bit of news on how it's up on Mac OS X (and iPad) or over on Android Community where your humble narrator gave it a full review on an Android tablet complete with Tegra 2.
We'll be seeing this game SOON for Android devices with Tegra processors from NVIDIA. And of course, expect this game to work twice as nice on Tegra 3, NVIDIA's quad-core processor coming inside 2011 to the front of the pack with the ASUS Eee Pad Transformer Prime, we guarantee!