You can pre-order the 128GB Nexus 6P directly from Huawei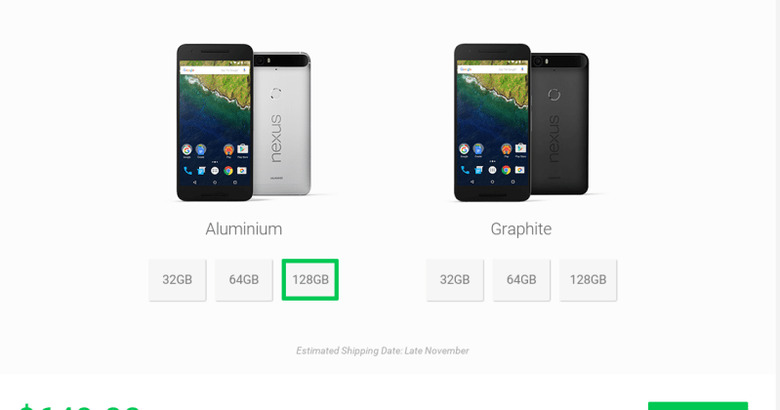 Perhaps one of the less known details about the Nexus 6P is that it is the first Nexus device to offer a whopping 128 GB of internal storage, which is pretty good considering Google is averse to putting microSD cards on its devices. Now that rare specie of an Android smartphone can finally be yours, with a bit of waiting and no small amount of cash. Huawei has opened up pre-orders for the 128 GB model of its Nexus 6P ahead of other sources, but you'll have to wait in line, of course.
The Nexus 6P is turning out to be a wonderful surprise. The first Nexus to be made by a Chinese OEM and the first metal-clad one as well, the highest end Nexus smartphone is proving Huawei's chops, providing some of the best features in the Android market. Our initial brush of the device left us quite impressed and hopeful that this will be a continuing trend among the Nexus family.
Even in photography, an area where Nexus smartphones traditional fall behind, the Nexus 6P is shining bright. It may not be at the top, though DxOMark definitely puts it near. As of the final tally, It is at third spot, behind the new king Sony Xperia Z5 and the Samsung Galaxy S6 edge. We did our own tests, of course, and walked away similarly convinced.
With a 128 GB variant, you will be getting the best that the Nexus 6P has to offer. Since Nexus devices don't have memory expansion options, those who wish to take full advantage of the smartphone's camera or would love to watch videos on its 5.7-inch WQHD screen might want to opt for this configuration. That said, It will cost a good $649, whether in Aluminum or Graphite color, which is on par with the latest flagships. Huawei notes that shipping is expected to start late November.
To recap, here are the core specs of Nexus 6P:
• Operating System: Android 6.0 Marshmallow
• Display: 5.7 inches, WQHD (2560 x 1440) AMOLED display at 518 ppi, Corning Gorilla Glass 4, Fingerprint and smudge-resistant oleophobic coating
• Rear Camera 12.3 MP, 1.55 µm pixels, f/2.0 aperture, IR laser-assisted autofocus, 4K (30 fps) video capture, Broad-spectrum CRI-90 dual flash
• Front Camera: 8 MP, 1.4 µm pixels, f/2.0 aperture, HD video capture (30 fps)
• Processors: Qualcomm Snapdragon 810 v2.1, 2.0 GHz Octa-core 64-bit, Adreno 430 GPU
• RAM: 3 GB LPDDR4
• Internal storage: 32, 64, 128 GB
• Dimensions: 159.3 X 77.8 X 7.3 mm
• Weight: 178 g
• Color: Aluminum, Graphite, Frost
• Material: Anodized aluminum
• Battery: 3,450 mAh Battery, Fast charging: up to 7 hours of use from only 10 minutes of charging