YotaPhone double-sided epaper smartphone arrives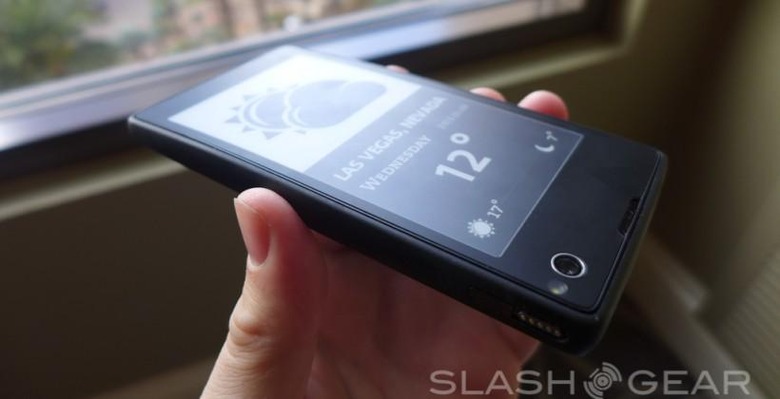 The dual-sided YotaPhone, which slaps a 4.3-inch E Ink display on the back of an Android smartphone, has gone on sale, with the ability to switch content between its double screens. Revealed at CES back in January, the YotaPhone is up for order now priced at €499 ($679) in Russia, Austria, France, Spain, and Germany, targeting frequent readers who want to prolong battery life by using the more frugal monochrome epaper panel on the back cover.
For the most part, the handset is a pretty standard Android device. It runs Android 4.2.2 on a dualcore 1.7GHz "Krait" processor with 2GB of memory and 32GB of internal storage, and has triband LTE (800/1800/2600), triband UMTS (900/1800/2100), WiFi a/b/g/n, Bluetooth 4.0, and GPS/A-GPS/GLONASS.
On the front there's a 1-megapixel camera, while a 13-megapixel camera on the back has autofocus and an LED flash. It'll record up to 1080p 30fps video.
Of course, the special part is how the displays work. Primarily YotaPhone expects people to interact with the 4.3-inch 720p LCD, but on the back there's a 4.3-inch 360 x 640 epaper panel offering 16 levels of grayscale. The latter isn't touch-sensitive, but does have a capacitive touch-zone underneath which responds to basic gestures.
YotaPhone envisages owners navigating through their ebook library or finding text-heavy webpages on the LCD side, and then flicking the content over to the epaper side for consumption. Since epaper doesn't require power to maintain a picture, only to change it, the drain on the 1,800 mAh battery will be considerably reduced.
It's not the only attempt to build epaper into a traditional smartphone we've seen this year. PocketBook, for instance, has developed a case for the Samsung Galaxy S 4, the CoverReader, which adds a second, E Ink panel to the smartphone.
YotaPhone expects to expand availability of its handset to 20 markets by the end of Q1 2014.