yellowsn0w iPhone 3G baseband unlock released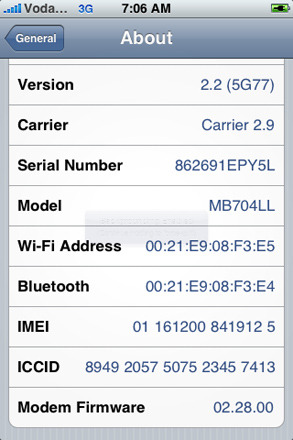 After surprising iPhone 3G owners with the news that the yellowsn0w baseband unlock would, in fact, work with the latest 02.28.00 baseband (released as part of firmware 2.2), the team have now released the software itself.  The yellowsn0w app itself launches whenever the iPhone boots (together with when there is a baseband reset at any point) and, after initial install, works invisibly. 
In order to use yellowsn0w to unlock the iPhone 3G, you'll need to be running the latest firmware and then use QuickPwn on your handset.  SIMs with embedded application menus, such as those used in pre-pay contracts which add "Top up credit" style menus to the handset may cause issues, which can be fixed by removing and replacing the card at each boot.
There's a video of the process in action here.  You can find full details of yellowsn0w here, together with links to the download; it'll always be free, so if you're asked to pay for it then someone is trying to con you.  If you do unlock your iPhone's baseband, let us know how you get on in the comments!
BASICS

The unlock about to be released works exclusively with baseband 02.28.00. This baseband is provided by the latest firmware update (2.2) from Apple.  You'll need to upgrade to this release using iTunes and then use QuickPwn to activate etc. There are plenty of tutorials about this on iclarified, bigboss, and other established tutorial sites.  Because it works on 02.28.00, it is available to everyone on the planet.  This means we don't need to unnecessarily expose holes in earlier basebands, which is an important concern.
The application is a small daemon that is launched on boot.  It injects the payload at boot and also whenever there is a baseband reset.  You won't notice anything about it other than that your third-party sim now works.  It's a small program and unobtrusive.  There is no GUI (this is by design).
There are Cydia and Installer sources available, so use whichever you are comfortable using.
yellowsn0w is completely removable through Cydia, the command line, and iTunes.

KNOWN ISSUES

There is a known issue with SIM cards that have STK (SIM Toolkit) application menus.  These menus are usually items such as "top up" "get credit" etc. These menu items confuse the application sometimes.  Removing and reinserting the SIM once after reboot (give it about 10 secs after you see the slide to unlock widget) fixes this issue.  We're working on a better fix.
For those of you using SIM cards without STK menus, the application has some optional arguments that will make the unlock much faster for you.  So either experiment on your own (use "yellowsn0w -h" for usage) or wait for a customization writeup.
After you install yellowsn0w via Cydia, you should return to the Cydia main menu then reboot your iPhone with the 3rd party SIM installed.  Wait for the slide to unlock screen, then wait 10 or 15 secs more.   If you don't see your carrier name pop up, then remove your SIM, reinsert it, and wait 10 secs more.  This is the step we'll be working on eliminating next.

RANDOM

The application is version 0.9.  This is considered beta software, and you use it at your own risk (you know the score).  We guarantee that it's not perfect and will require tweaking.  Welcome to the cutting edge.  (It's a good thing these are just temporary RAM patches!)
The application is released on a non-commerical basis.  Please do not accept pirates and scummy ripoffs of this software. We license this software for single use and in a non-commerical environment (meaning you can't charge for it). The techniques and methods used are not to be used by third party companies.
Direct linking to the repository URLs is prohibited, please only link to this post. We will be checking referers.