iPhone Firmware 2.2 Released: Street View, OTA Podcasts & More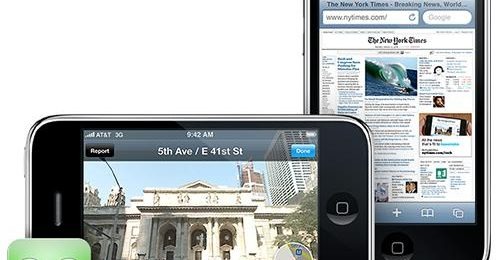 Apple have released firmware version 2.2 for the iPhone, bringing with it Google Street View, over-the-air podcast downloads (using both WiFi and cellular networks) and public transport/walking directions.  The 246MB download also includes the ability to share your location via email, increases the stability and performance of Safari, and reduces errors in the Mail app. 
Other tweaks include better sound quality in Visual Voicemail messages, the ability to shut off auto-correction and a claimed decrease in call setup failures and dropped calls.  Those last two aspects in particular will likely come under the microscope over the next few days.  Apple have also made it so that pressing the Home button returns you to the very first homescreen, and given users the option to rate third-party apps after uninstalling them.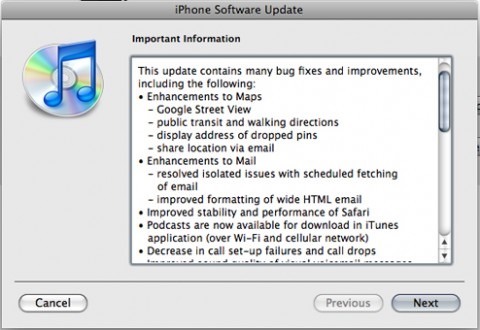 While Street View functionality is a welcome addition to the iPhone 3G, since the handset lacks the T-Mobile G1's integrated compass the Apple device won't pan the image as you move.  This looks like a good opportunity for a third-party developer to code an app that mimics the compass by tracking movement recorded by the camera.
However, anybody hoping to unlock their iPhone 3G should likely hold off on the firmware update.  The iPhone Dev Team have already issued a warning suggesting that QuickPwn and the PwnageTool won't initially work with 2.2, meaning unofficial third-party apps will stop working if you install the new software.  Version 2.2 also changes the iPhone 3G's baseband, which will throw even more spanners in the unlocking works.