NextDesk CrossOver Makes Any Desk A Standing Desk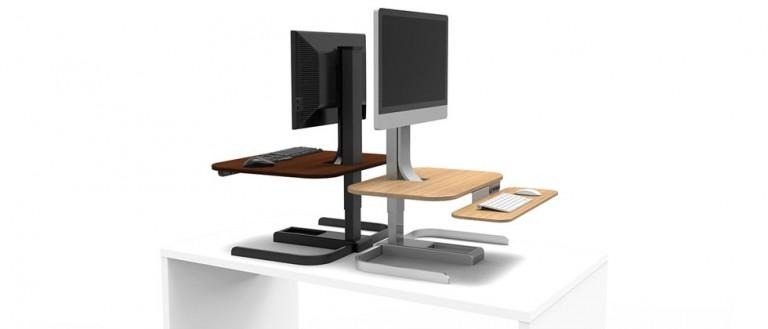 NextDesk creates a device that allows your existing, standard desk into a future-ready power-adjustable standing desk. While you could just bust out a stack of books to raise your computer up to standing height, this machine makes the entire process a whole lot easier. With the CrossOver, NextDesk moves from the standing desk elite business to the business of convincing everyone they'd be better off with a desk that's able to rise at will.
The NextDesk CrossOver converts a desk to a "powered sit-to-stand station" that allows anyone "the freedom to sit and stand throughout the day." The folks at NextDesk are positioning this device as more valuable than a standard height-adjustable tabletop for two reasons: you can adjust this one with a button press, and it'll cost you [somewhere near] the same price as its non-motorized competition.
NextDesk suggests that the desk will take you 10 minutes to assemble, and that the majority of the device is made of eco-friendly natural bamboo and solid aluminum. You'll be able to mount your monitor to this device – you'll see an iMac here – or sit your monitor on its platform.
• Lifts up to 100 lbs at 1.5 inches per second with the touch of a button
• Weighs 40 lbs, making it much more portable than heavier manual versions
• Safer than competing products with mechanical scissor frames
• 5 year warranty
The NextDesk CrossOver will cost you a cool $399 and will be available for orders starting January 28th, 2016.
If you're looking for something more massive – and more expensive, of course – have a peek at the BEKANT from IKEA. If you'd like to go all the way up to the top of the quality scale for a big power desk, have a peek at the Stir Kinetic Desk.
And for those of you looking for a power chair to add to the mix, by all means, have a sit in the Altwork Station.