Xbox Series X Release Date, Size, Power details on Microsoft's next console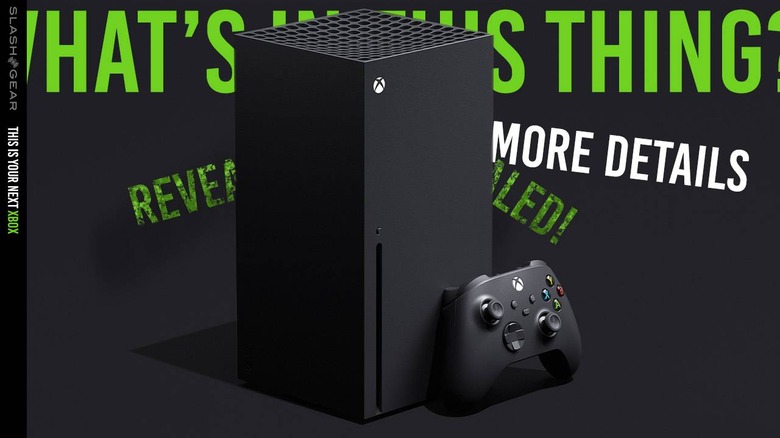 The Xbox Series X was revealed this week with a smattering of details and a lot that we can glean. We've got a comparison chart here with what the Xbox One X has today and what the Xbox Series X will have next year, all according to Microsoft. The most important question you can ask here from a consumer standpoint, is: Will I need to buy the Xbox Series X?
Size: Xbox Series X dimensions vs Xbox One X
The Microsoft reveal of the Xbox Series X did not include a formal set of dimensions, so we've done a bit of estimating. Per the note from Microsoft about the near-identical size of the newest Xbox controller – the one you see in the image – AND the historical size of the Xbox power button, we can estimate as follows.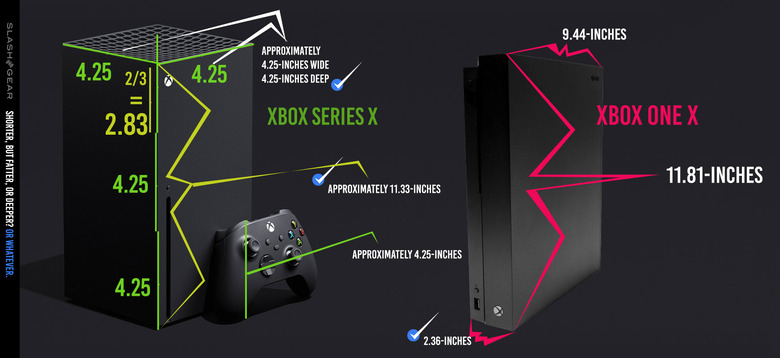 The Xbox Series X is slightly shorter than the Xbox One X. The Xbox Series X is not nearly as wide as the Xbox One X. The Xbox Series X is far deeper, or thicker, than the Xbox One X, since it's no longer a more traditional rectangular box as it is a sort of double-cube.
Power: Xbox Series X Specs vs Xbox One X
If you're moving from an original Xbox One to an Xbox Series X, you're going to see a significant jump in GPU power – around 8x TFLOPS. From an Xbox One X to an Xbox Series X, you're going to see around 2x the GPU power. First, we'll look at what Microsoft reported in their first announcement of this console.
Per Microsoft's reporting today, the following can be expected of the Xbox Series X:
• 4K at 60FPS
• "possibility of up to 120FPS"
• "8K capability"
• Variable Refresh Rate (VRR) support
• AMD Processor
• Zen 2 and next generation RDNA architecture
• hardware accelerated ray tracing
• Variable Rate Shading (VRS) technology
• next-generation SSD
• Auto Low Latency Mode (ALLM)
• Dynamic Latency Input (DLI)
• Backwards compatibility with all Xbox One games, accessories*
• 1x New Xbox Wireless Controller in box
*Here's where we see how Microsoft is planting this console in the minds of gamers. If you're hesitant to buy a new Xbox Series X because you don't want to see all that money you already payed for Xbox One stuff go to waste, not to worry! All you'll have to do is swap out that old console and use the new – everything else will move with you! Or will it?
Some new games will almost certainly only be available on Xbox Series X – but we've yet to see exactly how significant they'll be. Take a peek at the first signs:
Above you'll see the key to the future, then below you'll see a title that'll cross from one to the other. This is a transition point, to be sure. Not quite like Xbox 360 to Xbox One, but more significant than from Xbox One to Xbox One S, or X.
If we extrapolate on what's above and pair with what we've heard from insider sources over the past several weeks, we get the following (non-official, subject to change,) specifications:
• CPU: At least 8-core processor, 3.5GHz+
• GPU: Xbox Series X custom graphics processing unit
• RAM: 16GB total, with 13GB for games alone
• Internal Media Storage: NVMe SSD, something FANCY
• Power: 12 TFLOPS!
Xbox One X Specs – already out in the wild today, probably in your living room right this minute:
• CPU: Custom AMD Jaguar Evolved 8-core processor, 2.3 GHz
• GPU: Custom AMD UC RX 580, 1172 MHz
• RAM: 12GB total
• Internal Media Storage: 1TB HDD
• Power: 6 TFLOPS
Release Date: Ordering Xbox Series X
Microsoft gave a release date range for Xbox Series X, suggesting it'll come by "Holiday 2020." Basically that means it'll be out in late November or early December of 2020, just over 11 months from now. This is a long way off, if you're reading this article back in December of 2019, when it's new. It would not be a shock to find details changing between now and then.