Xbox All Access returns offering Project Scarlett upgrades: What to know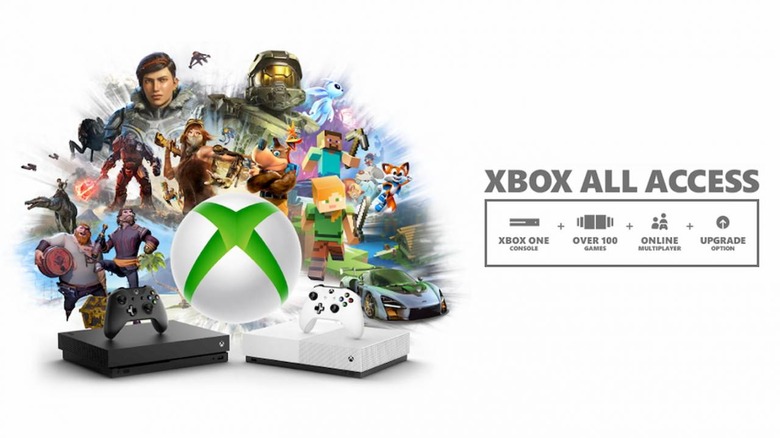 We may receive a commission on purchases made from links.
Last year, Microsoft began offering a financing program called Xbox All Access. With it, those who sign up can finance the purchase of an Xbox, along with subscriptions to Xbox Live Gold and Game Pass, through monthly payments. Microsoft is bringing back Xbox All Access here at the tail-end of 2019, though this time it has some additions.
For starters, the program is now available in the UK and Australia, and like previous iterations of Xbox All Access, you can still use the program to finance an Xbox console and pay it off over 24 months. However, after you've made a certain number of payments, you'll be able to trade in your console and upgrade to Project Scarlett (assuming that is has indeed launched by the time your upgrade rolls around).
If you buy an Xbox One X through the program, you can make that upgrade after 12 months, while buying an Xbox One S or Xbox One S All-Digital Edition – the latter of which is new to the lineup this year – makes the upgrade available after 18 months. One thing to keep in mind is that the 12-month upgrade period for Xbox One X purchases is a limited time thing, and you'll need to buy a console through Xbox All Access by December 31st, 2019 to qualify for it.
Microsoft also has a few stipulations in place for those who want to take advantage of that upgrade. "In order to participate in the upgrade program when Project Scarlett launches in Holiday 2020, players in the U.S. and U.K. will need to be in good standing with the respective financing partner in their market, purchase Project Scarlett with a new Xbox All Access purchase from the same retail partner where they joined the program, and trade-in the console originally purchased with Xbox All Access," Microsoft wrote in an Xbox Wire post today.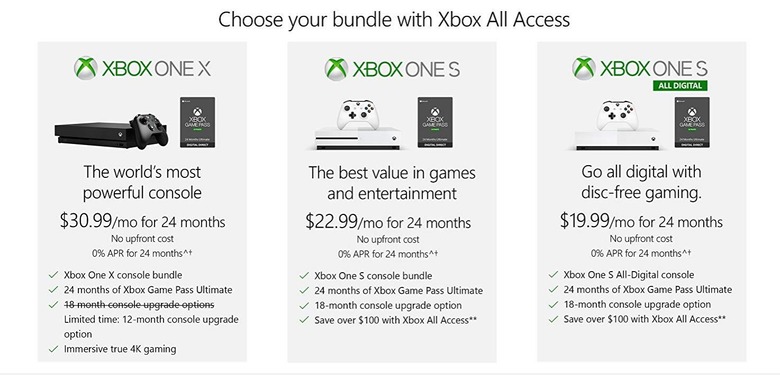 Those who are upgrading from an Xbox One S All-Digital Edition will also need to pay an upgrade fee, though Microsoft doesn't clarify what that is. While those in the UK and US have the option of upgrading to Project Scarlett after they've paid off a certain amount of their consoles, those in Australia only have the option of buying out their console and then opening another Xbox All Access plan for Project Scarlett.
Upgrades aside, Xbox All Access is still a pretty decent deal for those who want an Xbox One and plan to subscribe to Game Pass Ultimate, which includes subscriptions to Xbox Live Gold and Game Pass on both Xbox One and PC. Monthly pricing for Xbox One S All-Digital Edition bundles clocks in at $19.99 per month, while the standard Xbox One S is going for $22.99 per month. Finally, the Xbox One X will run $30.99 per month.
You save a little bit of money over buying everything separately by signing up for Xbox All Access – Microsoft says that you'll save around $100 when you buy an Xbox One S All-Digital or a standard Xbox One S. When buying an Xbox One X and 24 months of Game Pass Ultimate separately, you're looking at spending about $860, while getting it through Xbox All Access works out to about $744 over 24 months.
So, assuming you'll actually put that Game Pass Ultimate subscription to good use over those 24 months, Xbox All Access works out to be a pretty decent deal. In the UK and US, subscribers have their choice of a variety of bundles spanning the Xbox One S All-Digital, Xbox One S, and Xbox One X. In Australia, options are a lot more limited, as the only bundles that are eligible for financing are the Forza Horizon 4 bundles that include either the Xbox One S and Xbox One X.
Xbox All Access will be launching in Australia tomorrow, October 29th, in the UK on November 5th, and in the US on November 18th. Here in the US, the program will be available through Amazon, meaning you no longer need to go into a Microsoft Store to sign up. In the UK, you'll be able to sign up for Xbox All Access at GAME or online at Smyths Toys, while Telstra will be the sole retail partner for Australia.